Nissan's Safety Technology Development Concept
Create a society with virtually zero avoidable traffic accidents
Nissan designs and engineers cars that embody the pleasure and richness of driving while offering a high level of safety. More than 90% of traffic accidents are caused by human error. Our goal is zero fatalities: reducing the number of deaths from accidents involving Nissan vehicles to virtually zero. To this end, we continue working to help reduce traffic accidents.
Aiming for Virtually Collision-Free Cars
Nissan's concept of "vehicles that help protect people." supports the safety of vehicle occupants in a variety of scenarios with the overall goal of preventing collisions where possible and, in case of unavoidable collisions, mitigating damage and injuries. Technologies which help protect the people on board during an accident, such as the SRS Air Bag and the Zone Body, have been contributing to the reduction of fatalities for a long time. However, it is important that accidents themselves must be reduced in order to realize a truly safe automotive society. Nissan continuously makes efforts to develop new safety technologies for the realization of a safer automotive society.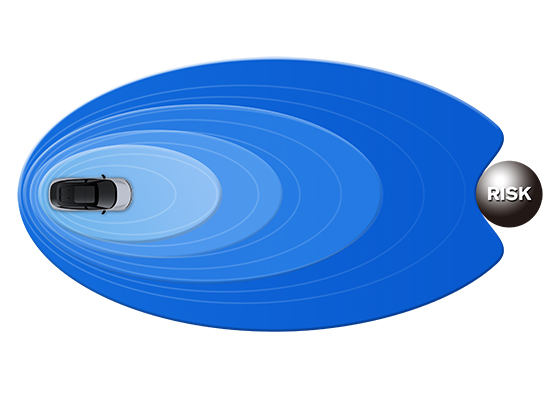 For example, during normal driving or parking, sensors and cameras can monitor vehicles and pedestrians that may be difficult for drivers to see; this supports drivers and allows them to drive with peace of mind.
We are committed as an automobile manufacturer to widespread availability of our safety technologies.
Helps the driver drive with peace of mind
Risk has not yet appeared
Helps the driver avoid or lessen the severity of an accident
Risk has appeared
Crash may occur

Anti-lock Braking System (ABS)
Vehicle Dynamics Control (VDC)

Helps reduce injuries when a collision is unavoidable
Crash is unavoidable

Front Pre-Crash Seatbelts

Crash

Zone Body Construction
SRS Airbag Systems

Post-crash

Automated Airbag-Linked Hazard Lamps
SOS Call (HELPNET)