Intelligent Rearview Mirror
Providing rearview clarity in a variety of conditions

Being aware of what is happening behind the car makes for safer driving.
However, the visibility offered by a car's rearview mirror has inherent limitations. The view is often obstructed by passengers in the rear or reduced due to nighttime conditions or bad weather, making it difficult for the driver to see the rearview.
Nissan has developed a rearview mirror with a built-in LCD monitor displaying images from a camera mounted on the rear of the vehicle. This Intelligent Rearview Mirror allows the driver the ability to switch between the LCD monitor and the standard rearview mirror, depending on the driver's preference.
The driver is able to see traffic conditions behind the car through the clear video imagery, as well as use the rearview mirror to check on passengers and pets in the rear. This helps make for a safer and more comfortable driving experience.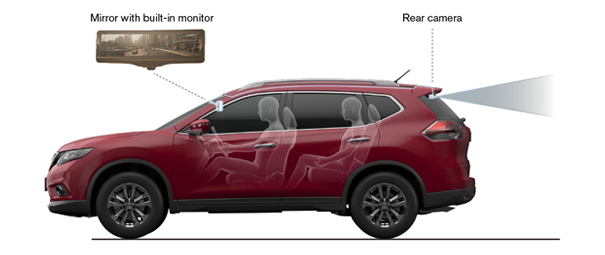 A camera is attached to the rear of the vehicle and displays images on a LCD monitor built into the rearview mirror. Imagery from the camera offers clear visibility of a wide area. Drivers use a switch at the bottom of the mirror to alternate between the monitor and the mirror.

The Intelligent Rearview Mirror combines a high-resolution camera that can check rear traffic conditions with a rearview mirror with an in-built LCD monitor that displays images from the camera. The LCD monitor and mirror can be used in unison, with drivers switching between the two depending on their preference.
When integrating an LCD monitor and mirror, the reflection in the mirror from rear light and the transparency of the monitor will typically result in a dual-layered image, making it hard to obtain clear visibility. Nissan's Intelligent Rearview Mirror, on the other hand, features unique technology in the structural design. This has made it possible for this kind of system to function for the first time without any image overlap while also allowing drivers to switch between the LCD monitor and standard rearview mirror.
The high-quality camera and image processing system achieves rearview image clarity in the LCD monitor with minimal glare, even during sunrise or sunset conditions, or when being followed by a vehicle with strong headlights.