Nissan's Environmental Initiatives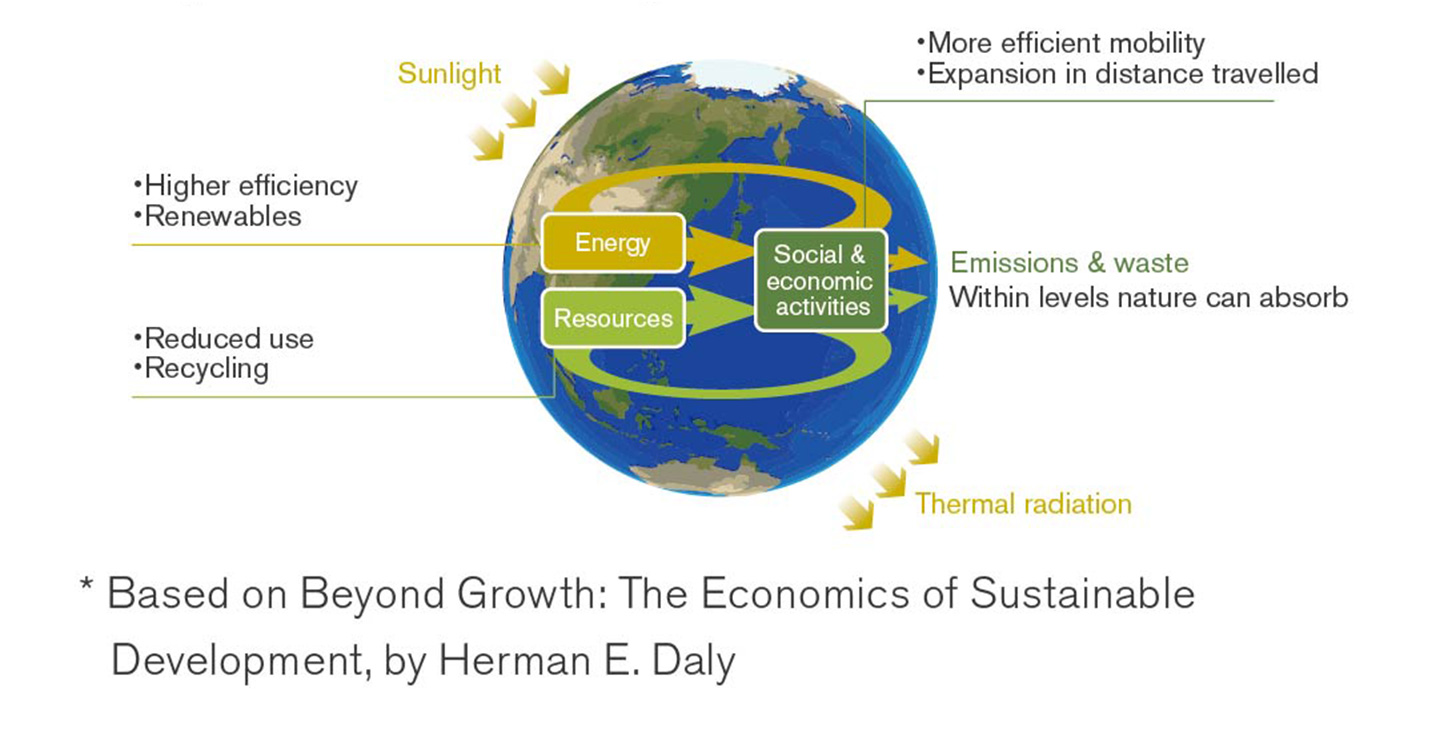 To realize the promise of its environmental philosophy "a Symbiosis of People, Vehicles and Nature," Nissan has promoted a series of midterm environmental action plans under the name "Nissan Green Program (NGP)." Under NGP2016, our previous plan, the company continued taking steps toward its ultimate goal of reducing environmental dependence and impact to levels that nature can absorb. The targets set for four key initiatives under the program, "Zero-emission vehicle penetration", "Fuel-efficient vehicle expansion", "Corporate carbon footprint minimization", and "Natural resource use minimization" were fully achieved.
Environmental Initiative and Framework
With the world population expected to reach 9 billion by 2050, communities and the business sector will play growing roles in solving social issues and working to realize the Sustainable Development Goals (SDGs) adopted by the United Nations. The automobile industry, too, faces an increasingly important responsibility to provide value to society by delivering safe, secure and sustainable mobility for all.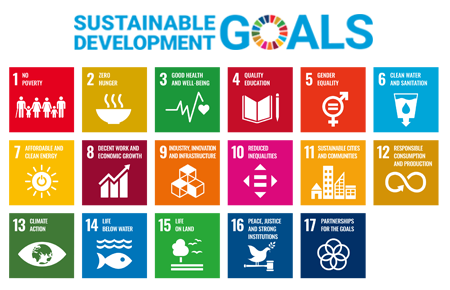 Nissan supports the Sustainable Development Goals.
Nissan's Strategic Approach to Environmental Issues
To solidly contribute to global environmental issues, Nissan engages in direct discussions with environmental experts, investors, NGOs, NPOs and other organizations throughout the world and identifies. We analyze opportunities and risks facing the Company and decide on material issues*1 recognized as important by both stakeholders and Nissan, contributing to the formulation of Nissan's medium- and long-term environmental strategies. We identified three response priority areas as an automobile manufacturer: energy sourcing, mineral material sourcing and water usage. We also selected air quality as the scope of consideration as it is directly linked to people's healthy lives. These approaches respond to the SDGs and contribute to their attainment.
A Holistic Approach to Material Environmental Issues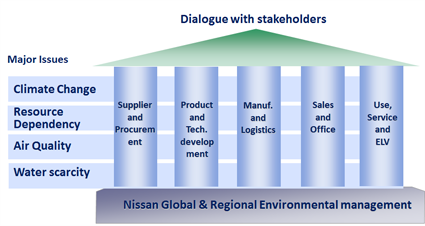 NGP2022: A Further Evolution
"NGP2022" will accelerate efforts to address environmental issues, and at the same time strengthen the business foundation and work on creation of social value. Specifically, we will promote the development of electric vehicles (EV) through "Nissan Intelligent Mobility", technological innovation of manufacturing, maximization of the value and utilization of resources and cars, and innovative technologies and services. We aim to realize the establishment of a new relationship among mobility, people and society.
Nissan continues to promote solid governance through its Global and Regional Environmental Management Committees (G-EMC and Regional EMCs). Executives meet regularly to discuss the progress of action plans under NGP2022, as well as emerging material risks, and corporate opportunities that should be implemented in the future plans.
Environmental management organization