Message
Nissan endeavors to "enrich people's lives." This vision reflects our wish to create value that is distinctive of Nissan and to be a company that is valued by society. To this end, Nissan offices and employees worldwide are proactively implementing initiatives in areas such as education, the environment, and humanitarian assistance. Nissan is making these efforts as a corporate citizen and a member of the global community in order to develop a sustainable society for future generations.
While these activities are carried out globally under our shared corporate vision, we are careful to give due attention to the local conditions and needs of the communities in the countries and regions where we work. Nissan of course brings economic benefits to the communities around our offices and plants by providing employment, but we also make great efforts to build solid relationships with those communities through our social contribution activities.
Mission and Objectives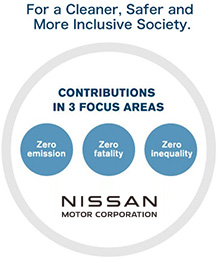 Nissan reviewed its policies for social contribution activities in 2017, deciding to push forward with activities focused on the three areas of: zero emissions, zero fatalities and zero inequalities. In addition to zero emissions and zero fatalities, areas where any automotive manufacturer should make sincere efforts, Nissan is promoting zero inequalities (in other words, diversity) as an important corporate value with the aim of realizing a cleaner, safer and more inclusive society where everyone is given equal opportunities. The company will not only provide financial assistance for activities in these areas but also ensure that those activities are "distinctly Nissan," making full use of its automotive heritage, expertise, products and facilities. Nissan emphasizes communicating and working with specialized nonprofit and nongovernmental organizations that have great expertise in their fields to ensure that its social contributions are effective.
Nissan's local companies support employee involvement in social contribution activities.
Program