Toward fully autonomous drive
Philosophy of Nissan autonomous drive technology development
Nissan has been creating cars that embody the pleasure and richness of driving while prioritizing a high level of real-world safety. Our goal is "zero fatalities": reducing the number of deaths from accidents involving Nissan vehicles to virtually zero, and we have been developing the technologies to realize fully autonomous drive.
Nissan's primary philosophy is that our autonomous drive technologies, which customers can use with utmost confidence in a wide range of scenes, must be safe, easy to use and easy to understand.
To date, Nissan has developed cars that enable intuitive driving and respond to the driver's demands and expectations, in pursuit of creating a high level of trust between the driver and the vehicle. This approach has not changed when developing autonomous drive technologies, and we have actively progressed with development and proceeded with implementation, while ensuring that the functions provided by this technology are easy for drivers to understand and firmly meet expectations.
Nissan will continue to focus on the development of high-level autonomous drive technologies and strive to realize a safer mobility society, with the highest priority being that this technology answers a wide range of needs from customers and driving environments in countries and regions around the world, and that they can be used with a greater peace of mind.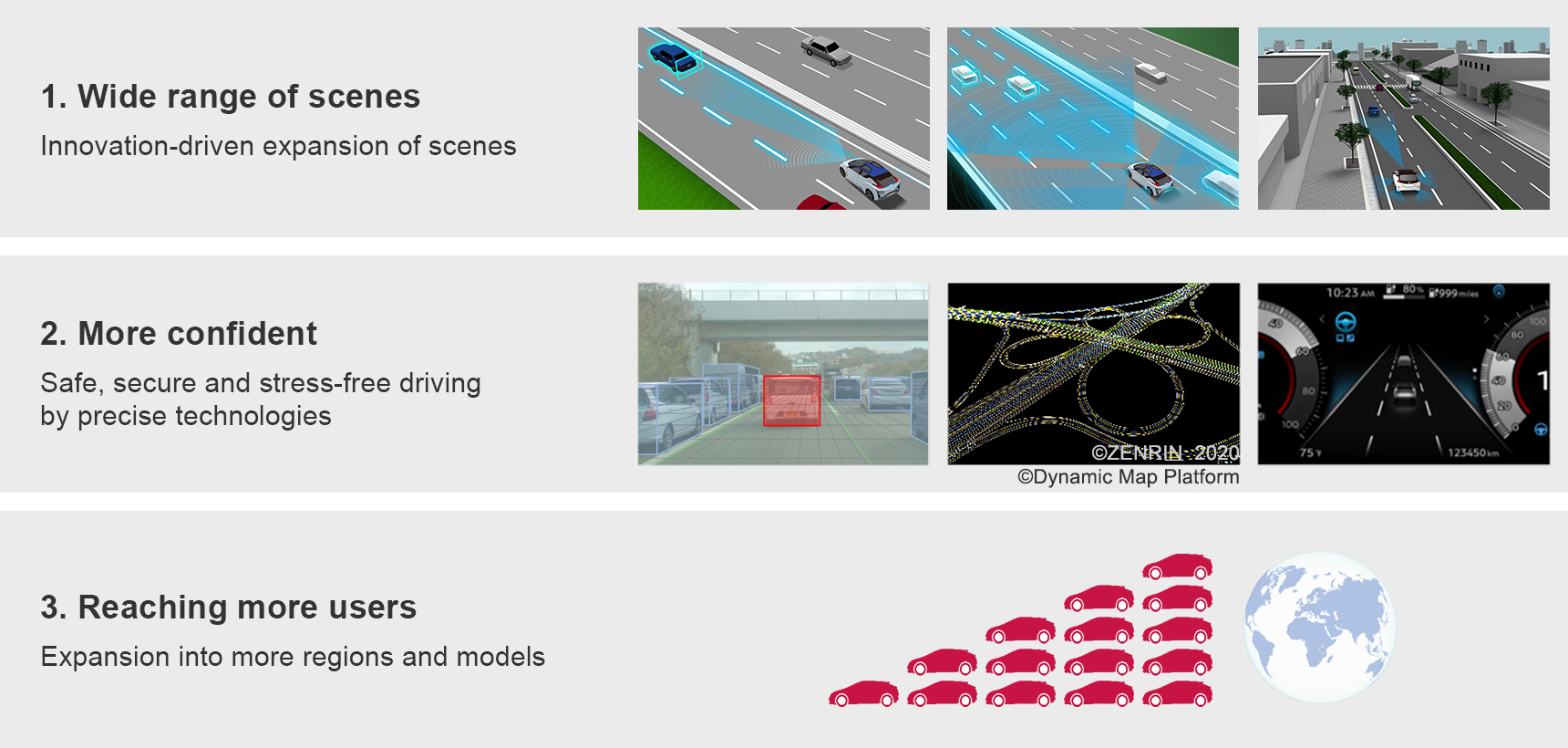 Driver assistance technologies: Spreading ProPILOT
Since it was first announced in 2016, ProPILOT evolved in 2019 to navigated highway driving, with hands-off single-lane driving capabilities. It has been installed in a wide range of cars from Kei cars to premium sedans, and has received high praise from customers around the world as technology they can use with peace of mind to reduce stress and tiredness.
Technology development environment
Global demonstration experiment
Road tests are being conducted on public roads globally, not just in Japan, in order to realize autonomous drive that matches the various driving environments of different countries.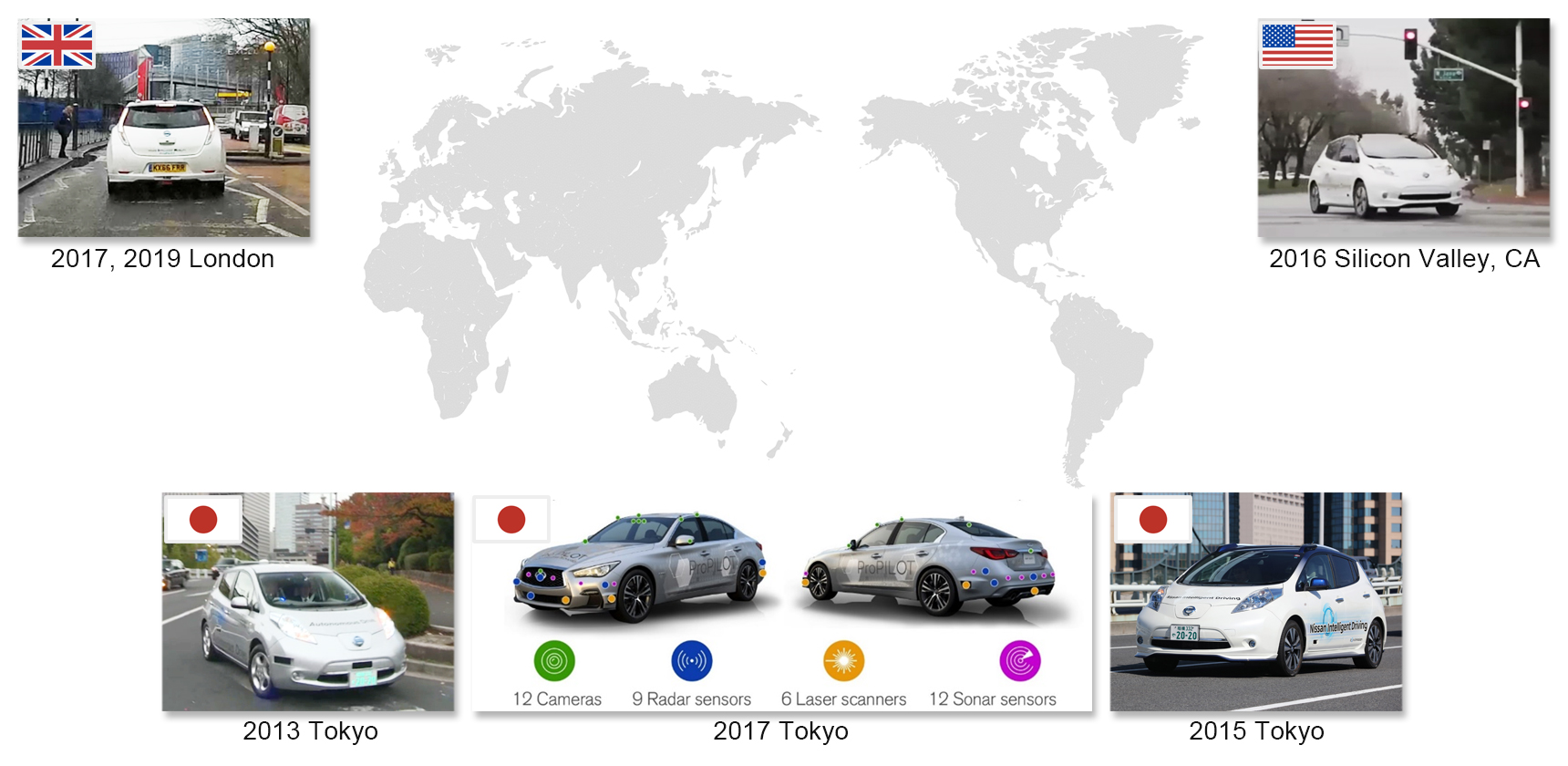 Development of a human machine interface (HMI) using a driving simulator
Nissan is seeking the optimum HMI by utilizing a driving simulator equipped with world-class dynamic motion in the development phase, and thousands of drive scene test cases conducted with a variety of drivers, in order to efficiently and accurately verify scenes that are difficult to reproduce in the real world.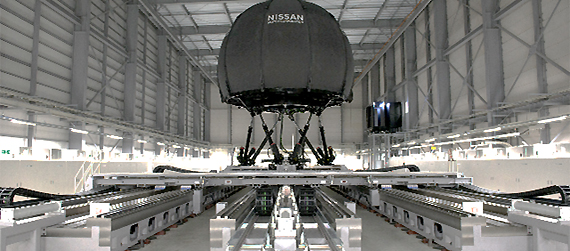 Key technologies for 2017 Prototype
The prototype's artificial intelligence uses input from 12 sonars, 12 cameras, nine millimeter-wave radars, six laser scanners and a high-definition map to analyze complex scenarios in real time and navigate smoothly through challenging city conditions – such as crossing busy intersections. These hardware upgrades, along with software improvements, also ensure smooth transitions when encountering obstacles in the road. This results in a human-like driving feel that gives passengers peace of mind.