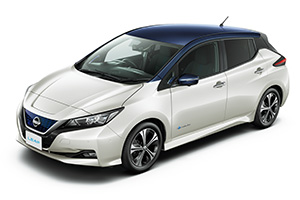 The new LEAF replaces the first-generation model, which is the world's best-selling electric vehicle. More than 283,000 customers have chosen a LEAF since its launch in 2010.
The new LEAF raises the bar in the growing mainstream electric vehicle segment thanks to the inclusion of ProPILOT autonomous drive technology and ProPILOT Park technology, the e-Pedal, increased power, greater range, and improved refinement, comfort and convenience.
An advanced automated parking system that can perform a variety of parking maneuvers at a touch of a button.
The newly-developed ProPILOT Park assists the driver to park in three easy steps by controlling the steering, accelerator, brakes, gear shift and even the parking brake.

This advanced automated parking system can recognize the type of parking space and guide the car into front or back-in parking spots, as well as parallel park.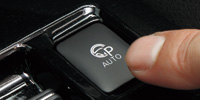 Easy driving using only the accelerator pedal
The e-Pedal allows the driver to start, accelerate, decelerate and stop using only the accelerator pedal.
For instant acceleration, press down hard on the accelerator pedal. Lift off the pedal and the e-Pedal mimics stepping on the brake pedal, allowing the vehicle to slow down and even come to a complete stop.

In stop-and-go city traffic, the e-Pedal greatly reduces the need to shift from one pedal to the other, making driving simpler and more engaging. It even allows sporty driving on winding roads, making the process of driving more exciting.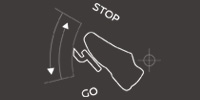 Electric Vehicle Lithium-ion Battery
Lightweight, compact and large capacity lithium-ion battery
Lithium-ion batteries have higher energy densities than lead-acid batteries or nickel-metal hydride batteries, so it is possible to make the battery size smaller than others.

The latest Nissan LEAF battery uses materials which can store a higher density of lithium-ion meaning our customers can drive an even greater distance.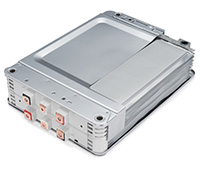 Lightweight, compact and high-efficiency powertrain for electric vehicles (EVs)
The e-Powertrain powers our EVs and removes the need for an internal combustion engine. It is a lightweight, compact system that produces extremely low vibrations and generates instant torque. These elements combine to deliver a high quality, smooth and very responsive drive.

The e-Powertrain's key components are its inverter, high-power electric motor, reduction drive and power delivery module (PDM). The unit was developed to thrive in a range environments around the world, displaying high performance and high durability in all of them.