Electric vehicle lithium-ion battery
For many years, Nissan has been working on the development of lithium-ion batteries and launched the first LEAF in 2010 as a pioneer of mass-produced EVs. Nissan has continued to evolve its performance as well as high reliability.
Lithium-ion batteries have higher energy densities than lead-acid batteries or nickel-metal hydride batteries, so it is possible to make the battery size smaller than others while retaining the same storage capacity.
Nissan's Lithium-ion battery technology uses materials which allow a higher density of lithium ions to be stored. This results in an increase in travel distance.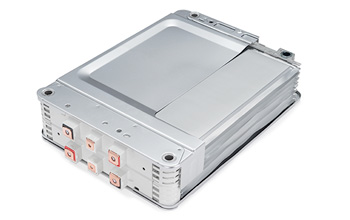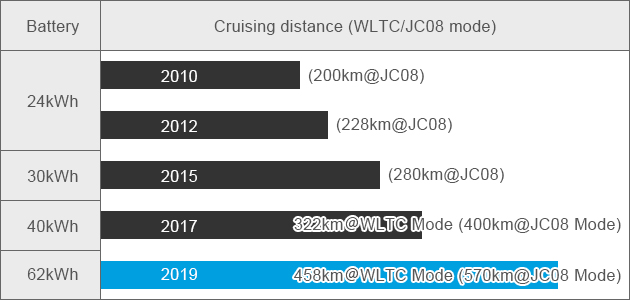 Nissan's Lithium-ion battery realizes high energy density and reliability by adopting Ni-Co-Mn positive electrode material and laminated-structure cells.
The Ni-Co-Mn positive electrode material has a layered structure, increasing battery storage capability by allowing lots of lithium ions to be stored. Laminated-structure battery cells have a high level of cooling performance and a simple structure, saving space and reducing the overall size of the battery pack. Due to its high durability and reliability, the battery capacity warranty guarantees 160,000 km or 8 years.
In the first LEAF (equipped with a 24 kWh battery pack), one battery module was constructed with a 4-cell configuration, with a total of 48 modules on-board the vehicle. In the second generation LEAF (equipped with a 40 kWh battery pack), each battery module is constructed with an 8-cell configuration as standard, increasing filling efficiency. This new battery pack configuration retained storage capacity and reliability.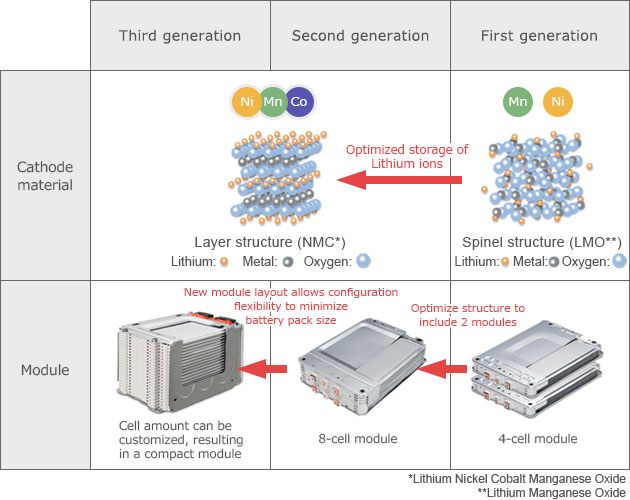 The 2019 LEAF e+ adopts a new module structure that allows the flexibility to customize the number of cells for the first time. By adopting laser welding to join cells, the total length of the module is shortened and allows for optimal battery module shape and height to best fit the vehicle platform and customer needs.