Lithium-ion Battery for Hybrid Vehicles
A battery with high capacity is indispensable for improving acceleration and fuel efficiency for hybrid vehicles. This hybrid Li-ion battery delivers twice the power* compared to similarly sized conventional cells. As the output of the battery increases, so too does the acceleration. It also more efficiently stores energy during deceleration, further improving fuel efficiency.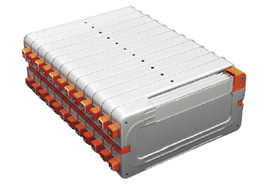 Comparison with battery for the Altima Hybrid
Hybrid vehicles are able to use electricity stored in the battery to power the motor. In this way, as the output of the battery increases, so too does the drive force of the motor. This achieves stronger acceleration with good response.
Hybrid vehicles are also fitted with regenerative brakes that recover braking energy and store it as electrical energy. Enlarging the capacity of the battery makes it possible to store a greater amount of electricity more efficiently. This then increases the frequency of when the motor is powered by electricity, and thus the frequency of when the engine is generating electricity decreases. When taken together, fuel efficiency increases.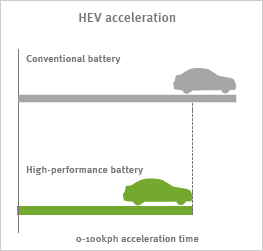 Unlike a computer or mobile telephone, the hybrid vehicle battery continues to emit and store large amounts of energy while the car accelerates or decelerates. For this reason, durability is vital. Employing a laminated battery cell with good cooling performance achieves advanced durability. The minimal design also has only a small number of parts, meaning the battery is low-cost as well.