Automatic steering for helping drivers to park
This technology assists drivers in parking their vehicles, making it easy for drivers who find parking tricky. It automatically operates the steering, leaving the driver free to concentrate on operating the accelerator and brakes and checking the surroundings. The system utilizes footage from the Around View Monitor, which gives drivers a virtual bird's-eye view of the vehicle, allowing drivers to more easily park their vehicles.
The driver checks the virtual bird's-eye view of the car on the Around View Monitor and determines the position for the car to park. The vehicle then automatically steers itself into position. The driver follows the audio signals and instructions displayed on the screen and operates the accelerator and brakes. By moving forward or reversing while adjusting the speed, the car can be parked in the designated area.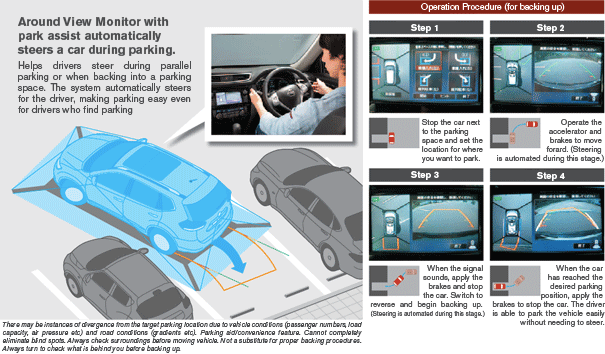 The system is fundamentally configured in the same way as the Around View Monitor. There are four cameras on the car body (the front, rear, and both wing mirrors). The system converts video footage from the cameras and composites a virtual bird's-eye view image.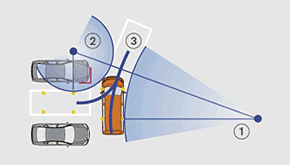 The system determines the conditions of the surroundings by the virtual bird's-eye view image, and guides the driver along a route to the designated parking position by the center of the radius of gyration (1), the area where there will be no interference with neighboring vehicles (2), and a simulation of the vehicle trajectory to the target parking position (3).
his explanation applies to the system available in Japan. There may be differences in system interface and operation procedures depending on region. There may be instances of divergence from the target parking location due to vehicle conditions (passenger numbers, load capacity, air pressure, etc.)
and road conditions (gradients, etc.). Parking aid/convenience feature. Cannot completely eliminate blind spots. Always check surroundings before moving vehicle. Not a substitute for proper backing procedures. Always turn to check what is behind you before backing up.