Improving Product Quality
Product quality is a basic feature in allowing customers to use a product safely and comfortably over the long term. For Nissan, a leading automaker with a strong history of monozukuri, Japan's tradition of careful craftsmanship, product quality is the foundation for our sustainability as a company. We consider quality from the customer's perspective at all times and respond quickly if a defect occurs, striving to prevent recurrence so as not to inconvenience the customer. We ascertain customer dissatisfaction and address it through all possible means, improving quality to increase satisfaction.
Approaches in Development and at Manufacturing Plants
Improving Perceived Quality and Developing Vehicles with Valued Designs
Perceived quality is the quality that customers feel when seeing, touching and operating a vehicle. For example, when customers come to the showroom, they open vehicle doors, sit in seats and check things like the texture of interior fittings.
The perception of quality is a particularly subjective matter, and applying objective criteria requires thorough studies. We conduct consumer researches around the world targeting customers who have purchased or are considering purchasing a Nissan car in order to understand their perceptions better and incorporate those perceptions in new vehicles. Our perceived quality specialists communicates the voice of customers around the world and support us to develop attractive styling vehicle that are valued by our customers.
Nissan aims to develop new cars and technologies with no quality issues in any onboard systems or components.This makes product quality design technology particularly important when developing new systems and components.
To ensure high-quality system and component design, we established the Nissan Monozukuri Quality Framework (NMQF) as a framework for product quality design, and have engaged in systematic initiatives in this area. For product development phase in particular, we are continuously establishing and revising standards for quality design technology which are then applied to new cars and features. With a focus on design review, we have also taken actions organizationally to strengthen our ability to identify hidden quality risks in new designs and take preventative action.As new technology is adopted, cars come equipped with increasingly advanced features, increasing technological complexity. At the same time, the expansion of sales regions results in more car models being sold at multiple locations, which means that design engineers must assume that cars will be driven all over the world as they seek to improve quality. To respond flexibly to these changes, Nissan has improved product quality design technology in the areas of processes, engineering skills and technology. The results are clearly visible in the steady improvement in quality that characterizes Nissan's new cars and technologies.
Quality evaluation system
We set over three hundred quality assessment criteria judged from the customer's perspective.
Comprehensive running tests
Checking quality from the customer's perspective is most important. All the real-world conditions our customers experience need to be checked beforehand. For this reason, Nissan conducts running tests at the locations where our vehicles are sold. 
Pushing production quality higher
Precision testing equipment is an integral part of the production process at every Nissan plant and production line. Digital technology, such as laser measurement, is used to verify precision assembly and paint condition, which are then evaluated through road testing. Our environmental test chambers can accurately reproduce subtle regional differences in temperature extremes of and road conditions. This enables us to scrupulously safeguard against problems flowing out of the factory.
Improving Logistics Quality
Every car is produced with meticulous care. Completed vehicles are shipped from Nissan's plants only after inspections, test drives and other quality assurance measures. But Nissan's quality initiatives go far beyond this.
Activities to Improve Market Quality
Swiftly Improving Quality in Local Markets
We are strengthening direct communication with sales companies and customers to promptly identify and respond to customer dissatisfaction and defects.
Our TCSX (Total Customer Satisfaction Function Division) addresses customer dissatisfaction and quality issues based on information from sales companies and the customer call center. It shares information with the R&D and manufacturing divisions to investigate the causes and come up with countermeasures. These countermeasures are incorporated in production models on the market. In this way, we seek permanent solutions to prevent outflow of quality issues.
The global expansion of our corporate activities has increased our potential exposure to customer dissatisfaction and quality issues in more regions around the world. In response, we have established Field Quality Centers (FQCs) with the goal of promptly gaining an understanding of regional quality issues and analyzing their causes locally.
There are now 19 FQCs in Japan, the United States, Europe, China, Mexico, Brazil, South Africa, India, Australia, Thailand, Indonesia, Malaysia and other locations.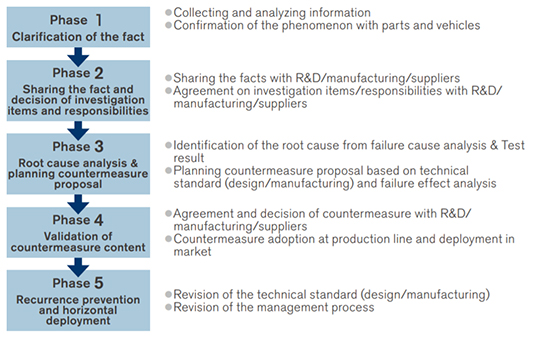 Improving Initial Quality
We are strengthening our efforts to deliver high-quality new vehicles to our customers.
The Chief Vehicle Engineer (CVE), who is responsible for development, meets with the CQE to share information from the market in order to promptly respond to customers' wishes and potential satisfaction concerns. We confirm quality improvements for each process and explore necessary risk-reduction measures by visualizing potential risks at the planning stage. Applying all of these processes with transparent criteria lets us ensure that new models offer high quality from the outset.
So that our customers are able to continue enjoy driving in our vehicles for many years, we are promoting efforts to address the deterioration caused over time by long-term vehicle use, such as the discoloration or deformation of resin, abrading of the surface materials, stripping away of chrome plating, and abnormal noises due to material fatigue. We consistently obtain data of warranty after the initial sale and conduct quality checks on recovered vehicles and parts actually used by customers to identify defects earlier. Analyzing this data helps us develop technologies that are more resistant to durability issues.
Approaches with Suppliers
As our production network expands worldwide, the risk of problems related to the quality and supply of parts increases. Our efforts to ensure product quality include working with suppliers to improve quality at all production sites from the design stage onward.