Repeated checks at every process
hecks at every stage of the manufacturing process Inspections via equipment every step of the way
We never miss a defect—even those invisible to the naked eye
Inspecting car bodies with laser sensors
In the final stages of vehicle assembly, even the slightest discrepancy will impact the quality of completed vehicles. Nissan employs laser sensors at the various stages of assembly to spot these potential problems. For example, by directing a laser beam at doorframe joints, the system can automatically and immediately pinpoint gaps and even the slightest deviations from the preset parameters. By repeating these meticulous inspections we can ensure precise assembly and build cars with high-quality fit and finish.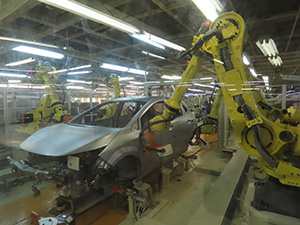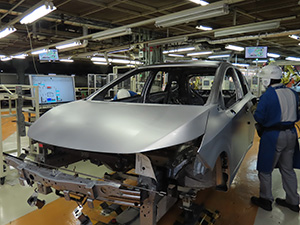 A paint inspection method that uses special illumination to reveal scratches and dirt
Our paint inspection system uses a robot to detect specks of dirt as tiny as 0.3 mm with 100% reliability. Changing the illumination method makes it extremely easy to spot changes in paint surface, so we make use of this to painstakingly check each car from end to end.Results from this inspection are instantly sent to our Centralized Management System, allowing inspectors to view them via smartphones attached to their wrists.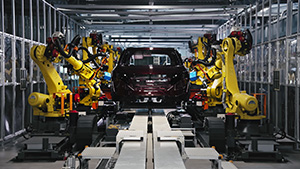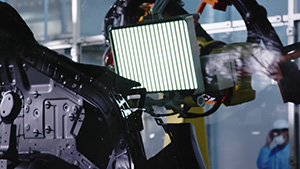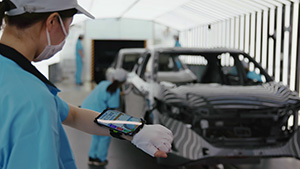 Always assessing from a customer perspective to ensure safety and high quality
Building a quality assurance management system using IoT
We have established a system that uses inspection devices to automatically assess cars according to set criteria. This prevents human error and allows us to ship only those cars that meet our quality standards.We have also strengthened traceability by digitizing all data and using tablets to automatically record inspection results.