Convenient function for locking and unlocking door without using key, and also opens trunk
This technology allows you to lock and unlock the door just by pressing the Request Switch on the door when you are carrying your key on you. You can also open and close the trunk, and can start the engine without having to insert the key, making departure seamless. By cutting out the trouble of putting in the key, there is no need to search for the key inside your bag or pocket. It also eliminates the fear of accidentally shutting your key inside your vehicle or trunk.
The Intelligent Key System has the following functions:
Hands-Free Lock & Unlock & Trunk Open
Press the Request Switch on the door handle or trunk to lock or unlock the door or open the trunk. There is no need to insert and turn the key, nor to operate a remote control.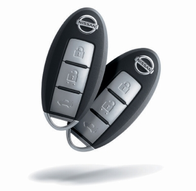 The engine activates just by turning the ignition knob (or pressing the engine start switch), without taking the key out and inserting it.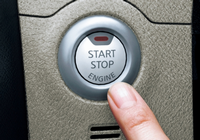 In order to avoid a key being shut up inside the vehicle cabin or trunk, the technology detects the status of the door lock and whether the key is remaining inside the vehicle at the instant when the door or trunk is closed. If it detects that a key has been shut inside the vehicle, it alerts you via a buzzer and simultaneously automatically unlocks the door or opens the trunk.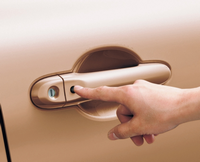 Intelligent Key utilizes antennae that transmit signals between the car and the key, and a tuner that receives the signals. Pressing the Request Switch transmits a signal from the car antenna, and the key that receives the signal then automatically returns a signal. The car tuner receives this signal and then locks or unlocks the vehicle.

Similarly, for starting the engine, the ignition knob is turned or the engine start switch is pressed and the car transmits a signal, which is then received and returned by the key, and the engine activates. The signal transmitted by the car is tuned to reach an area one meter around the Request Switch, or when inside the car, only inside the cabin or trunk, so that only the person with the key in range can engage it.

The technology in the Intelligent Key is characterized by its detection range accuracy for measuring keys. This accuracy is supported by technology that controls signal output with high accuracy and measuring technology that accurately detects key location. Further, the signal transmitted by the key contains an individual recognition code, and that code is registered to the car in advance. For this reason, when signals are received from unregistered keys and so on, the system does not respond.