Front & Rear Wide View Monitors
Displays left-to-right 180-degree wide view, supporting driver detection of nearby hazards
At intersections with poor visibility or when backing up while parking, this system displays 180-degree video on a monitor, assisting drivers with blind spots.* It features two functions: Front Wide View (for intersections with poor visibility and moving forward) and Rear Wide View (for parking and backing up). These two functions can be controlled by buttons on a touch panel.
Moreover, the Car Navigation Front Wide View works in coordination with the car navigation system, automatically turning on the Front Wide View when the car stops near a location pre-registered in advance by the user. The system delivers safety support to the front left and right at locations where the system is often used, such as an intersection near the driver's residence, without having to operate the system manually.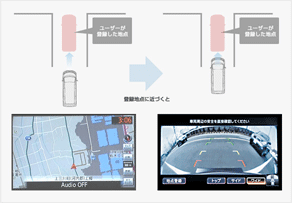 A monitor displays a wide field of vision to the front and rear of the vehicle, allowing drivers to check what is approaching the car at distances up to 50 meters away. By making it easier for the driver to detect vehicles approaching the driver's car, it enhances driver confidence when at intersections with poor visibility or when backing out of a parking space.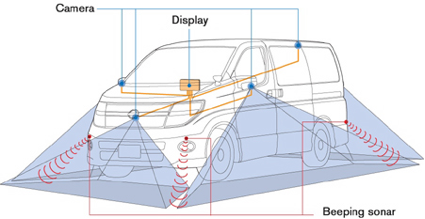 The Front & Rear Wide View utilizes the on-board camera and video processing unit used in the Around View Monitor system. It adds processing that reduces image distortion. High-resolution images are processed from the super-wide-angle cameras attached to the front and rear of the vehicle that can shoot video laterally at an angle of approximately 180-degrees. Through the navigation system checking the position of the vehicle and its direction of travel, it is now possible to detect when the car leaves a narrow road and enters a wider one.