Achieving smooth braking and cornering
When it is necessary to reduce vehicle speed, drivers depress the brake pedal and adjust their brake pedal effort until the vehicle is at the desired speed. If the vehicle speed does not drop to the desired level, drivers must depress the brake pedal again or increase their braking effort.
The Intelligent Engine Brake system assists drivers in reducing the vehicle speed to the desired speed. The system smoothly adds small amounts of engine braking to assist the brakes. The system decreases the frequency and effort required to brake the vehicle, which makes driving easier and more comfortable.
When cornering or stopping, it is necessary to reduce speed. Vehicles equipped with the Intelligent Engine Brake system measure the vehicle speed along with steering and braking inputs. Using these measurements, the system then automatically adjusts the level of engine braking, decreasing the time and effort the driver must take to slow the vehicle. As a result, it can reduce the amount of brake applications required by the driver, allowing the driver to have a more stress-free driving experience.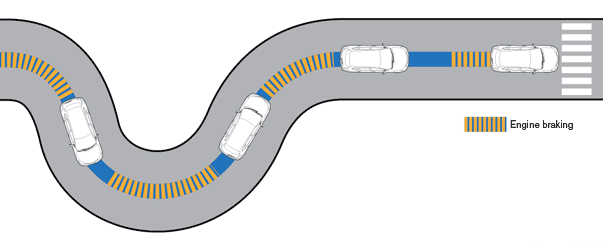 When cornering, the system estimates the desired vehicle path based on vehicle speed and the driver's steering input. A target speed appropriate for the estimated trajectory is determined from these measurements. Engine braking is then smoothly and automatically applied when the actual vehicle speed is higher than the target speed.
The Intelligent Engine Brake system adjusts the amount of engine braking to be applied by varying the CVT (Continuously Variable Transmission) gear ratio. When braking and coming into a stop, the system calculates the appropriate deceleration level by measuring the driver's brake pedal effort. It then smoothly adjusts the gear ratio to add subtle engine braking in order to aid deceleration.