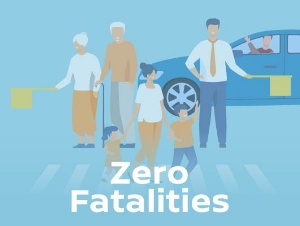 In addition to making vehicles safer through autonomous driving technology, we also promote traffic safety through activities to raise the safety awareness of drivers and pedestrians and to protect the socially vulnerable, including children and senior citizens.
Traffic Safety Awareness Campaign: Hello Safety Campaign (Japan)
Since 1987, we have collected donations from employees for the Hello Safety Campaign, which we launched in Japan in 1972 to contribute to the promotion of traffic safety awareness campaigns near our business sites. In addition, donations to help prevent traffic accidents were sent to children in the neighborhoods of Nissan business sites through local traffic safety associations, municipalities, and other organizations. In fiscal 2019, we created the "Wheel Spinning (Guru-Guru) Exercise" with Niigata University to promote and encourage awareness of safe driving among elderly drivers. This exercise is designed to support mainly elderly drivers in raising their muscle strength and cognitive abilities by making daily exercise a part of their lifestyles so they can continue to drive safely. Not only elderly drivers but also anyone who tends to be inactive and lack of exercise can expect improved physical functions with this exercise. In October 2022, a nationwide online experience event was held to promote the "Wheel Spinning (Guru-Guru) Exercise" across the country, attracting a wide range of participants from children to the elderly in 14 regions. In March 2023, an experience event for the exercise was held, connecting the real-life gallery "NISSAN CROSSING" in Ginza, Tokyo, with the virtual gallery "NISSAN CROSSING" in the metaverse* via online streaming, allowing participation from both the real and virtual worlds.
* VR (Virtual Reality) communication technology that uses a three-dimensional virtual space.

Support for driving schools (U.S.)
Nissan North America (NNA) provided financial support to ThinkFast®* programming in 10 high schools in Middle Tennessee in fiscal year 2022. Approximately 500 10th and 11th graders took part in the 2022 ThinkFast experience funded by Nissan.
* ThinkFast®: An interactive awareness game show that educates students about the importance of driving safety.
Safe Traffic Circuit (Brazil)
Nissan do Brazil carried out the Safe Traffic Circuit, an educational activity in schools in four municipalities in the South Region of Rio de Janeiro in order to reinforce the theme of safe traffic and sustainable urban mobility. A total of 27 employees volunteered and more than 800 children participated in this activity.