Nissan as a Community Member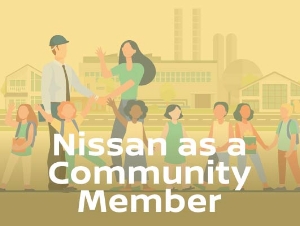 As a responsible corporate citizen, Nissan and its affiliates have been active members in the various local communities they belong to, contributing greatly to their development.
Foundation Support Activities (U.S., Australia, Brazil and Canada)
Nissan also conducts its own initiatives by business operation sites and affiliates in each country to meet the local needs. The Nissan Foundation, established in the U.S., Australia, Brazil, Canada, and other countries, has been conducting social contribution activities in various forms to help energize communities and resolve issues.
In the United States, we support many communities through the Nissan Foundation, which funds educational programs encouraging people to value the cultural diversity that exists within American society. Established in 1992, the Nissan Foundation has contributed over $13.0 million to more than 150 nonprofit organizations across the country as of the end of March 2022. In fiscal 2021 the foundation donated $690,000 to 28 U.S. organizations.
Nissan Motor Australia (NMA) supports philanthropic activities through the Nissan Australia Foundation. Since fiscal 2017 it has supported small and medium-sized Australian charitable organizations, helping to expand or continue their activities. NMA has an employee policy that allows staff to take volunteer leave each year to contribute to the communities in which they work and live. These activities were suspended in fiscal 2020/2021 due to the impact of the COVID-19 pandemic.
Additionally, in Nissan do Brasil Automóveis (NBA) the Nissan Institute is part of the sustainability strategy. It is responsible for relations with our main stakeholders, such as the community. It supports social projects such as Inova-san and the Corporate Volunteering Program (Voluntário de Valor). The "Inova-san" is an entrepreneurial education and open innovation program for university students to solve real problems and to promote social impact on the local community, started in 2019. In its third edition from July 2020 to April 2021, the program was developed throughout in 2020 in an online format and classified 21 projects for a complete learning path in entrepreneurship. Overall, 513 students from 19 universities in Rio de Janeiro State participated in this under three themes: Environment, Intelligent Mobility, and Women and Innovation. In January 2021 the best projects in each category were selected as winners.
Nissan Canada (NCI) supports for education through the Nissan Canada Foundation. Since 2008, Nissan Foundation supports for the students in Georgian College who need financial support. Georgian College has a specialized automotive program and NCI has many interns and employees who graduate from there. Also, since 2020, Nissan Foundation through partnership with Scientists in School, adopted five elementary schools serving low-income neighborhoods. This program provides a leading science education, dedicated to sparking children's interest in science, technology, engineering and math (STEM) typically through hands-on classroom and community setting workshops for up to 540 students in each of the five schools.
Educational Support from the Nissan Global Foundation (Japan)
The Nissan Global Foundation pursues the vision of realizing a prosperous future society through human resource development by conducting various training programs. The foundation supports science education of the elementary and middle schools and science research meetings which seek to foster logical and scientific thinking skills among schoolchildren and to enhance teachers' teaching skills.
Additionally, aiming to nurture girls who will lead the field of science and technology, the foundation established the "Nissan Global Foundation Rikajo Prize" for elementary and middle schools in Japan. Furthermore, from fiscal 2019, we started a program to develop the talent of the future and launched a project to create a class designed for future leaders based on joint research with Waseda University. In fiscal 2021, due to the impact of the COVID-19 pandemic, reviewed our previous operations and re-launched the project online.
Initiatives to Encourage Proactive Philanthropic Activities by Each Employee (Japan)
Nissan supports philanthropic activities of employees so that they have an interest in social issues and participate in philanthropic activities proactively. In 1996, Nissan introduced "Nissan Financial Support Program for Volunteer Activities", in which Nissan financially supports employees for their social contribution activities (e.g. volunteer activities and donations). Moreover, R&D division has started "NICE WAVE activity" to encourage social contribution activities by engineers since 2008.
日産(中国)投資有限公司(NCIC)では、環境をテーマにした従業員写真コンテストの開催、南米ではディーラーと連携した従業員参加型のバーチャルとリアルでのイベントを企画しました。
カナダ日産自動車会社 (NCI)は、2019年よりWWFカナダの公式パートナーとして、CN Tower Climbといった、環境に関する募金を呼び掛けるイベントに参加しています。今年はカナダ国民に環境保全のために測定可能で意味のある行動を呼びかけるLearn Plant Connectを中心に支援を行い、生物多様性の喪失や気候変動の危機を解決するための活動に貢献しています。
Nissan welcome visitors to join factory tours throughout the year. In July 2020, we started an online plant tour trial using a video conferencing system in order to somehow convey monozukuri onsite to children. By moving the tours to an online program, areas that were not open to the public during regular plant tours can now be viewed through cameras, and elementary schools in distant areas that previously found it difficult to visit our factories can now participate.
Yokohama F. Marinos Hometown activity (Japan)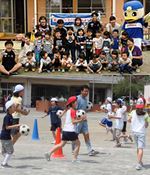 The Yokohama F. Marinos is aiming to make its hometown more vibrant through the power of sports, providing opportunities for all people in local communities to enjoy sports from the bottom of their hearts.
In its hometown (Yokohama City, Yokosuka City, and Yamato City in Kanagawa Prefecture), the team carries out activities such as the "Soccer & Dietary Education Caravan" that convey the joy of physical activity and food education, and classes on traffic safety. In addition, the team established "Yokohama F. Marinos Futuro", a soccer team for a disabled people and have engaged in activities supporting the affected area of natural disasters.
Response to the COVID-19 Pandemic
Arigatou Project (Mexico)
Nissan Mexicana (NMEX) donated $58,000 MXN pesos to prepare and give out lunch boxes to doctors and nurses in COVID hospitals. This donation is part of the "Arigatou Project", in which Japanese companies, bought the food from Japanese restaurants and later on delivered these lunch boxes. This project was partnered by JETRO and Expo Japan.
Basic Food Basket Donation Campaign (Brazil)
To collect basic food basket for families in situation of social vulnerability caused by the COVID-19 pandemic, Instituto Nissan gave one more (doubling donations) for each basket donated by Nissan employees. Campaign was conducted in 2 phases, March and May 2021 and for each we donated 614 and 305 baskets to four institutions: Redes da Maré (Rio de Janeiro/RJ), Litro de Luz (Rio de Janeiro/RJ and São Paulo/SP), Doutoraço (Resende/RJ) and AFECE (São José dos Pinhais).
Nissan Care for You (Thailand)
Nissan Motor Thailand (NMT) conducted the community services activities based on needs and situations since the start of the first wave of the COVID-19 pandemic in fiscal 2020. NMT maintained the support throughout fiscal 2021 to both government and non-government organizations, and provided four vehicles including three Navara pickup trucks to Samut Prakan Provincial Health Office and Bangkok Metropolitan. The contribution made under the theme "Care for You" and also expand to other community service activities as well as to Nissan employees. NMT keeps employees updated and informed about the situation including physical and mental prevention guidelines or protocols.
Delivery meals to the hospital (Philippines)
Nissan Philippines (NPI) also continues to provide our contribution and support to the society in the fight against COVID-19 pandemic. It has come up with the approaches to support their local communities who are medical officials and frontliners to combat the outbreak by donating 4,000 meal packs to the medical frontliners at the Philippine General Hospital (PGH), one of the biggest state-owned hospitals in the Philippines. The Nissan car club Urvan Pilipinas also showed their support by helping in the delivery of the meals to the hospital.
Nissan Institute of Japanese Studies, Oxford (U.K.)
Founded at the University of Oxford in 1981, the Nissan Institute of Japanese Studies is a well-known European center for research on modern Japan that contributes to the promotion of mutual understanding between Japan and Europe.