Sustainability Report 2022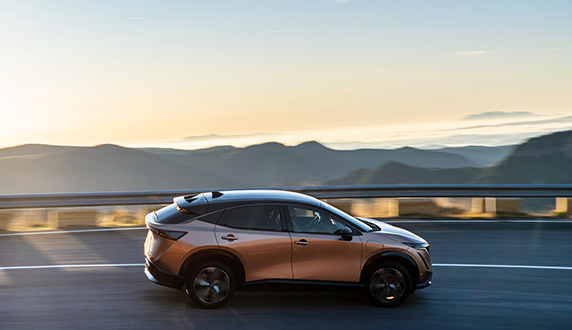 This report details Nissan's Environment, Social and Governance (ESG) related initiatives and results during fiscal year 2021.
Environmental commitments and initiatives
The auto industry is dependent on the global environment in complex and diverse ways, while also having significant impact on the environment. Nissan is tackling a range of issues to promote sustainability by advancing measures to mitigate climate change and conserve energy, preserve air quality and other natural capital, use mineral resources efficiently, properly manage chemical substances, efficiently allocate scare resources, and promote good health. We are also improving our business to reduce our dependence on fossil fuels. We seek to provide greater value for society by delivering sustainable mobility for all while alleviating environmental impacts associated with climate change, natural resource dependency, water use, and other issues.
Social initiatives for a sustainable future
In order to contribute to the sustainable development of society, we conduct our business activities with a constant awareness of society's needs and social responsibility. Assessing business risks and opportunities, identified key as part of Nissan Sustainability 2022 and are conducting related initiatives in these areas; Traffic Safety, Diversity and Inclusion, Quality, Supply Chain, Employees, and Community Engagement. In addition, our human rights initiatives are fundamental principles in all these areas. Finally, we aim to make continuous learning a part of our corporate culture to encourage talent development and achieve sound labor practices and thus create a dynamic work environment where the health and safety of our staff is a top priority.
Governance initiatives for increased transparency
Addressing the improvement of corporate governance is one of Nissan's highest priorities. In this section, we outline our policies, philosophies and initiatives to display a high level of ethics and transparency, as well as a strong foundation for the organization. We are committed to promoting and enforcing compliance and awareness thereof throughout the company as well as promoting risk management activities.
Environmental, Social, Governance data
These documents break down our ESG initiatives and corporate overview into numbers including detailed reporting on categories like CO2 emissions and energy consumption.
Our editorial policy outlines why and how we create this Sustainability Report. Read about our index for Task Force on Climate-related Financial Disclosures (TCFD), Sustainability Accounting Standard Board (SASB) , Global Reporting Initiative (GRI) standards and quick guide for investors.