The Global Risks Report 2017 published by the World Economic Forum notes that climate change and water crises are consistently featured among the top-ranked global risks in the past seven editions of the report. Nissan fully understands the drive for all companies to contribute in these areas. We believe that working alone via our operations is not sufficient; hence we collaborate with NGOs, targeting climate change- and water-related community projects to align with our environmental ambition.
Our Corporate Philanthropy Goal is to create a cleaner, safer and more inclusive society. In NGP2022, we collaborate globally with nongovernmental organizations, targeting major areas such as climate change and water scarcity, and will contribute to supporting local communities through our projects.
Key Activities in NGP2022 for NGO Collaboration
Collaboration with World Wide Fund for Nature Japan (WWF Japan) on climate change mitigation
Fostering employees environmental awareness through participation in WWF Japan campaigns
Continue participation in WWF's worldwide Earth Hour environmental enlightenment campaign for greenhouse gas emission reduction.
Collaboration with Conservation International on water supply catchment protection
Collaboration with Conservation International on protection of a critical watershed area support for a forest restoration project through a Ridge to Reef approach in Bali, Indonesia;
Create jobs and build capacity for local communities through their involvement in our conservation projects.
Engagement with Future Generations
Today's youths are the future leaders of our society. Nissan aims to engage and enlighten these leaders of tomorrow, raising their environmental awareness, and to introduce to them the latest green technologies and mobility services, so they can make the best decisions for the environment in their daily lives.
Nissan has been conducting environmental programs for young people in school visits in Japan since 2008, with more than 112,000 participants in total (as of March 2022). In NGP2022, we will further expand the program in Japan, as well as in other countries all around the world.
Key Activities in NGP2022 for Engagement with Future Generations
Global expansion of youth education programs, such as Nissan Waku-Waku Eco School, an interactive and fun program delivered by Nissan employees to schoolchildren on: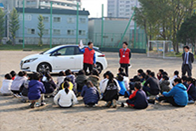 Basic knowledge of global environmental issues
Nissan's environmental initiatives, such as the Nissan LEAF electric vehicle and green technology
Through environmental education, the program encourages participants to adopt eco-friendly initiatives in their daily lives.
Video on how to recycle vehicles used in Nissan Waku-Waku Eco School(Japanese Only)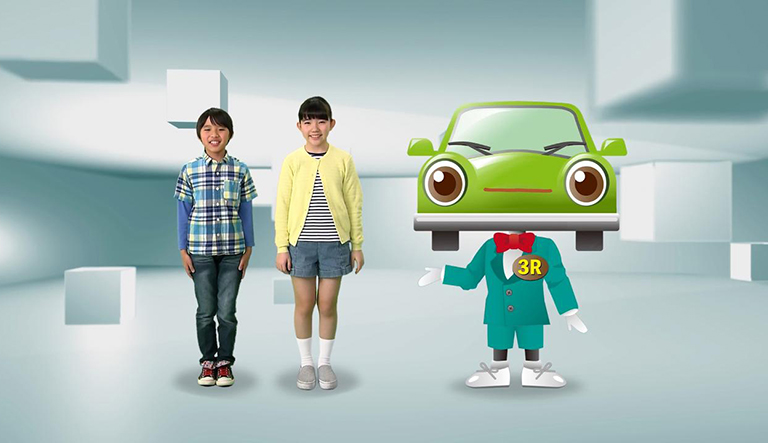 An "Eco First" Industry Leader
In recognition of Nissan's environmental commitments, including the company's pledge of comprehensive reduction of CO2 emissions and its aim to become an industry leader in producing zero-emission vehicles, Japan's Ministry of the Environment in July 2008 endorsed Nissan as an "Eco First" company under a program that helps businesses become eco-sustainable. In line with the terms of the "Eco First" program and Nissan's program commitments, provided to the Minister of the Environment at the time of accreditation, the company will systematically report to the ministry on the progress and results of its environmental initiatives and regularly disclose such information publicly.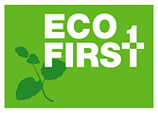 Dialogue with Stakeholders
Valuing our exchanges with the local community
Nissan conducts various activities for better communication with people living near our plants or business offices around the world, including open-plant days, community beautification activities, and tours of environmental facilities for local residents' associations. At our Oppama Plant in Japan, for example, we have established an environmental facilities tour course. Our efforts have been acknowledged by the many people who have taken this tour.
In the area of community partnership activities, we are promoting efforts suited to the characteristics of our plants in cooperation with the local community in all parts of the world. For example, in addition to the perspective of biodiversity in communications with communities, we are conducting various activities suited to local characteristics, such as "Firefly Protection Activities" at our Tochigi Plant in Japan, which is surrounded by abundant nature and clear streams; the "Water Bird Protection Project" at our plant in Sunderland, England, which is a stopover point for migrating birds; and rainwater use and water resources preservation activities at our Aguascalientes Plant in Mexico, where water is scarce.
Plant information (information on festivals, plant tours, and more) (Japanese Only)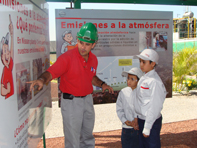 Nissan Environmental Advisory Meeting
We invite globally active authorities in the environmental field to our annual Environmental Advisory Meetings, including both academics and people on the front lines of the business world. At these meetings, we listen to the opinions of these experts on Nissan's business direction and the validity of our strategy in the area of the environment, and then use the input from these discussions in crafting our future environmental strategy.
We continue to take outside opinions into serious consideration and reflect them in our environmental strategy, and move forward with activities to create a sustainable mobile society.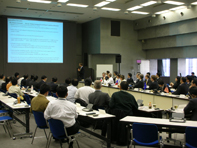 Biodiversity Conservation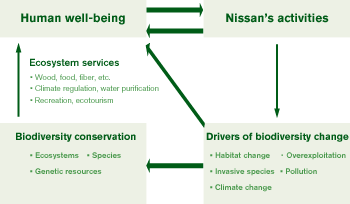 Since the convention on Biological Diversity was adopted at the 1992 U.N. Conference on Environment and Development (Earth Summit), efforts to conserve biodiversity have been made by signatory countries at the national scale. The need for participation by industry was later debated at the ninth meeting of the Conference of the Parties to the Convention on Biological Diversity (COP9) in 2008. At Nissan we define our relationship with biodiversity as below, based on the U.N. Millennium Ecosystem Assessment framework, and are working to identify issues that must be addressed while promoting activities including cooperation with external organizations.
Joint Research with the U.N. University
Nissan has carried out extensive studies on the relationship between mobility and ecosystem services through workshops with specialists in the field. We have cooperated with the United Nations University Institute of Advanced Studies, which played a central role in the U.N. Millennium Ecosystem Assessment, on the impact of mobility on the ecosystem and the benefits to humans derived from ecosystem services. In 2010, we published the results of this research in "Ecosystem Services and the Automotive Sector." This joint study focused on the value of ecosystem services that nature produces in human society when biodiversity is protected. The study's aim was to investigate how the automobile business depends on ecosystem services through the entire value chain and what kinds of effects it has on the ecosystem. Using the method of Corporate Ecosystem Services Review,※ we have evaluated value chains such as that from extraction of material resources to vehicle production and operation.
Based on the results, we then identified three priority areas for us as an automobile manufacturer: energy sourcing, mineral material sourcing and water usage.
From now on, we will work to position the business risks and opportunities identified through this research, reevaluating and further developing our traditional environmental initiatives as we implement strategic measures primarily in the areas of focus that we have defined.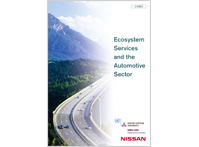 Developed by the World Resources Institute in cooperation with the World Business Council for Sustainable Development and Meridian Institute based on the U.N. Millennium Ecosystem Assessment.