Toward Zero New Material Resource Use
Creating a system that circulates resources efficiently and sustainably, and promote services to circulates Vehicles more effectively (Circular Economy)
With the world's population forecast to exceed 9 billion by 2050, demand for natural resources like minerals and fossil fuels is set to rise. This makes it even more important to maximize the value obtained from these resources. The Sustainable Development Goals adopted by the United Nations in 2015 also emphasize the importance of managing resources sustainably and using them efficiently.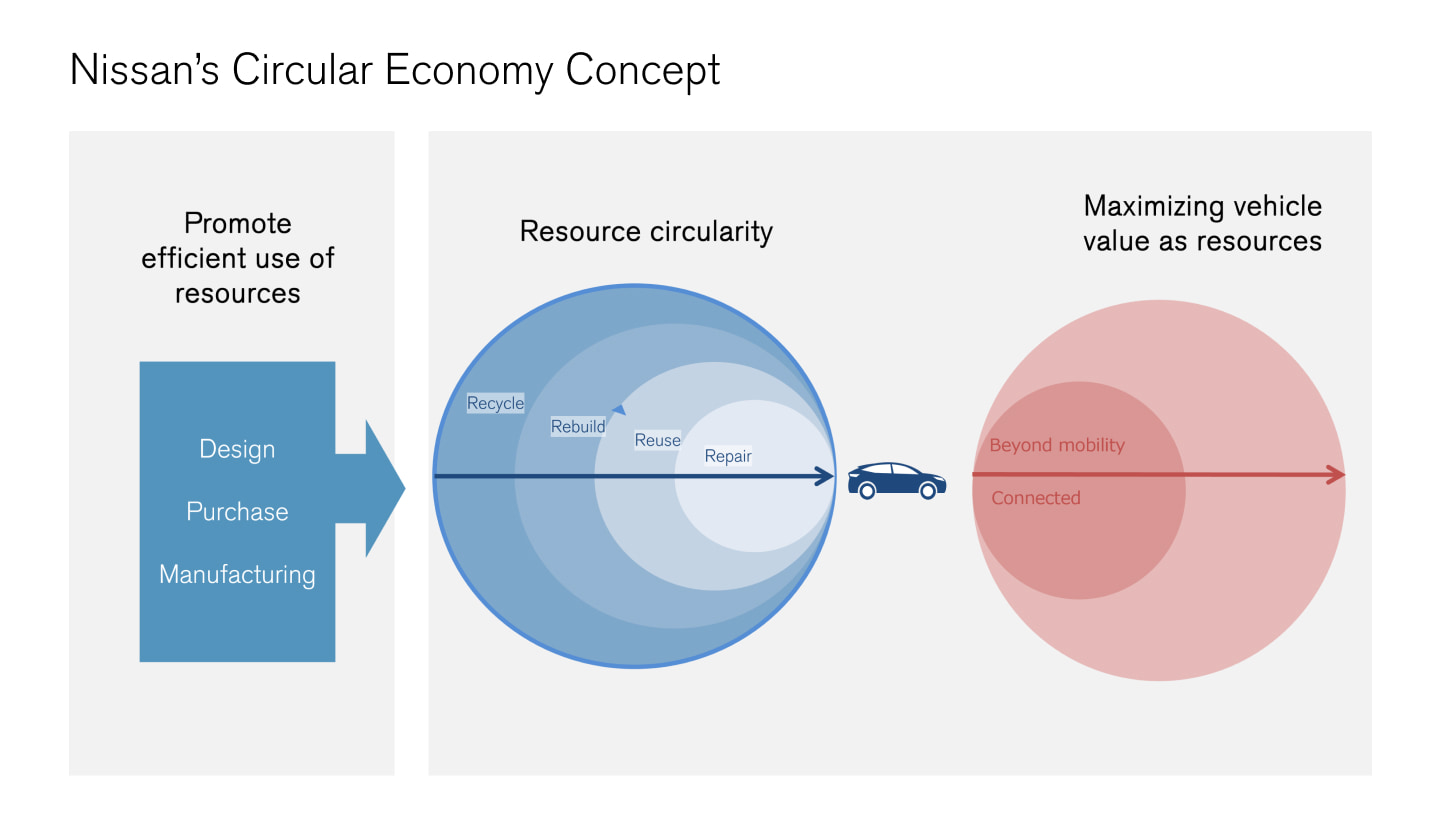 Automobiles are made of many components, incorporating a diverse range of resources. The combination of these resources creates new value. Nissan has increased its resource diversification, using more renewable resources and recycled materials. While caring for ecosystems, Nissan became more competitive as we targeted green growth. In working toward the long-term vision of using materials that do not rely on newly mined resources for 70% of the materials used in each vehicle in 2050, we will strive to minimize the use of natural resources and maintain new resource usage at 2010 levels.
As part of the Nissan Green Program 2022 (NGP2022), Nissan is developing systems for using resources efficiently and sustainably across their entire lifecycle, and has adopted the concept of the "Circular Economy" to maximize the value it provides to customers and society. In an attempt to use resources efficiently with less energy, we will promote the use of recycled materials and recycling end-of-life vehicles, and strive to incorporate reusable resources in our activities at the design, purchasing and manufacturing stages. We are using fewer resources overall, both through appropriate use of chemical substances and making vehicles more lightweight. We will continue to promote the efficient use of resources with further reduced energy requirements and the expanded use of repaired and remanufactured parts as well as the secondary use of electric vehicle (EV) batteries in the vehicle use stage, and foster the development of biomaterials and dieless forming technology for practical use. We will also increase the value cars manufactured in this way provide to society and ensure that cars can be put to best use by promoting electrification and autonomous drive in our products, pursuing connectivity and providing mobility services such as ride sharing.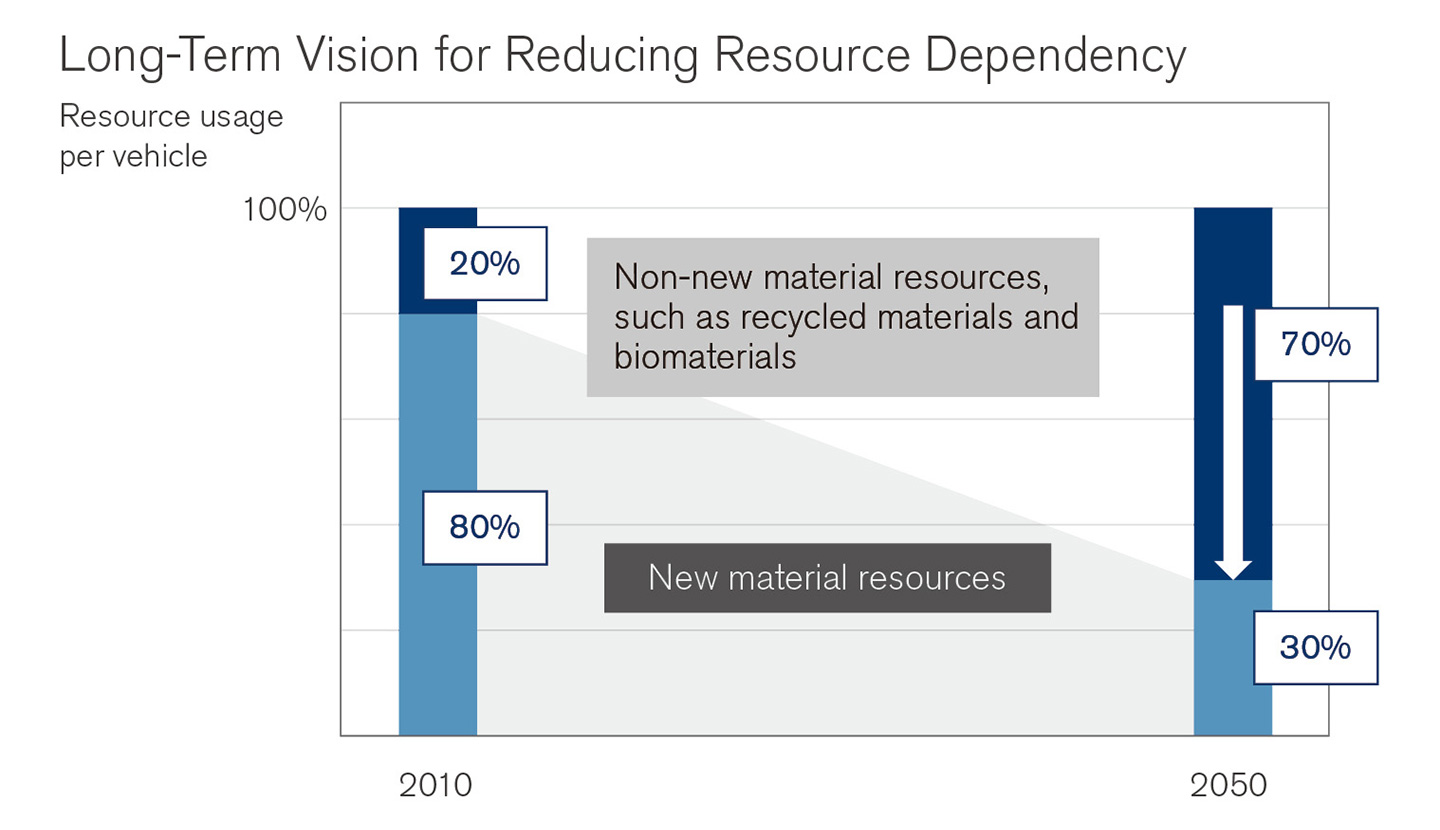 Development of biomaterials: Promotion of research on technical solution
Proper use of chemical substances: Implementation of the Alliance policy on chemical substance management
More than 30% (in weight) of a new vehicle to be non-new material resources
Expansion of remanufactured parts: Duplation of remanufactured item coverage (vs. FY2016)
Expansion of battery reuse: Expansion of EV battery reuse business
Adoption of die-less forming: Plan and implement technical development
Waste reduction (manufacturing): BAU 2% (Japan) and BAU 1% (overseas) reduction of waste
Wastes to landfill reduction (manufacturing): Landfill ratio reduction
Nissan has set the following specific targets and plans for 2022 regarding particular important activities related to resources.
<Material alternatives that do not depend on newly-extracted resources>
By using recycled materials, developing biomaterials, conducting recycling activities in-house and at suppliers, and making efforts to reduce car body weight, out of all raw materials used in the production of cars, we are aiming to use 30% of material alternatives that do not depend on newly-extracted resources by 2022.
<Application of rebuilt products>
While reducing dependence on new resources, we have enhanced the coverage of our rebuilt products program (Nissan Green Parts) as a way to increase the convenience for our long-tern customers, and will seek to double the number of rebuilt parts to be used in the Japan, United States and Europe markets compared to current numbers.
<Reduction of waste from manufacturing sites>
The energy diagnostics team NESCO (Nissan Energy Saving Collaboration) has expanded its activities to the resource field and promotes the reduction of waste generated from manufacturing sites. It aims to reduce 2% and 1% of waste generated in Japan and overseas, respectively, as compared to the business-as-usual
<Development of biomaterials>
We promoting technological development with the aim of substituting plastic or resin-based materials used in cars for plant-derived materials.