Activities at manufacturing sites
Effective Use of Resources
Nissan actively promotes measures based on the three Rs-reduce, reuse and recycle-in its production processes whenever possible, striving to minimize the waste generated and maximize recycling efficiency by means of thorough sorting of waste. Our efforts have paid off. As of the end of fiscal 2010, we have achieved a 100% recovery rate at all of our production sites in Japan: five manufacturing plants, two operations centers and five affiliates. In Mexico, the Aguascalientes plant achieved this in 2011.
Reduce - Curbing the Generation of Waste
A panel of experts was formed in fiscal year 2002 to study technical measures for controlling waste at the source of generation. Nissan is involved in a number of activities including using returnable palettes, recycling cutting oil, investigating ways to of reducing our use of cutting oil to zero, and investing in equipment to drastically reduce the amount of waste we produce.
Reduction of packing and packaging materials
Nissan has been making great efforts to reduce the number of wooden pallets and cardboard boxes used in import and export parts shipping, replacing them with units made from steel for more than 30 years, and plastic for more than 20 years, which can be returned and foldable for reuse. We have also been working with our Alliance partner Renault to expand the use of our globally standardized, returnable containers. By promoting design activities carried out concurrently with logistics operations, we have recently been considering ways to optimize packaging shapes from the development stage, thus contributing to a reduction in the packaging materials we use.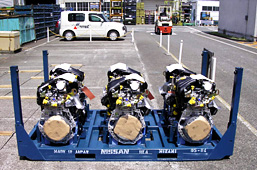 Efforts at reusing include the collection and repeated use of protective coverings for parts, which in the past were disposed of after use. The goal is to steadily expand the range of parts and materials being reused at plants throughout Japan and at overseas facilities. Caps attached to protect parts during delivery to Nissan from suppliers are reused as dustproof caps in the transport of completed engines from engine plants to assembly plants.

Recycle - Recycling Waste
Recycling based on thorough sorting of waste materials and control of waste generation at the source is essential to encourage waste reduction. Nissan aims for zero emissions in Japan to eliminate as much as possible of the waste generated during manufacturing activities.
Nissan has started closed-loop recycling of aluminum scraps from namufacturing process from 2021.
Closed-loop recycling of aluminum scraps from manufacturing
Currently, at Nissan Motor Kyushu and plants in North America and-Europe, where new X-Trail, Rogue and Qashqai are manufactured, we are collaborating with aluminum manufacturers to adopt a closed-loop recycling process that recycles aluminum scraps generated during manufacturing into aluminum alloy sheets for automobiles.
The sorting and collecting of scrap in this process control impurities, realizing horizontal recycling without quality deterioration, which contributes to reductions in the amount of newly mined resources (aluminum ingots) used.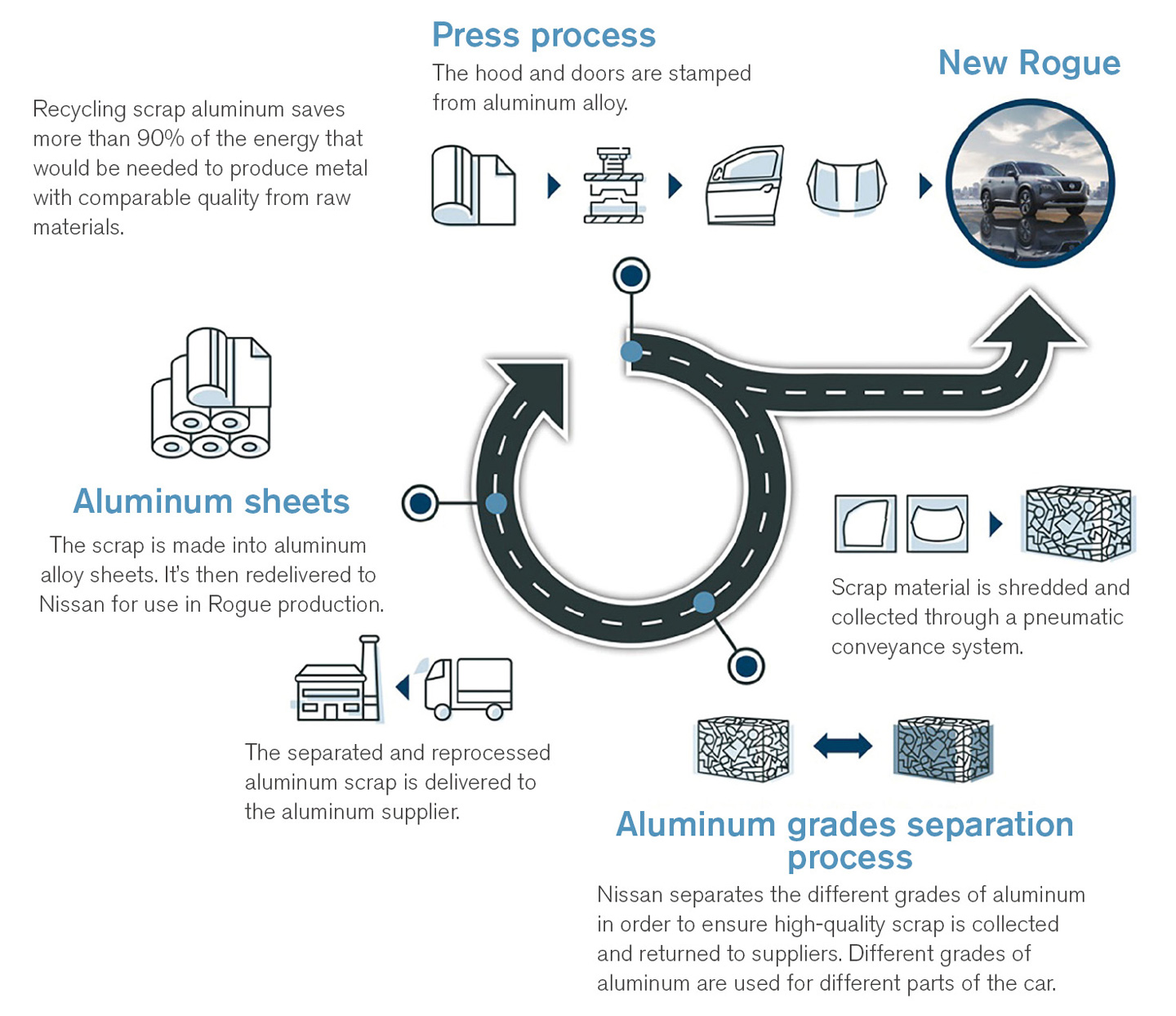 Towards advanced scrap material recycling
In order to maintain/improve the quality of material scrap and enhance resource recycling, we centrally manage material scrap generated in the manufacturing processes of Nissan and related companies.
Specifically, we recycle processing scraps, jigs and tools and equipment scraps at manufacturing sites, and material scraps generated during demolition work (mainly iron/steel scrap). We choose the most adequate application for the material and select its final destination together with the recycler.