Nissan Green Shop Activities
Wide-ranging environmental efforts at our dealerships-including separation of waste, recycling, and energy-saving activities-are essential to earning customer's trust and recognition of Nissan's environmental activities.
In April 2000, Nissan's sales companies in Japan introduced an original approach to environmental management based on ISO 14001 certification called the Nissan Green Shop certification system, and continue to raise the level of environmental activities. Dealerships certified in Nissan Green Shop have appointed environmental managers and secretariats to be in charge of environmental activities, and established a system for the activities. Working within this system, they ensure that end-of-life vehicles and waste are disposed of properly, and manage environmental facilities, and conduct public relations and other activities to inform customers of Nissan's environmental efforts.
Automobile dealerships are subject to various laws and regulations. The dealerships certified in Nissan Green Shop stay up to date on the practices to be carried out through the manual complied with the Automobile Recycling Law. The status of activities is monitored during regular inspections.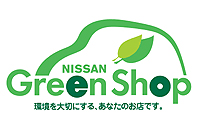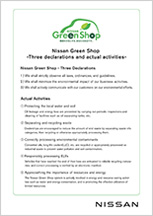 Recycling: Sales of Nissan Green Parts in Japan
Nissan Green Parts is the name given to still usable parts that Nissan recovers from end-of-life vehicles and sells after reconditioning.
In fiscal 1998 and 1999, the first years Nissan Green Parts were available, sales reached only 2 million yen, however in fiscal 2013 grew to ¥1.5 billion.
This growth demonstrates that customers recognize Nissan Green Parts as a reasonable option for use in repairs of their vehicles. We plan to improve the matching rate between the parts collected by recyclers and our customers' needs, and make further efforts to give customers exactly what they want.
Nissan Green Parts include both reused and rebuilt parts. Reused parts are recovered parts that have been cleaned and passed a quality check, while rebuilt parts are those that have been disassembled, washed, checked, and had worn components replaced.
| Lineup of rebuilt parts | Lineup of reused parts |
| --- | --- |
| Automatic transmissions, brake shoes, power steering pumps, alternators, starters, drive shafts, power steering gears, turbochargers, air-conditioner compressors, injection pumps, CVT, viscous coupling and throttle chamber.. | Headlamps, combination lamps, doors, door mirrors, fenders, bumpers, hoods, meters, starters, wiper motors, drive shafts, and power steering and linkage. |
| | |
Bumper recovery and recycling in Japan
Nissan is working to collect and recycle used plastic bumpers obtained during the repair and replacement of vehicle parts at dealers nationwide. The collected bumpers are recycled into plastic parts for new vehicles through a recycling process. These efforts were begun at dealerships in 1992, and are becoming firmly entrenched.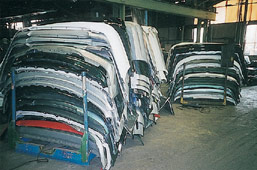 Compliance with Automobile Recycling Laws
Activities matched to the regulations and conditions in each country
Nissan makes every effort to satisfy the various laws and regulations related to end-of-life vehicles. To assure our customers that end-of-life vehicles are being disposed of and recycled properly, we are cooperating with various partners to raise the effectiveness of our activities.
Laws and regulations differ by country and region; the social infrastructure, including collection routes and the status of recycling industries, also varies. Our basic policy at Nissan is "global products, local disposal." While we have common design criteria for the world, end-of-life vehicles must be dealt with in full consideration of the situation in each country and region. In Japan, as industrial waste landfills approach their capacity and illegal dumping and disposal of shredder residue is a concern, Japan's Automobile Recycling Law went into effect on January 1, 2005, and requires that automobile manufacturers collect and recycle Automobile Shredder Residue(ASR), chlorofluorocarbons, and airbags.
In Europe, an EU directive on end-of-life vehicles was issued in 2000, and places the burden of responsibility for recycling end-of-life vehicles on manufacturers and dealers. In addition to Japan and Europe, Nissan has begun conducting surveys on recycling trends in North America, Central and South America, and Asia.
Future tasks will be based on Nissan's global policy, with a local approach suited to the regulatory environment and industry of each country.
Chlorofluorocarbon recovery
Nissan has contracted the Japan Automobile Recycling Promotion Center to recover and destroy specified chlorofluorocarbons (CFC12) and their alternatives, hydro-fluorocarbons (HFC134a), which are used as alternatives to chlorofluorocarbons, based on a law for the recovery and destruction of chlorofluorocarbons that went into effect in October 2002.
Since January 2005, Nissan has been conducting its own processes based on the Automobile Recycling Law to break down recovered chlorofluorocarbons (CFC12) and the hydro-fluorocarbons (HFC134a) that are used as their substitutes.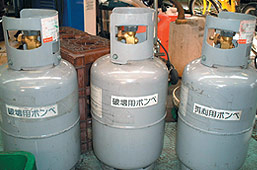 Since the passage of the Automobile Recycling Law in 2002, we have conducted preparations in various fields to meet its requirements, including continuing work to raise the recoverability of new vehicles, developing dismantling technologies, and preparing responses at our dealerships and developing overall systems.
Automobile Shredder Residue Recycling Promotion Team (ART)
As part of its efforts to comply with the law and increase the efficiency of its resource recovery, Nissan is one of 11 automobile manufacturers and other firms that formed the ASR Recycling Promotion Team (ART). As a leading member of the ART, Nissan is working to improve recovery cost efficiency for vehicle owners.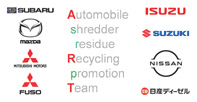 In Europe, an EU directive on end-of-life vehicles issued in October 2000 places the burden of responsibility for collection and recycling of end-of-life vehicles on manufacturers and dealers (distributors). EU countries have enacted various laws based on this directive.
Nissan Europe and Renault S.A. have joined together to build an end-of-life vehicle collection and recycling network, gather information and provide support to dealerships in each EU country.
Provision of dismantling information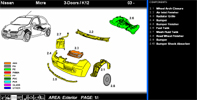 In Europe, automakers must provide dismantling information for new vehicles to automobile scrappers. To meet this requirement, Nissan is participating in the International Dismantling Information System (IDIS) started and operated jointly by a consortium of automobile manufacturers. This system prepares dismantling information in electronic formats.
Activities in South Korea
South Korea enacted regulations for end-of-life vehicles in January 2008, which place responsibility for collection and recycling of end-of-life vehicles on the automobile manufacturer or automobile importer. Nissan Motor Company and Nissan Korea are working together to meet these regulations.