The electric vehicle (EV) is a product showing that what is good for the public and the planet is also good business. Nissan's commitment to sustainable mobility begins by addressing concerns over climate change and supports sustainable profits for Nissan by satisfying customers' demands for more environmentally friendly vehicles. Greater movement toward renewable energy such as solar, wind and hydropower in the future is expected to further enhance this segment, as EVs will be able to use energy from a variety of sources.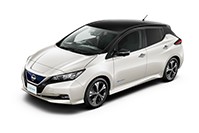 Nissan launched its newest electric vehicle in 2019, the Nissan LEAF e+, which boasts additional power and range. The "e+" refers to the increased energy density of the model's battery pack despite a similar pack size as the LEAF, and the higher output of the powertrain. The new LEAF e+ powertrain adds to the car's range by approximately 40%, ensuring that there's a Nissan LEAF to meet the driving needs of a wider range of customers.
e-NV200, the 100% electric commercial vehicle
The e-NV200- Nissan's second all-electric vehicle, following Nissan LEAF-is produced in Barcelona, Spain which is sold in Europe.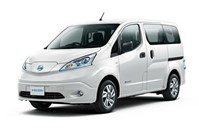 Combining the best elements of two multi-award winning vehicles - Nissan LEAF and Nissan NV200 - the all-electric Nissan e-NV200 is a game-changing, practical and sustainable city delivery vehicle.
The e-NV200's high performance pure electric drivetrain, also utilized in the acclaimed Nissan LEAF, is allied to the class-leading cargo volume of the NV200, which has been awarded International Van of the Year, to create a practical and versatile vehicle capable of carrying people or goods emitting neither exhaust gases nor noise.
For more information about our initiatives on zero-emission mobility, please see below.
The Nissan New Mobility CONCEPT
The Nissan New Mobility Concept is a 100% electric vehicle that was developed in response to rising numbers of senior citizens and single-member households, along with increasing use of automobiles for short-distance trips by up to two people. Even smaller than a compact vehicle, it gives the driver excellent views of the surroundings and a better feel of the vehicle dimensions, making it an ideal choice for residential neighborhoods and other areas with narrow streets offering poor visibility.
In fiscal 2011, Nissan conducted driving trials on public roads with the authorization from Japan's Ministry of Land, Infrastructure, Transport and Tourism (MLIT) in the city of Yokohama and the prefectures of Aomori and Fukuoka, using local traffic systems and numerous studies. Also, from July 2012 to the end of March 2013, the vehicle was utilized for patrols by the Kanagawa Anticrime Seagull team, a voluntary group operating with approval from the Kanagawa Prefectural Police.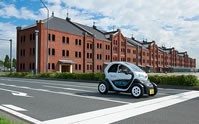 In February 2013, the city of Yokohama and the railway company Tokyu Corp. surveyed monitors using the Nissan New Mobility Concept as part of a program to plan smart communities of the future. Nissan carries out activities like these to produce fresh ideas that allow the development of new EV use patterns, enable smoother traffic flows, and consider potential ideal forms of tomorrow's communities.
Fuel-Cell Electric Vehicles
Powered by electricity generated from hydrogen and oxygen, fuel-cell electric vehicles (FCEVs) are another type of zero-emission vehicle that does not produce CO2 or other harmful emissions. We believe that, as part of building a sustainable mobility society, both FCEVs and EVs are viable options from an energy diversity perspective.
In alignment with Japanese government policies, we joined forces with Toyota Motor Corp., Honda Motor Co. and other companies to establish Japan H2 Mobility, LLC (JHyM), targeting the full-fledged development of hydrogen stations for FCEVs in Japan. Addressing the key issues raised during the initial stage of FCEV promotion, JHyM will ensure that infrastructure developers, automakers and investors all do their part to support the successful strategic deployment of hydrogen stations and effective operation of the hydrogen station business in Japan.
New e-Bio Fuel-Cell Technology Announcement
In June 2016, Nissan unveiled an e-Bio Fuel-Cell system that runs on bio-ethanol electric power. The new system—a world first for automotive use—features a solid oxide fuel-cell (SOFC) power generator. SOFC technology can produce electricity with high efficiency using the reaction of oxygen with multiple fuels, including ethanol and natural gas. Infrastructure to support e-Bio Fuel-Cell usage is relatively easy to deploy, and vehicles using this technology feature running costs as low as those of EVs, promising a smooth introduction to the market. Because our technology combines the efficient electricity generation of SOFC with the high energy density of liquid fuels, it can enable driving ranges on a par with gasoline-powered vehicles. Commercial users that require higher uptime for their vehicles should increasingly be able to take advantage of this solution thanks to the short refueling times it offers.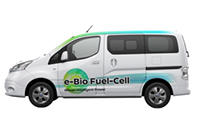 A Comprehensive Approach to a Zero-Emission Society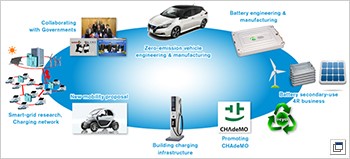 The widespread use of zero-emission vehicles, which produce no CO2 emissions during operation, is an effective way of helping to bring about a sustainable society. The auto industry must go beyond producing and selling zero-emission vehicles, and help put the necessary infrastructure in place and assure that the vehicles are economical to use – goals that no company can accomplish on its own. The Renault-Nissan Alliance has launched and popularized EVs as a key strategy, and committed to zero-emission leadership. In addition to boosting the development and production of EVs, we have built more than 100 zero-emission partnerships with national and local governments, electric power companies and other partners in a range of industries to promote zero-emission mobility and to carry out discussions on the construction of the required infrastructure.
We are also taking part in a comprehensive range of initiatives focusing on zero-emission mobility, including the production of lithium-ion batteries, secondary use and recycling of batteries, in-house manufacture and sale of quick-charging equipment, construction of vehicle-charging infrastructure and standardization of charging methods with other manufacturers. The spread of zero-emission vehicles will pave the way for the development of a sustainable mobility society.