Expansion of vehicle usage
Nissan unveiled the Nissan Energy Home, a demonstration house that shows how electric vehicles can help provide power for a home's energy needs. The Nissan Energy Home allows customers to learn about Nissan Energy, the company's vision for connecting homes, cars and power grids, which was announced today.
Nissan Energy envisions a connected world where new developments in battery usage and power generation enable homes and vehicles to better harness energy and to power each other. This is a key aspect of Nissan Intelligent Integration – a pillar of Nissan Intelligent Mobility, the company's vision for changing how cars are powered, driven and integrated into society.
At the heart of the Nissan Energy Home is a vehicle-to-home system. The system charges the connected electric vehicle, which then shares power with the home. This demonstrates Nissan Energy Share by using Nissan's electric vehicle technology to store, share and repurpose energy.
Related link
"LEAF to Home" Power Supply System
In May 2012, Nissan unveiled a new system, "LEAF to Home" that enables electricity to be supplied from the lithium-ion batteries installed in Nissan LEAF to households through the EV Power Station built by Nichicon Corporation. Nissan LEAF can supply the electricity in its battery to a house when the car's quick-charging port is connected to the house's electricity distribution panel. This system provides completely new value made possible by the zero-emission vehicle's battery. In addition, the connector complies with the CHAdeMO Association's protocol for quick chargers, known for its versatility, safety and reliability.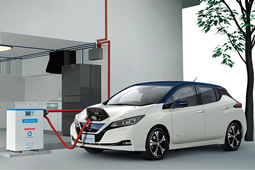 With the "LEAF to Home", Nissan LEAF can be used as an electricity storage device for houses in times of power outages and/or shortages. The system can also help to reduce the burden on the power grid by charging Nissan LEAF with electricity generated at night (often at lower cost to the consumer), or through sustainable methods such as solar power, and using it during high demand periods.
"Vehicle-to-Building" test at NATC
In July 2013, Nissan began a test of "Vehicle-to-Building," which is based on "LEAF to Home," at the Nissan Advanced Technology Center (NATC) in Atsugi, Kanagawa Prefecture. "Vehicle-to-Building" allows up to six Nissan LEAFs to be connected and supply power to office buildings, condominiums or other buildings. Users can save electricity costs by drawing on this system at times of peak demand. In tests at the center, the system achieved an approximately 2.5% reduction of electrical power use during peak hours. Nissan plans to identify issues with operation of the system and test it outside the company.