Nissan's Long-Term Vision
In 2006, based on calculations incorporating the findings of the IPCC's Third Assessment Report and the goal of keeping global temperatures from rising more than 2 degrees Celsius, we set a scientifically grounded target for 2050 of reducing product CO2 emissions from new vehicles by 90% compared to 2000 levels.
Recognizing that this would require to drastically reduce "well-to-wheel" CO2 emissions from new vehicles, we set about developing a new scenario for powertrain technologies.
Under the Nissan Green Program 2022 (NGP2022), to remain on track with this target, we are aiming to reduce CO2 emissions from new vehicles by 40% compared to fiscal 2000 by 2022 (in Japan, the U.S., Europe and China) throughout the value chain as a whole.
As a global leader in technological advancements through the electrification of our products, we believe we can substantially contribute to the global efforts to keep the temperature rise "well below" 2 degrees Celsius. These initiatives also reinforce the sustainability of our own business.
Although NGP2022 has achieved some success, in recognition that efforts made so far are insufficient in terms of the IPCC "Special Report: Global Warming of 1.5°C" published in 2018, and in terms of national / local government and customer expectations for carbon neutrality in each market, Nissan is working toward higher goals by aiming for carbon neutrality in the vehicle life cycle and all business activities by 2050. As a milestone toward the realization of this goal, in January 2021 we announced that Nissan has set the goal of achieving carbon neutrality across the company's operations and the life cycle of its products by 2050. As part of this effort, by the early 2030s every all-new Nissan vehicle offering in key markets will be electrified.
We are driving the evolution of new technologies and businesses. Under the umbrella of Nissan Intelligent Mobility*, we take a unified approach to introducing, marketing and deploying new technologies, functions, businesses and services.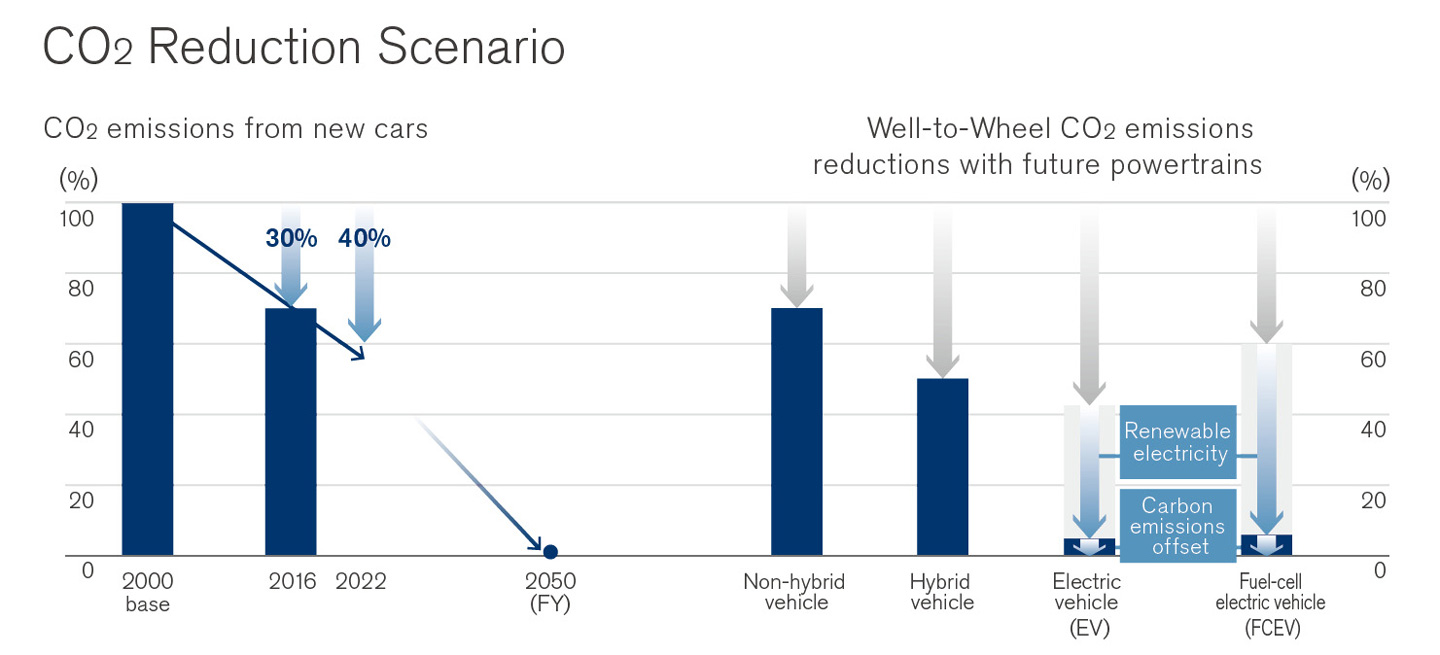 Key Activities in NGP2022
The level of CO2 emitted while driving is influenced not only by vehicle performance and fuel type but also by traffic conditions and how the vehicle is driven. Nissan thus approaches CO2 reduction for vehicles considering three elements: vehicle, driver and traffic conditions.
More specifically, Nissan will seek to mitigate real-world CO2 by taking threefold approach:
Adopt cleaner energy to reduce homologated vehicle CO2
Extend electrification across all brands. Aggressively expand EV lineup and deploy e-POWER technology in core Nissan products for the Nissan Intelligent Mobility*1 strategy.
Improve support for driver behavior through connected technology and coaching
Change vehicle usage patterns
Expand mobility services and vehicle usage. Pursue global expansion of V2X*2 energy management solutions (commercialization in the US and Europe as well as Japan). Carry out stakeholder engagement supporting V2X device commercialization.
Click here for more information on Nissan Intelligent Mobility.
https://www.nissan-global.com/EN/INNOVATION/TECHNOLOGY/ARCHIVE/NIM/
V2X: Vehicle to Home, Vehicle to Grid etc. are collectively called as V2X. One example of V2X technology is Vehicle to Grid (V2G), which allows smart optimization of electricity supply according to demand.