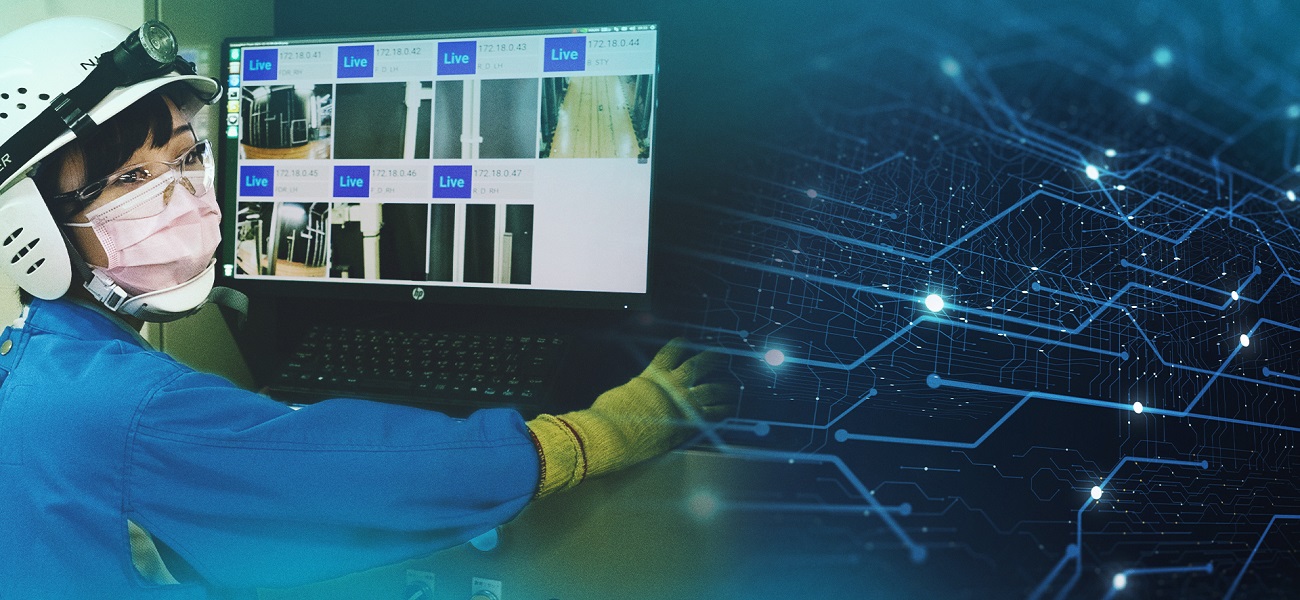 AI technology brings excitement to Nissan Japan
Artificial Intelligence system one of many Nissan developments enhancing customer satisfaction
Imagine if buying a new car became about choosing the best options for your lifestyle. Cars are growing more intelligent, more connected, more advanced by the day. New cutting-edge tech innovations as options are being added to an already extensive range of standardized features.
As you can imagine, the amount of detailed quality inspections involved in checking each vehicle, its standard features and options on a busy production line presents challenges.
However, the rapid diversification and digitalization of all manufacturing systems, not just those employed in the auto industry, is propelling innovation and providing new opportunities to deliver value to the customer.
At Nissan, companywide kaizen (the Japanese industrial philosophy of continual, holistic improvement) efforts are driving the development of innovative manufacturing and inspection technologies. These technologies will not only help ensure customer satisfaction, but also create a more comfortable and efficient manufacturing environment for Nissan workers.
AI evaluation system – a glimpse of what's possible
Headed by project lead, Yoshinori Sato, a team of Nissan engineers has, since 2018, been working on ways to introduce cutting-edge AI (Artificial Intelligence) technologies to car manufacturing in Japan.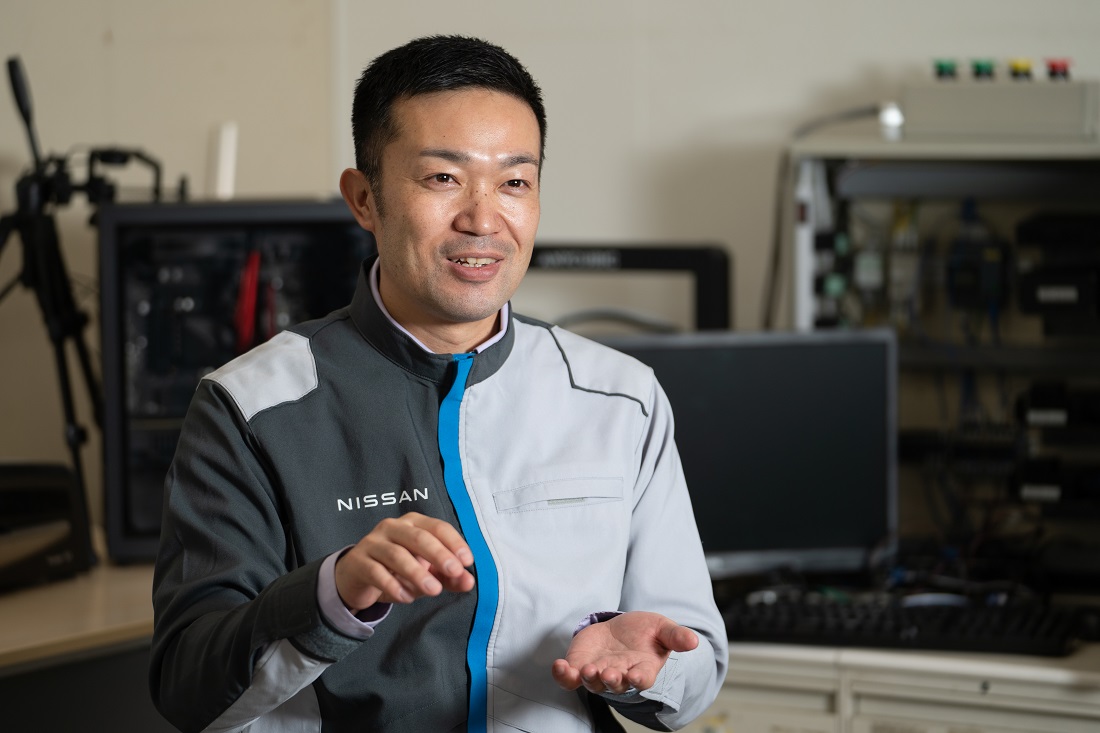 The result, an inspection scanner capable of evaluating various car parts to a 99.995 percent degree of accuracy, has been operational at Nissan's Oppama Plant in Kanagawa Prefecture for the past year. It uses machine learning to assess new images against stored input data, and to then make intelligent quality control decisions.
"We see it now as a way to help us perform certain tasks," Sato said. "But when you take in the added potential posed by combining the technology with robotics, a whole new level of possibility is revealed. A number of physically demanding or stressful jobs beyond image recognition could potentially become mechanized and operated via AI."
Seiji Furuta, a Production Maintenance Specialist on Sato's team, emphasized the benefits for Nissan customers, saying that "with this technology, we're able to achieve nearly 100 percent accuracy in our inspection process, helping to ensure the customer gets exactly what they ordered."
Overcoming early AI hesitancy
Despite these benefits, there were some early doubts about the team's plans to implement AI in Nissan Japan factories.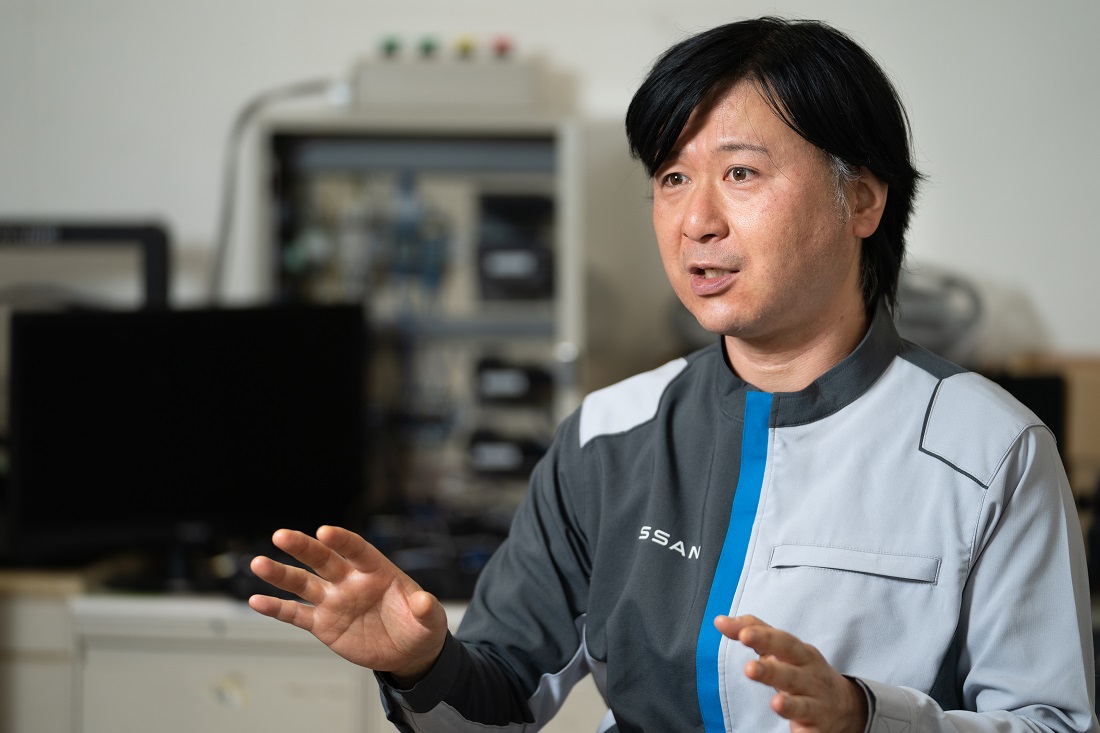 Customer safety is of course paramount and, as Furuta explained, "many people felt it was unlikely machine learning could be fully relied upon to always produce accurate results. They essentially didn't trust AI, believing that the potential risk it posed to the smooth running of the production line was too great."
It was important for the future of the project that the team address these concerns and gain the support of their colleagues. They successfully applied for a patent in Japan for their AI evaluation system, proving the accuracy of the technology.
The team also conducted extensive initial trials – at least 1,000 units for each car part the system would go on to check. Sato, Furuta and other members of the team travelled to the U.K. for further study, with Sato securing AI certification thanks to the help and support of various Nissan departments.
The team also made full use of Nissan Learning Center (NLC) facilities to develop a practical training course on AI and its benefits. The course, which has been upskilling Oppama Plant employees since August, will have trained 22 beginners and another 4 intermediate-level AI technicians by the end of FY21.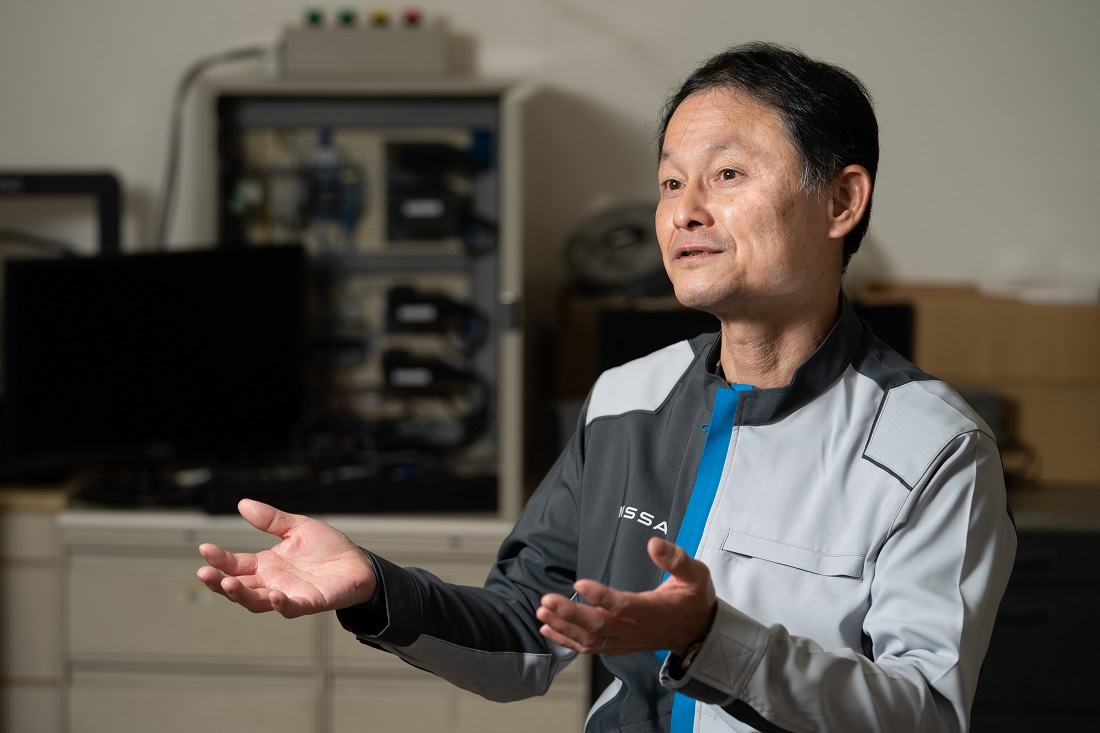 Advanced levels of quality control
"Of course, I don't want to suggest that our system is perfect," Sato said with a smile. "It's just another reliable assurance that everything in the production process is running smoothly, allowing us to provide the highest quality products to our customers."
For Nissan employees, this is perhaps the greatest benefit of the new technology. The knowledge that that there exists an extra level of quality control provides peace of mind, allowing them to dedicate more time to other tasks.
At the Oppama Plant, the AI evaluation system provides such support in three key areas.
First, the button selection process for dashboards. As the parts for the dash travel along the production line, technicians often experienced difficulties selecting the right buttons and inserting them in the correct place at speed.
A quick scan by the team's AI system verifies the buttons and their position against real-time data, alerting the technician if changes are needed.
Similarly, as technicians assemble a model's side mirrors, they're required to identify subtle variations in shade near imperceptible to the human eye. Running the mirror covers past the team's AI scanner helps maintain consistency.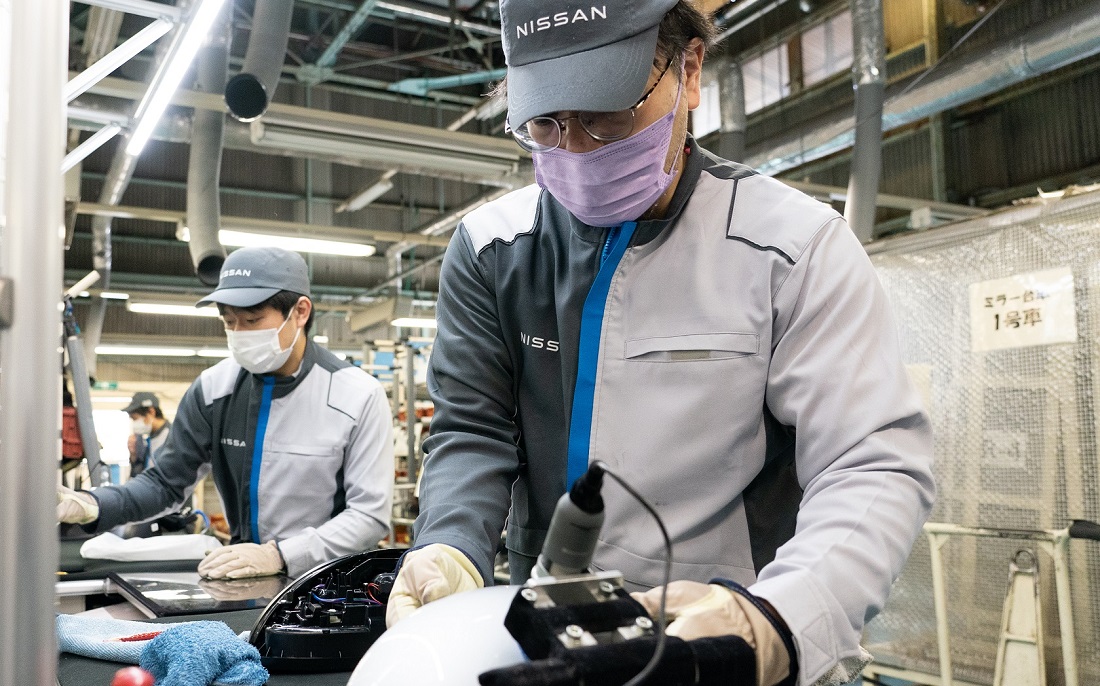 Finally, certain models, and even certain specs within those models, feature different characteristics, such as the shape and positioning of apertures in the doors.
By running the car's body through a scanner, the AI system seamlessly – and to a near perfect degree of accuracy – helps assure consistency.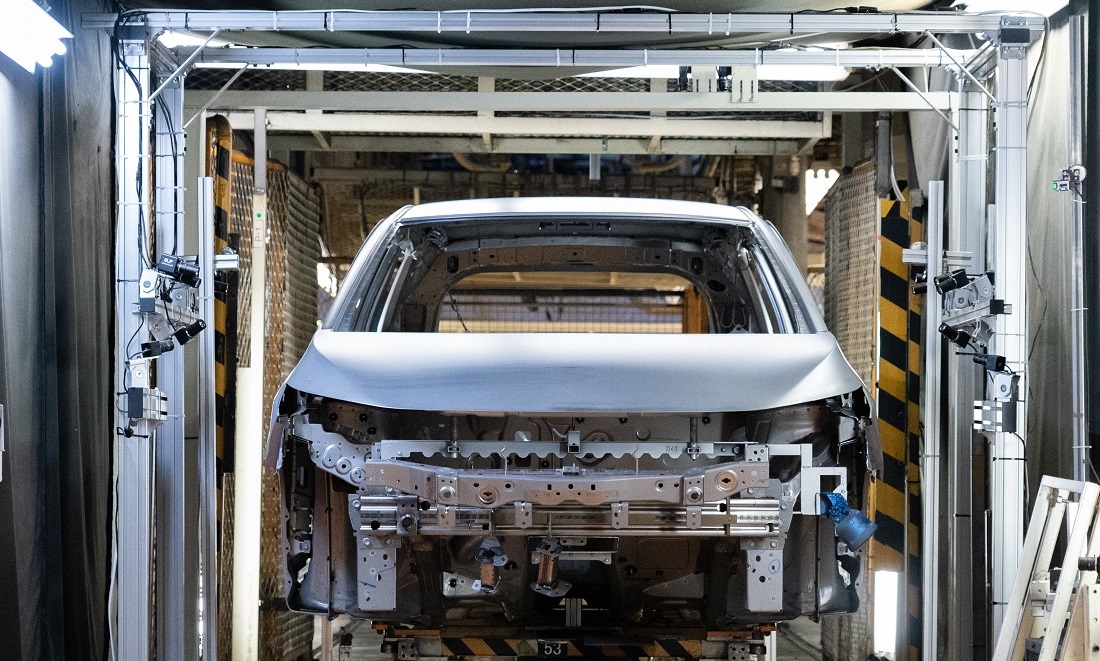 A future potentially redefined by AI
"The potential for this technology really is endless," Sato explained. "We just have to remember that AI requires a great deal of input and information to function. There is still a lot left for us to do to guide its development."
As one of many current innovations at Nissan, it will be fascinating to watch on as AI grows in significance. Be sure to follow Nissan Stories for more on AI and our other technological advancements.
Initially developed by Dr Andrew Batchelor – a former neuro scientist – and his team at the Sunderland Plant, U.K., the Nissan AI evaluation system uses machine learning algorithms loosely modelled on the way the human brain works. The system stacks the various layers of an image onto one another, filtering out edges, shades, and textures. It then mixes these elements together, forming a complex representation of an object within which it can detect any anomalies.
Digital Development Manager Yoshinori Sato worked alongside Dr Batchelor to develop the AI system during a four-year U.K. working assignment. Nissan U.K. developed the proof of concept, which was then rolled out for mass development, including by Sato-san in Japan, and onsite in the U.K.
Subscribe to Nissan Stories
Sign up to receive the latest Nissan stories!
Get the latest from Nissan Global