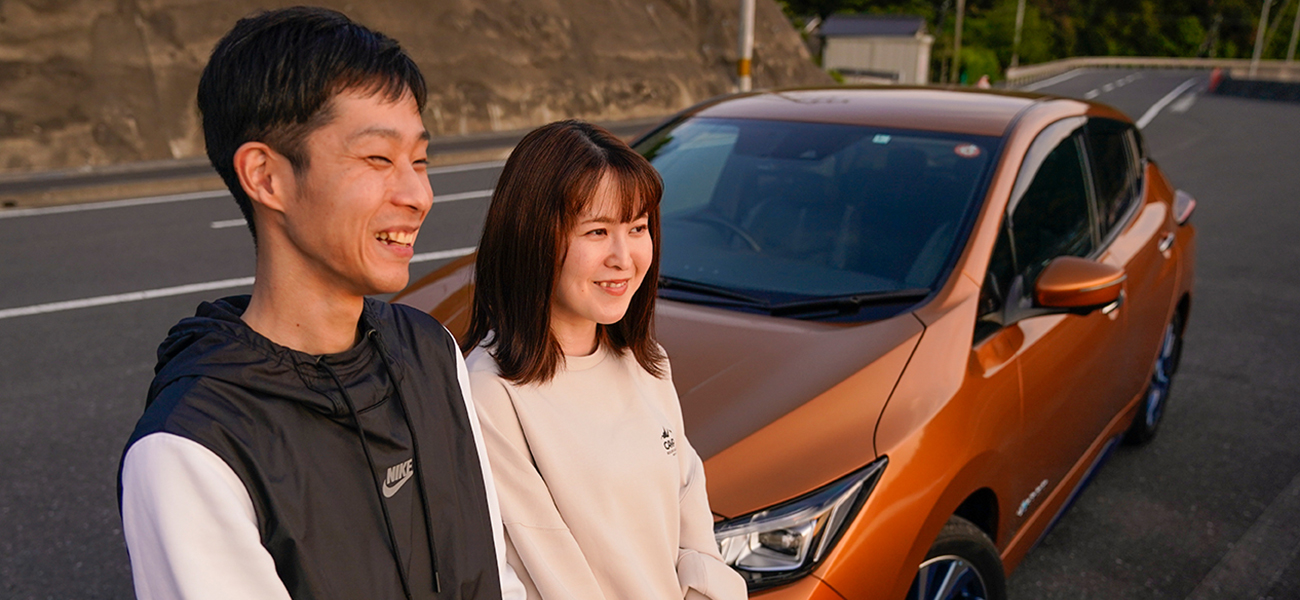 Going the distance
My life with a Nissan LEAF: Daily commutes and ever longer road trips – how the Nakagawas discovered the joy of going electric.
For Daisuke and Iori Nakagawa, the end of COVID-19 and all its restrictions can't come soon enough. The couple love to go on road trips and want to take their LEAF out for long spins again.
The couple live in Saiki, a coastal city in Oita – known for its dramatic mountain ranges, historic samurai residences and its many onsens – bath houses with steaming pools drawing water from volcanic hot springs.
The Nakagawas are on their third LEAF. Each time they bought a new one, they got increased battery capacity and more driving range.
Going electric to save costs
Daisuke bought his very first LEAF seven years ago. For him, this was not only an environmental decision, but also about cost. He was looking to replace an old mini-van and wanted a car that was cheaper to run. At a car fair he tested a first-generation LEAF with a 24 kWh battery. He liked the car's acceleration and quiet drive, but he truly loved its efficiency: By buying an all-electric LEAF, he would save money with every long drive.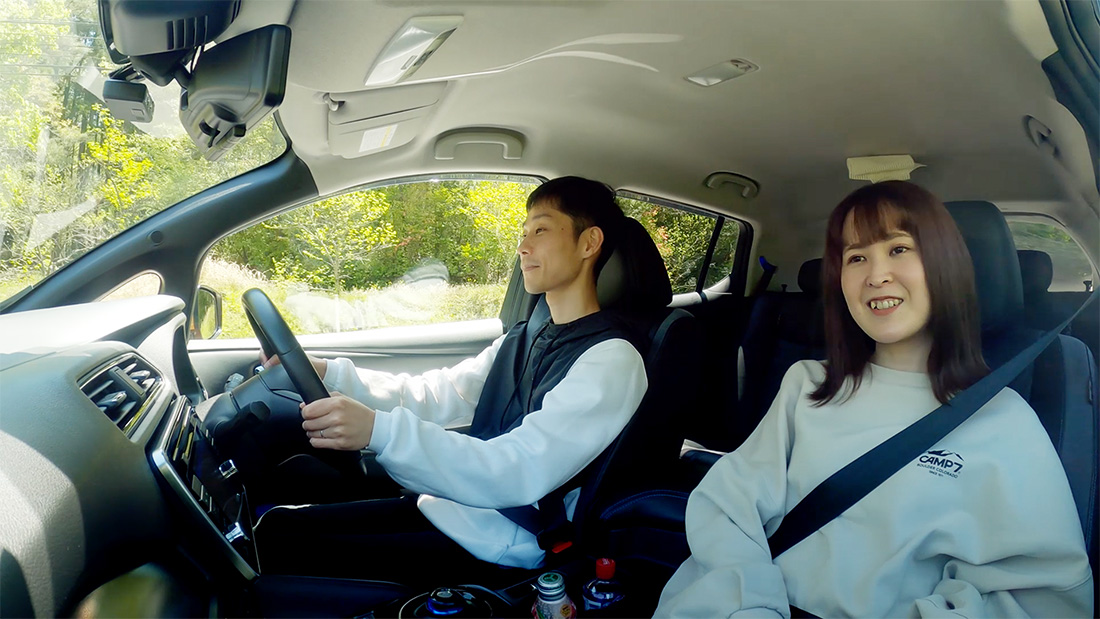 "Many people believe electric vehicles are expensive," says Iori. "We actually think it is a great option if you want to save money. It's completely different to what people imagine."
Overcoming natural disaster with LEAF
A few years later, Iori and Daisuke, now married, decided to upgrade to a LEAF with a 30 kWh battery to have that extra bit of energy for longer journeys. Within half a year, they clocked up 13,000 km – but then, disaster struck: In September 2017 torrential downpours caused widespread flooding across Oita. Daisuke had driven his LEAF to work, but when he got ready to go home he was in for a shock. The car park was flooded and some of his colleagues couldn't start their cars as their exhausts were below the muddy water line. Daisuke's LEAF, however, started without a problem and he gave his colleagues a lift home.
He got home safely, but like so many other cars across Oita the interior of his was ruined by the flood waters. The stink just wouldn't go away.
It was time to buy another car, and for the Nakagawas the choice was obvious: they ordered their third LEAF, this time with a 40 kWh battery.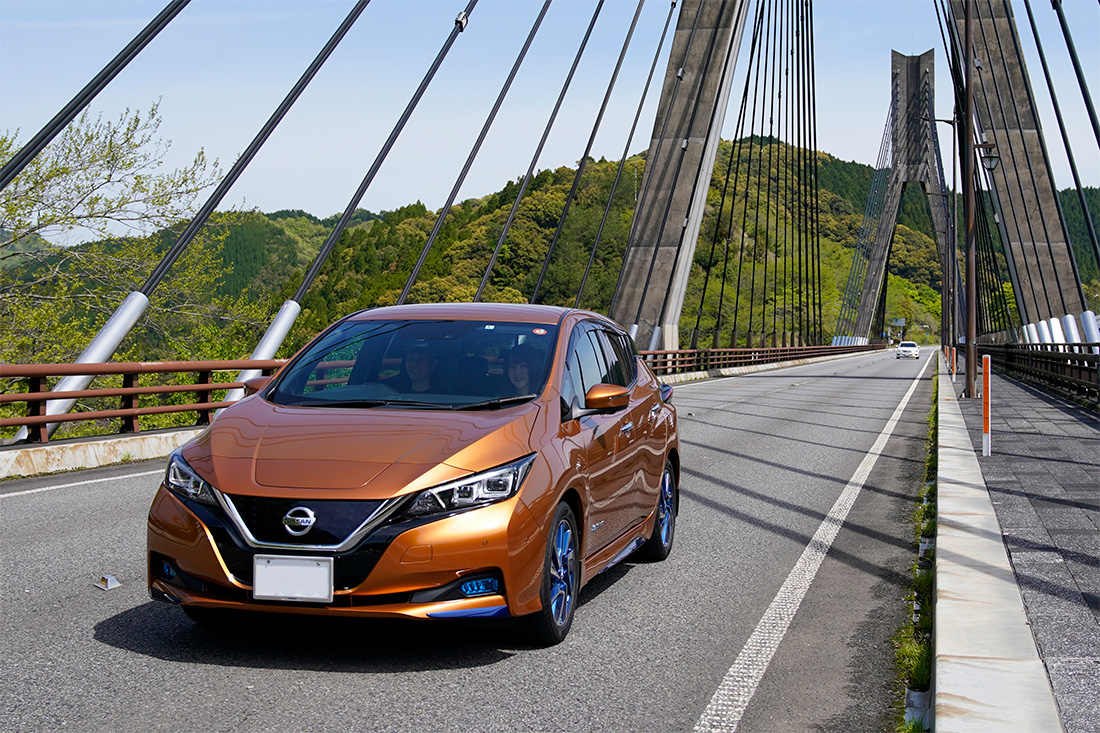 The couple had to wait a few months for delivery, so to bridge the gap they drove a gasoline car for a while. That, however, was a shock. Compared to a LEAF, the car was expensive and noisy. Looking back, Daisuke says simply: "I can't go back... The LEAF is so quiet to drive – there's just the soft noise of the tires on the road, and when I listen to music in the car I hear every note."
As happy owners of a LEAF with an even longer driving range, they use their all-electric car not only for commuting but also to explore the mountains and rugged coastlines of Oita and beyond. They have already clocked up 47,000 zero-emission kilometers, going on long round trips of 300 or 400 kilometers. Their LEAF has taken them as far away as Kumamoto and Saga, with several stops on the way.
Enjoying electric comforts
After changing jobs, Daisuke has to make a one-hour commute every day. Of course, what's made owning an electric vehicle even easier is the rapid growth of the charging infrastructure. Today it is rare that they find all charging spots occupied and have to drive a bit further to top up their battery. With the 40 kWh battery, however, worrying about driving long distances is a thing of the past.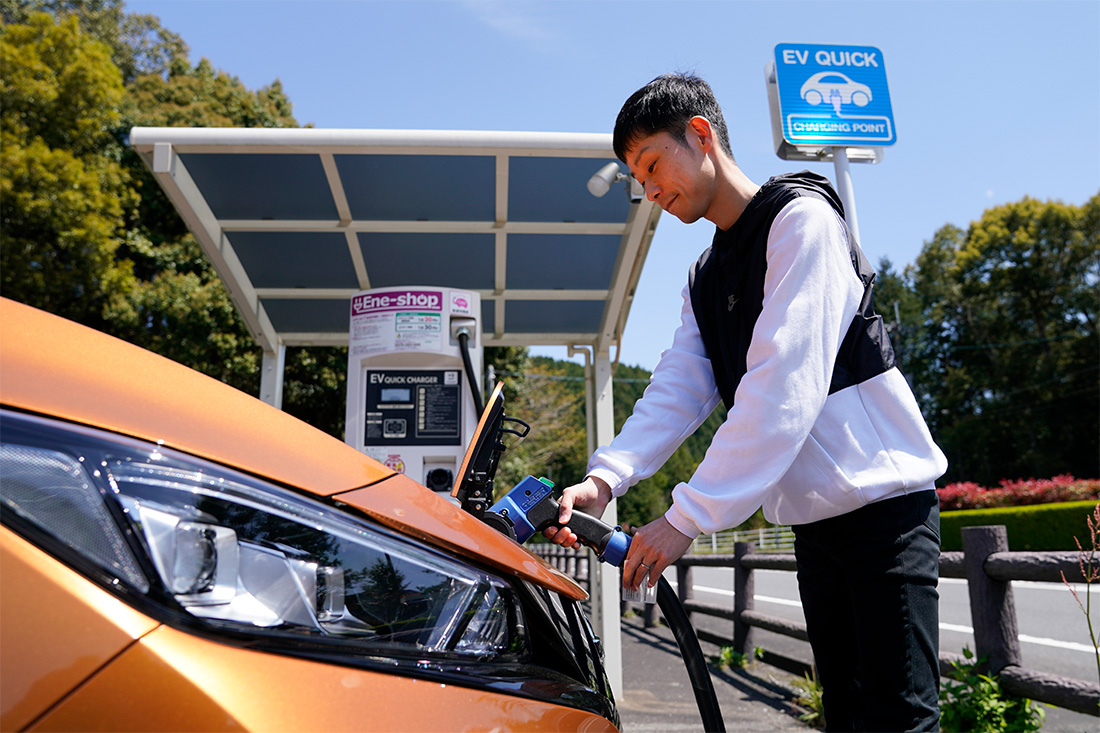 On cold winter days, Daisuke and Iori appreciate another benefit of owning a LEAF. Even when it's cold and snowy, they don't need the engine to idle until the heater gets going. Instead, a push of a button starts the car's heater instantly, and quietly. As matter of fact, they can even just give a vocal command to their Amazon Alexa digital assistant and the LEAF's heating warms the car.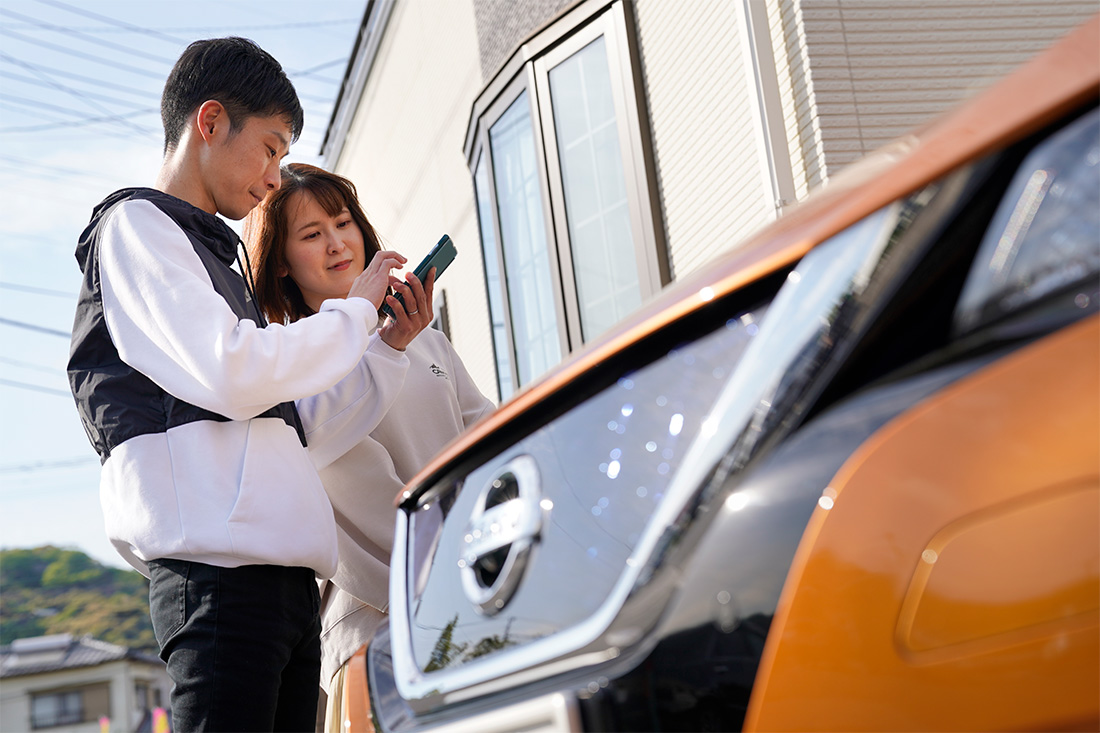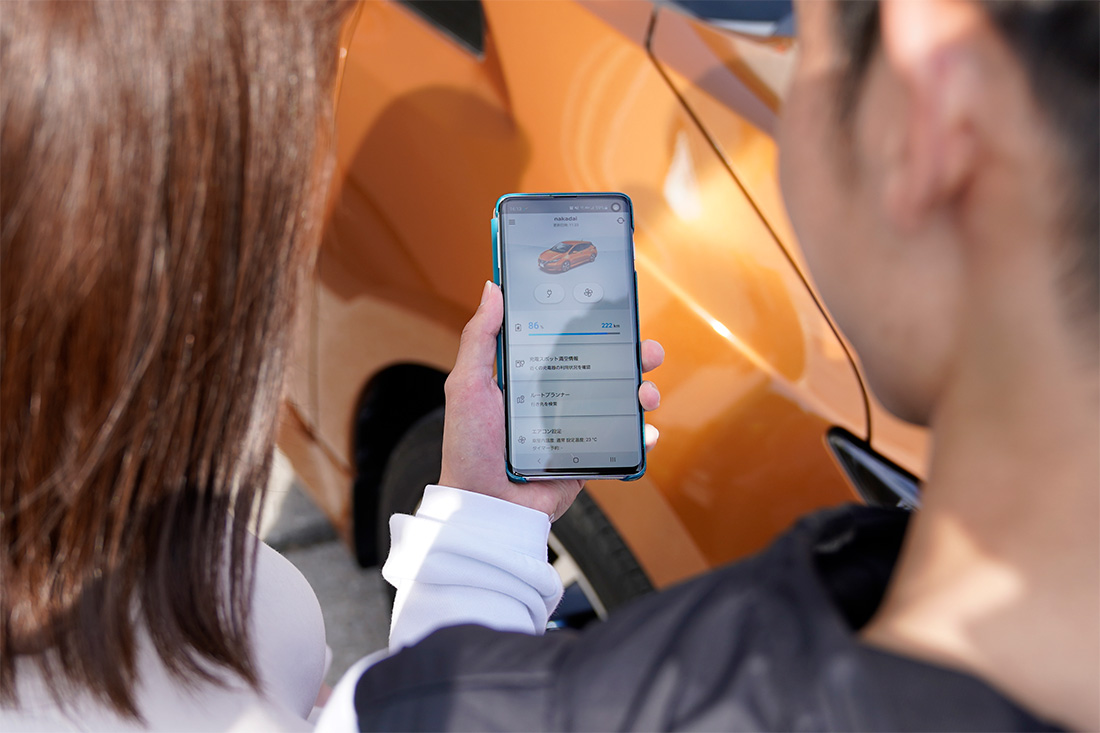 For the Nakagawas, the LEAF has become part of their digital ecosystem. With a glance at Alexa they can check the battery level. Trips are planned in the comfort of their home, and before they leave, they simply send the route to their car's navigation system.
Iori and Daisuke are already planning their post-COVID road trips. They want to venture well beyond Oita, traveling to cities like Yamaguchi and Hiroshima. Perhaps goingeven to Osaka or Nagoya. "With just one charge, we now can go on a long round trip of 300 km or more," says Daisuke. "I'm so looking forward to that."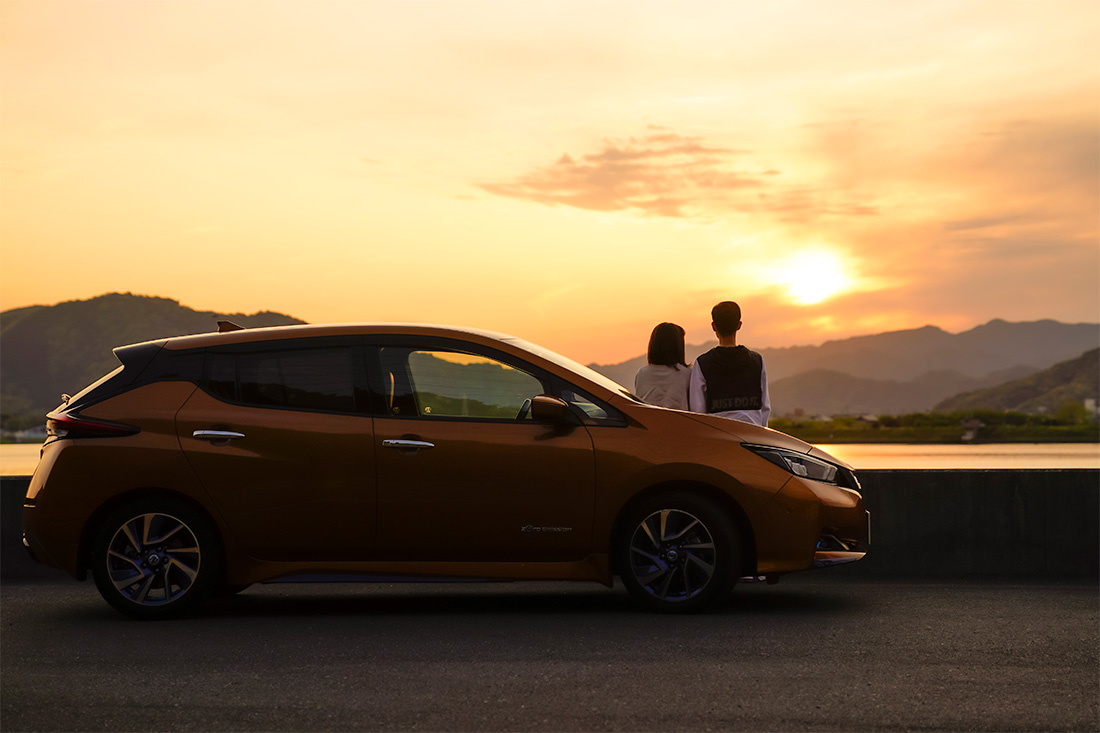 Subscribe to Nissan Stories
Sign up to receive the latest Nissan stories!
Get the latest from Nissan Global