Moving Object Detection (MOD)
Alerting the driver to moving objects around the vehicle
By detecting moving objects around the car and alerting the driver, this technology enhances safety when pulling out of a parking space, helping give drivers better awareness of their surroundings and increased peace of mind.

Cameras detect moving objects around the vehicle when it is in park or slowly maneuvering; the system then alerts the driver both visually and audibly. There are two types of systems: one uses the Around View Monitor and four cameras to the front, back and sides of the car, while the second system uses only a single camera installed in the rear of the car.
The four-camera system can alert drivers in three scenarios: while parked or in neutral; moving forward; and backing up. When moving forward or backing up, the cameras to the front or back respectively detect certain moving objects. When in park or neutral, the system detects certain moving objects around the car using a virtual bird's-eye view image. If a vehicle has the single rear-view camera system it can only detect certain moving objects behind the vehicle.

The system processes video imagery from the cameras and can then detect certain moving objects. The version of the system that uses the Around View Monitor analyzes video signals in an image-processing unit from the four cameras attached to the front, rear and both side-view mirrors of the vehicle. It is then able to detect certain moving objects around the vehicle in real time. It can determine the three situations ? moving forward, in park or backing up ? from the shift position of the transmission.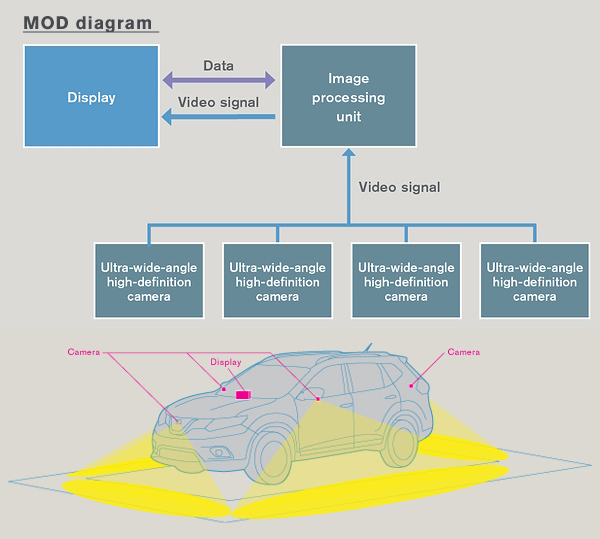 MOD cannot completely eliminate blind spots and may not detect every object. It cannot detect stationary objects. Always check surroundings before moving vehicle. Not a substitute for proper backing procedures. Always turn to check what is behind you before backing up.