Automatically switches headlights to low beam from high beam and back to reduce driving burden
This system automatically switches the headlights setting to low beam from high beam when it detects a vehicle ahead. Frequent usage of high beams allows for earlier detection of pedestrians, supporting safer driving.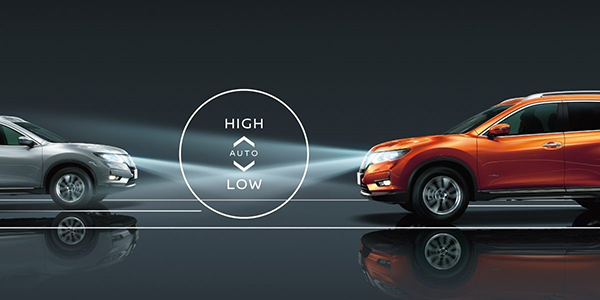 While driving with the headlight switch in the AUTO position, the vehicle's high beams will remain on when low light is detected.

If an oncoming or leading vehicle is detected, the headlights setting will be automatically switched from the high beam to the low beam. If the oncoming vehicle is no longer present, or the leading vehicle is at a safe distance ahead, the headlight setting will switch back to high beam.

Note list
The High Beam Assist system will operate when the vehicle is traveling at speeds of approximately 19 mph (30 km/h) and above.
A front-mounted camera located in the upper-portion of the windshield detects lights from oncoming and leading vehicles. Based on light level sensing, the system will switch the headlight setting from high to low beam automatically. The system will switch the headlights setting back to high beam automatically when the traffic conditions are safe.
To enable High Beam Assist, turn the headlight switch to the AUTO position. Push the headlight lever forward. A High Beam Assist indicator light will display in the instrument gauge cluster.