Cobblestones and Potholes

At Nissan's testing ground in Tochigi, vehicles are put through their paces on road surfaces from all around the world.
A bumpy Italian cobblestone street, a Papua New Guinea dirt road, those notorious Brazilian potholes, and America's manhole covers, famous for the damage they do to a car's suspension... Would you believe it if you were told you could drive through all these conditions in one go? Well, at Nissan's Tochigi Testing Ground, they do just that, every day.
The vast, 2,922,000m2 grounds feature unique road conditions such as manhole covers and curb stones, over ten types of road surfaces - concrete roads, cobblestones, gravel roads, and a 6.5km high speed endurance test course.
Every new model that Nissan sends out into the world is put through its paces here.
To date, Nissan staff have traveled to approximately 65 countries to research road surfaces and test conditions. At each survey site, they meet with several hundred customers and spend a week interviewing them and observing behavior patterns. They also survey the types of driving surfaces, and distances driven.
Then they outfit a demonstration model with measuring instruments and drive the course themselves. The burden experienced by the car on the road surface is converted into data, and that country is given a number rating.
This experience is then recreated in Tochigi, and tests are run using new models optimized for those conditions.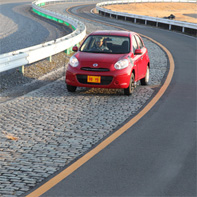 Over the course of the development of a single model, it is no exaggeration to say that enough distance is logged in testing to drive around the world several hundred times.
A car is made up of tens of thousands of parts. To eliminate every bug, produce something of the highest quality and durability, and deliver a safe car to the customer wherever she lives, a new Nissan vehicle is driving the world's roads at the Tochigi Testing Ground again today.