Reflecting Customer Feedback in Activities to Enhance Quality
We receive and respond to customer comments and questions worldwide through a range of contact points, including dealers, call centers and surveys.Opinions and comments received by our customer call center in Japan are anonymized and shared companywide on the intranet, where employees can access and view them at any time. Information is also promptly sent by email to executives and senior managers. Employees who buy Nissan vehicles are also customers and important stakeholders. The "Quality Listening Box" on our intranet lets employees actively contribute information to raise the quality of products and services. Reliable information sharing ensures that this feedback is incorporated in the work of all functions, including product planning, R&D, manufacturing and sales. Product quality is about more than just a lack of mechanical faults—it includes any factors that could lead customers to feel dissatisfied. We see these factors as issues requiring action and strive to improve quality across all areas. The value that customers expect from products varies according to their region, age, and personal tastes and can also be affected by market factors, such as product diffusion levels or even climate. Although we have basic specifications for global design, we fine-tune these to meet regional needs.
Adopting a Customer Perspective and Fostering a CS Mindset
-Customer Centric Culture Building-
We believe all employees must have a customer-centric perspective and are implementing a variety of activities, including companywide training to foster this mindset and efforts to provide opportunities to experience customer feedback on a daily basis.
Customer Centric Training: Employee training from a customer
-centric perspective
In order to work with a customer-centric mindset on a daily basis, we conduct various trainings from a customer-centric perspective in NISSAN.
One of these trainings is the "Customer Centric Training", employees from various departments listen to "Customer's voice" and think of our customer and how we can improve customer satisfaction. Through such trainings, we are building a customer-centric mind from each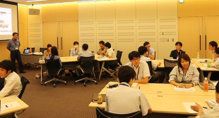 Nissan Quality Forum: Raising awareness about quality among our staff and suppliers
Since 2003, we have held Nissan Quality Forums for executives, employees and suppliers. These annual forums use information displays, video presentations and actual vehicles and parts to showcase our latest quality results, customer feedback and activities aimed at meeting targets. The forums are organized by various divisions including design, R&D, manufacturing, service and TCSX(Total Customer Satisfaction Function). In recent years, experiential events that lead to actions being taken have been organized in order to build all employees' focus on customers and the importance of quality and to help them think and act from the customer's perspective. Nissan also conducts similar quality-related events in key markets around the world to encourage local staff and suppliers to work cooperatively on initiatives to boost