Diversity and inclusion Council: decision-makers on diversity and inclusion
We have established Global Diversity & Inclusion council chaired by CEO with executives representing respective Division and regions as its members, which makes decisions on Global Diversity & Inclusion policy and direction of initiatives. Also, regional Diversity & Inclusion councils have been set up / under setting up with respective regions' heads as chairperson so that the regions can execute the initiatives as corporate actions in alignment with the Global council's decision as well as making their effort to handle various diversity issues faced locally.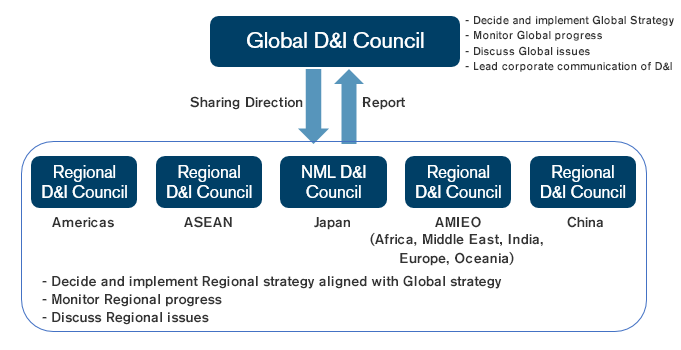 Diversity Development Office: the diversity and inclusion promotion division
The Diversity Development Office (DDO) was started in 2004 to lead internal diversity and inclusion initiatives. DDO has promoted many innovative companywide efforts, translating diversity and inclusion principles into corporate action.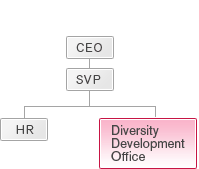 Female Talent Development
Enabling women, particularly in management positions, is essential to providing diverse value to customers. To increase female representation at all management levels, Nissan provides trainings to ensure that top candidates will be ready to take on greater responsibility. Support is provided for women's career development in every region where we operate. We have developed talent development trainings and networking events targeting women, besides mentoring programs and roundtable sessions. There are also support activities focusing on young female engineers and female operators on the production floors.
As a result, the ratio of female managers at Nissan has grown: In Japan, it rose from 1.6% in 2004 to 10.3% in 2022. Globally, it increased from 6.7% in 2008 to 14.9% in 2022.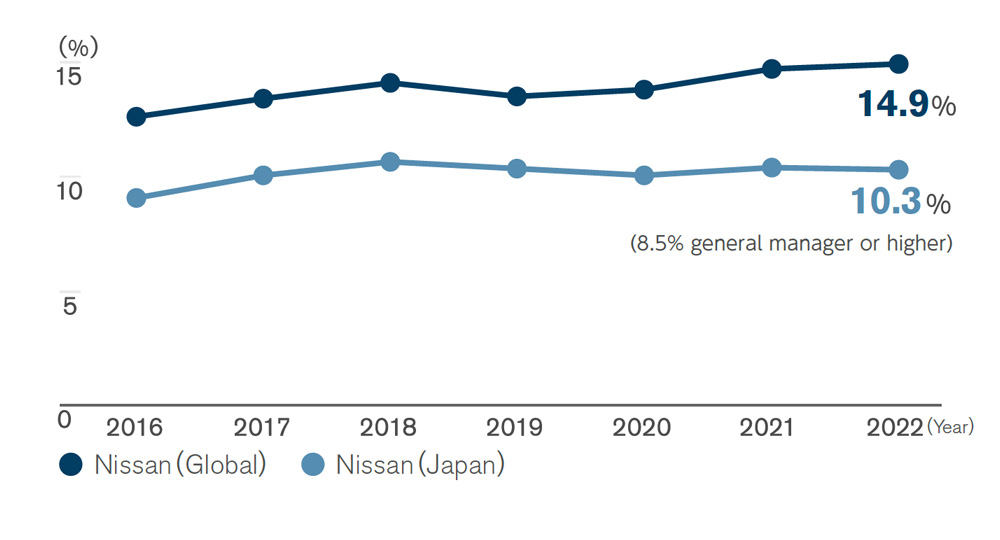 Management positions: The management positions are calculated from section managers and above.
Interviews with Career Advisers /Career Development Conferences (Japan)
We now have in-house career advisers for female employees. Subjects that can be discussed with the advisers are not limited to current assignments or future career plans but also include concerns about work-life balance. Advisers take into account all aspects of life and work and provide career development support suited to each individual.
We also hold career development conferences where the superiors of female talent meet with HR and career advisers to discuss the career of each female employee, build a development plan for each of them, and provide them with ad-hoc support.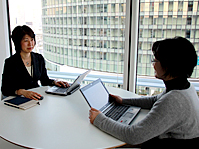 Trainings to support female talent development
We also provide young female managerial candidates with trainings by job level, as well as mentoring programs and roundtable sessions. These are intended to nurture their career aspirations and personal growth through trainings on management and leadership. We also provide future executive candidates with external trainings, executive workshops and other global development programs.
Additionally, we pay attention to women who are already in management positions and provide them with mentoring to support their further career development into higher leadership positions.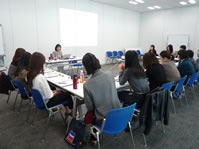 Mentoring Program for Women (Japan)
The mentoring program for women supports the individual growth and career development of female talent. Mentors are selected from internal employees with abundant knowledge and experience, and they support their mentees in finding solutions to issues that affect their career paths.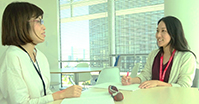 Efforts at vehicle development sites (Japan)
At the vehicle development stage, for example with models like the Nissan Serena minivan, released in Japan in 2016, efforts are made to reflect women's requirements. For example, designers and engineers adopted recommendations for a capless fuel tank, allowing drivers to refuel the vehicle without dirtying their hands, and dual back doors that require minimal force to open and that allow cargo to be loaded even in confined spaces.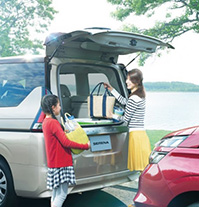 Efforts at vehicle production sites (Japan)
Nissan is employing more women on the production floor. In aging societies with declining birthrates, the average age of line operators is set to rise. This means that the production floor will no longer be dominated by young men, as more women and older operators join the line. Production lines should be redesigned for simpler and less physically demanding operations. Input from women will help us establish such worker-friendly production lines. In October 2017 the Nissan Group's first female plant manager took up her role at the Oppama Plant in Yokosuka, Kanagawa Prefecture, and other female plant managers have been appointed since then.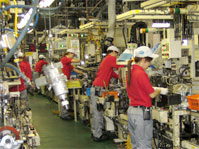 Female empowerment at dealers (Japan)
Women's perspectives are also helping us improve customer service at dealerships. We are appointing more women to attend to customers who are shopping for cars, or as technical advisors who inspect and repair cars. They are able to give easier explanations of cars or make proposals for effective ways to use cars in ways that accommodate individual customers' lifestyles. In study sessions for female sales staff, participants exchange ideas actively to improve customer service quality, and this is highly rated among male observer participants as well. Nissan also recently launched a project through which ideas from female staff are reflected in the interior design of dealerships and in new sales promotion events, aimed at making our dealerships look more inviting.
Recruiting future female engineers (Japan)
Internal efforts aren't enough by themselves to increase the number of women in our R&D workforce. The key is to recruit girls and young women nationwide who will be future engineers. We have started visiting junior high schools and high schools and offering female students classes to share with them how exciting engineering can be. As a member of the Japan Automobile Manufacturers Association, we cooperate with other member companies to motivate girls to major in science.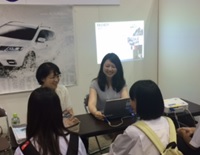 日産(中国)投資有限公司(NCIC)では、環境をテーマにした従業員写真コンテストの開催、南米ではディーラーと連携した従業員参加型のバーチャルとリアルでのイベントを企画しました。
カナダ日産自動車会社 (NCI)は、2019年よりWWFカナダの公式パートナーとして、CN Tower Climbといった、環境に関する募金を呼び掛けるイベントに参加しています。今年はカナダ国民に環境保全のために測定可能で意味のある行動を呼びかけるLearn Plant Connectを中心に支援を行い、生物多様性の喪失や気候変動の危機を解決するための活動に貢献しています。
Inter-cultural Cooperation
Nissan sells cars to customers all over the world. Their diverse cultures and ways of living are reflected in their widely varied preferences and tastes in cars and service. To meet this variety of needs among customers across the globe, we must take advantage of a diverse workforce made up of people from different nations and cultures.
Our close alliance partnership with Renault has taught us a great deal about how people from different nations and cultures can differ in their thinking patterns and tastes. It is our belief that cultural diversity will give us a competitive edge in global business.
Cultural diversity training (Japan)
Nissan offers employees opportunities to understand cultural background and differences. Employees attending these trainings learn to accept and navigate differences.
Cross-cultural e-Learning to take advantage of a diverse workplace (Japan)
This training targets Japanese employees and provides logical and in-depth understanding of cultural differences, as well as effective and efficient communication skills that are useful worldwide. The training helps employees Learn More about people from different backgrounds, which improves communication.
People with different backgrounds have different work styles. Nissan embraces the diversity in lifestyles and values among individuals and offers a wide variety of work style options to achieve optimal performance.
Work-life balance promotion (Japan)
Nissan supports work-life balance through measures and programs that can help employees maximize their work performance. For example, we offer flexible work style options to accommodate the various needs associated with different life stages and family situations. We also encourage employees to review their daily work hours, efficiency and productivity to improve their overall quality of life and achieve a better work-life balance.
These programs include flex time without core time, half days off, and Remote Work. We have set corporate goals to increase employees' use of paid leave and Remote Work arrangements, through such measures as work hour monitoring, office lights-off, no overtime days, and weekly PDCA use. The ultimate goal is to increase employees' efficiency or productivity and to limit the culture of working long hours. Thanks to office upgrades and improved IT infrastructure, we can now communicate and collaborate with anyone on the global Nissan network via our laptops.
For employees with children, we have built a work-childcare balance program that includes benefits in excess of statutory provisions. The aim is to help employees grow and optimize their contribution to the company at every life stage.
`Happy 8' work style reform program
Nissan started the Happy 8 program in 2015 to help drive companywide productivity improvements. The program promotes employee awareness of the concept of eight working hours a day, and encourages them to pursue satisfaction at work in eight key areas.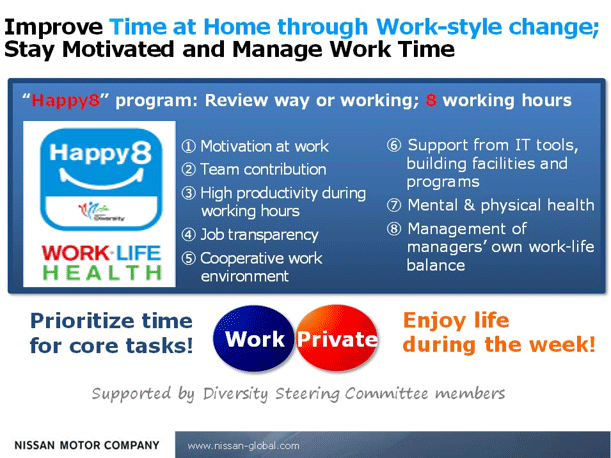 Work-life balance awareness
To raise employee awareness of the importance of work-life balance, Nissan has launched activities such as publishing a Happy 8 email newsletter, or publishing articles on the intranet. Also, on the last Friday of each month, called "Happy Friday," employees are strongly encouraged to leave the office early.
Remote Work program (Japan)
Since Nissan introduced working from home for employees who are engaged in childcare and nursing care in 2006, we have been updated the Remote Work program for expansion of the target employees and the workplace in accordance with the demand of employees and management and change of social conditions. In June 2021, Nissan eliminated upper limit of Remote Work not as a tentative solution for COVID-19 pandemic but as a regular system to aim work style suited to each job for all employees (excluding employees working in the manufacturing process). The aim is to give employees more control over their working hours and improve efficiency and productivity. We have set up a dedicated web page for promoting the Remote Work program, where employees' best practices are shared.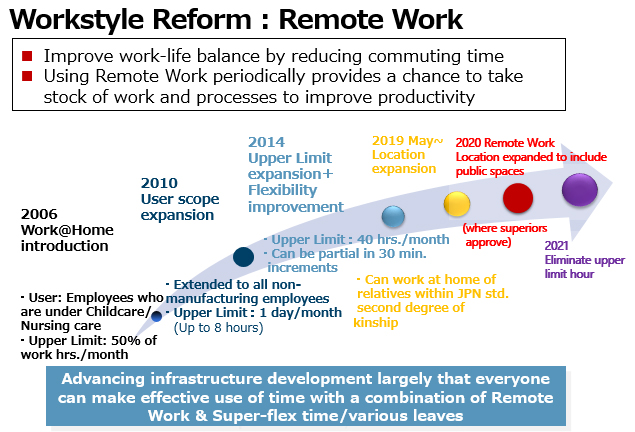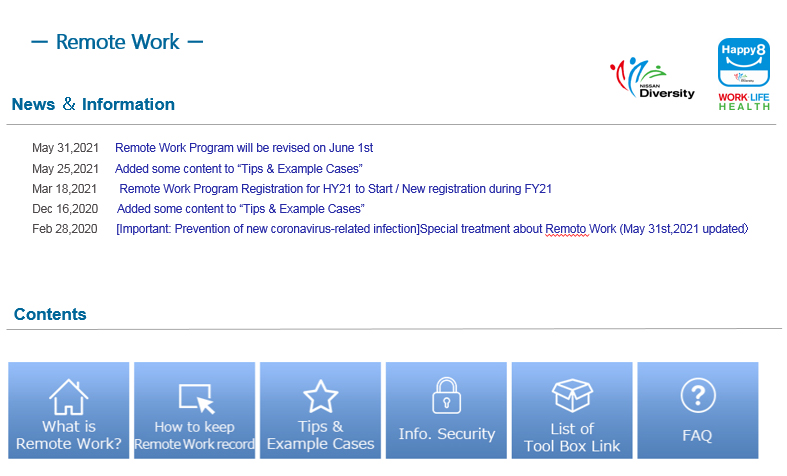 Work-life support programs for different life stages and family situations (Japan)
Work-childcare balance programs aim to support employees' growth and help them optimize their contribution as they move through different life stages. The program offers benefits in excess of statutory provisions. We also offer nursing care givers many support measures, such as nursing care leave and shorter working hours.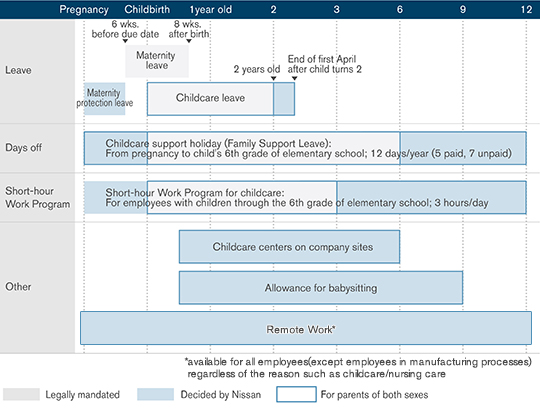 Family support leave program (Japan)
This leave program aims to support employees with families. Employees are entitled to take this leave for marriage, childbirth by a spouse, childcare, nursing care and fertility treatment, for up to 12 days (5 of which are paid) a year, by the hour.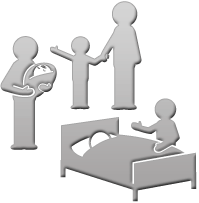 We have set up four on-site nurseries in Japan's Kanagawa Prefecture (Nissan Global Headquarters, the Global Information System Center, the Technical Center and the Oppama Plant). These nurseries have played a key role in helping employees with children continue their careers. At GHQ we have a breastfeeding room, which is also available as a resting place for expecting mothers when they don't feel well.
Work-childcare balance support seminars (Japan)
The company has prepared a holistic support program for employees going through childbirth and childcare. Before starting maternal leave, employees are provided with a seminar for expecting mothers where they can share their concerns about their careers, work styles or other topics, prepare themselves mentally to go on leave, and think about their to-do list. The employees' partners are also invited so that they can prepare together to balance work and life after childbirth. Employees on childcare leave and their partners are also invited to a "reinstatement seminar" to make the process of returning to work smooth and promote a continuing work-life balance. Through lectures by external speakers, panel discussions by employees who have returned from leave and group discussions among participants, employees can obtain helpful tips on how to balance work and life after they return to the office. Seminars are also given by superiors on balancing work and life, to improve not only employee morale but also to enhance understanding among superiors who have subordinates with children.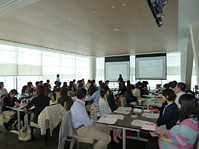 Laptop check-out permission and authorization to view the intranet while on leave (Japan)
Corporate laptops are available to check out for employees taking childcare or eldercare leave, so that they can continue to access Nissan's network and obtain internal information. This service has been positively received by employees on leave, who say they feel less out-of-touch during their absence. The access to company information helps them get back up to speed quickly when they return to the office.
Leave for accompanying spouse/reemployment program (Japan)
The opportunity for reemployment is open to those who leave the company to accompany spouses overseas, enabling them to resume their career and contribute their work experience at Nissan.
Support of balancing work with the nursing care(Japan)
In our aging society, more workers are expected to become caregivers for elderly parents. Nissan provides employees with opportunities to learn the basics of nursing care and available support programs. We have also set up a nursing care hotline for employees to speak with external experts about nursing care concerns.
Nissan is continuing its dedicated effort to instill the corporate values of diversity and inclusion in all employees, using various communication channels. The aim is to create a productive and comfortable workplace where people mutually accept and value differences.
Internal communication website: diversity site (Japan)
We have launched a diversity site on the intranet, which is a dedicated page for internal diversity and inclusion activities. The same content is also being shared through email newsletters, which are issued regularly to promote the values of diversity and inclusion internally.
We have prepared a range of trainings for new graduates and for managers, including e-learning courses for all employees, in addition to awareness-raising events. There are also mandatory trainings for those who have joined Nissan in the middle of their careers.
Two trainings were launched in 2018 in Japan. The first is "Diversity & Inclusion skill training" for new managers. We aim to strengthen diversity management skills through cross-cultural lectures and interactive theater. The second training is "Unconscious Bias e-learning" for all general indirect employees, in which employees can learn the influence of the unconscious biases that everyone has, as well as techniques to mitigate their effects. We are gradually expanding this initiative across our global sites. "Gender Diversity e-learning" was renewed in 2019 to help each employee demonstrate their potential to the fullest.
To ensure a workplace where all employees are free from the fear of being prejudged due to sexual orientation or gender identity, we offer LGBT seminars and e-learning courses that cover basic knowledge about LGBT issues. In 2020, we updated LGBT e-learning completely as a mandatory course for all employees. We have participated in the "Tokyo Rainbow Pride", the largest LGBT event in Japan, for three consecutive years since 2017. In 2020 and 2021, we participated in the event, which was brought online due to COVID-19 spread. In fiscal 2016, a self-initiated employee network was launched by members of the LGBT community and allies (those supportive of LGBT people) within the company. On Aug. 1, 2019, we introduced "marriage leave and congratulatory payment for same-sex marriage and customary marriage". In recognition of these initiatives, the private organization work with Pride awarded Nissan its most prestigious Gold PRIDE index award, recognizing corporate initiatives to support LGBT employees. This was the first time a Japanese carmaker has received this recognition. In 2021, Nissan won the Gold award for the fifth year in a row.