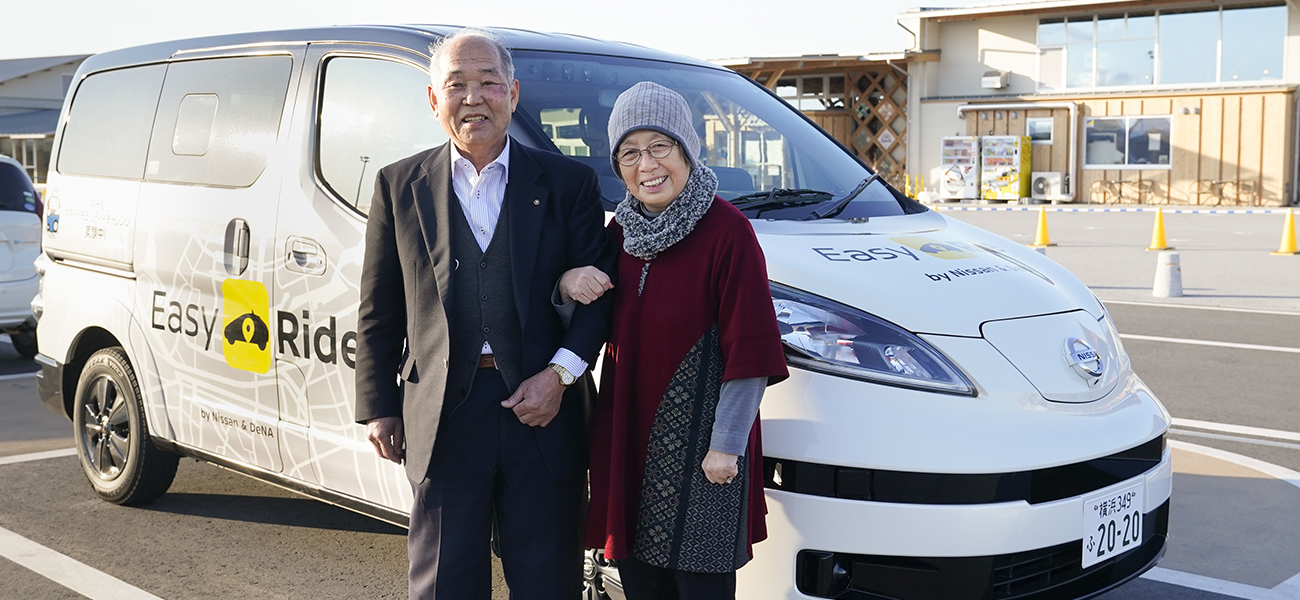 Reinventing local transport and energy supply – all in one project
When it comes to building cities, everyone knows terms like "wood and nails" or "brick and mortar". But what about "hub and spoke"?
It's one of the concepts adopted by Nissan as it reimagines how people move through and power the cities they live in. The company hopes this approach will also help communities connect and stand strong against natural disasters.
To turn this vision into reality, Nissan and its partners have just signed an agreement with three local governments in Fukushima prefecture, north of Tokyo, Japan. A hub and spoke transport system is part of the project, as are new technologies to make the electricity supply more resilient by integrating electric vehicles (EVs) and their batteries.
The agreement, known as the "Collaboration Agreement for Community Development Utilizing New Mobility" was launched on February 2 at an online signing ceremony. The coastal town chosen to anchor this event, Namie, was damaged and evacuated during the great 2011 earthquake and tsunami. Innovation – including tests of the hub and spoke system - is being weaved into its rejuvenation. A few years ago, Namie also became home to a new Nissan factory.
Senior leaders from the three local governments and the companies involved attended the ceremony. There was plenty of enthusiasm for the work that lies ahead.
"This project is unique. Nissan will not try build a complete new smart city but tailor all the advanced technologies to the existing needs of the local community," says Nissan CEO Makoto Uchida, on behalf of the eight companies participating this project. "We want to support not only the reconstruction process in the affected region but also enrich people's lives."

Nissan's roots in Fukushima have been growing for nearly 30 years.
In 1992, it started building an engine plant in Iwaki. Two years later, V6 engines were rolling off the factory's assembly line, to be fitted into luxury and high-performance cars around the world.

When the tsunami struck 10 years ago, the factory was also hard-hit and had to recover from the disaster. Bonds grew stronger as it worked with the community to get up and running again.


Namie is at the heart of the new agreement, along with Futaba and Minamisoma. The project is wide-ranging and involves many community development activities. But broadly, it's designed to make a difference in four ways:
Introduce mobility services that help people get around
use renewable energy to reduce carbon emissions
energize communities
help them be more resilient to natural disasters

These goals align with Nissan's own vision for the future: electric connected vehicles; autonomous driving; car share schemes; and mobility as a service.
That's where smart city ideas like hub and spoke come in.
Many smaller towns in Japan, and elsewhere in the world, are shrinking in size as many young people move away to bigger, more central cities. That poses a problem for public transport, because it relies on moving large numbers of passengers to offset the cost of both construction and maintenance. As a result, in many parts of the world local and provincial routes are being discontinued all the time.
For towns like Namie, the challenge is even greater. After being evacuated in 2011, and subsequently reopened, it's redeveloping its transport network for people returning home and new visitors. It's doing so with an eye on population trends and age dynamics.
Where there's a wheel, there's a way
The hub and spoke is a completely new way for residents of towns like Namie to move around.
Traditional shuttle services run "door-to-door", connecting the point of departure to the destination. But this takes a lot of cars and drivers, which is both expensive and – in terms of logistics – difficult to organise.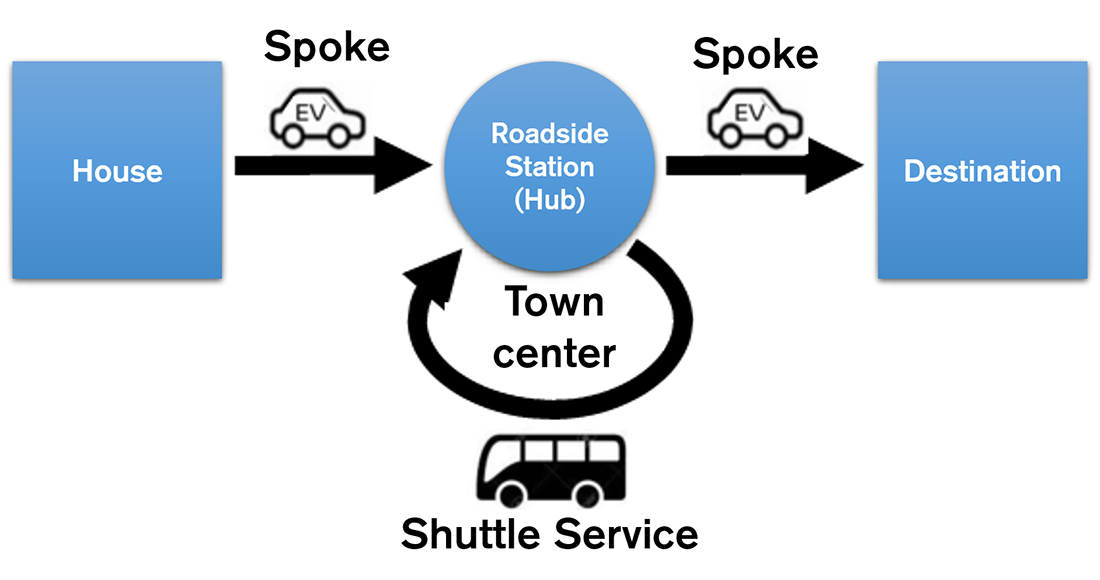 Now, imagine a bicycle wheel. At the centre is a hub, a roadside station or a similar facility. Shorter routes, or spokes, fan out from this hub to homes, businesses or shops. Now imagine there are two or more wheels, with an EV shuttle service that connects the hubs.

People can quickly and easily book rides along the spokes, using a smartphone app, then catch a shuttle to move between hubs around the city. With movement comes fresh energy, whether the user is an elderly resident on a shopping trip, a business visitor heading to a meeting or a tourist taking in the sights.

The Namie Smart Mobility Challenge is putting this concept to the test and is already receiving positive feedback from participants. One such participant said, " I can't drive a car, so it was great that there was no need to make a reservation - I just stood in front of the digital bus stop and a car came. Even if this is just a demonstration, I think that if this kind of smart mobility system would enable people to go about their day-to-day lives in Namie with peace of mind."
More power, less pollution
Shuttle services can help a city become more mobile, but Nissan engineers thought further: could these electric vehicles also help to provide reliable power to residents?
Our world is working hard to fight climate change. A key tool to decreasing carbon emissions are renewable energy sources, like solar or wind. But power generated from these sources can be unsteady and it's crucial to get the supply-demand balance just right.
Electric car batteries are designed to charge and discharge large amounts of electricity during acceleration and deceleration. In other words, they regulate an unsteady demand instantaneously. The cars are also made to hold onto power when it's not needed.
So these cars and their batteries can be used to store and regulate the flow of renewable electricity. They can be charged at night, when demand is low, and then feed that power back when demand is high.
Nissan LEAFs, for example, have been used to power buildings in disaster-struck areas, while its repurposed batteries, stacked together, can light up a convenience store or even a stadium. An integral part of the Nissan Energy model, managing power like this will help cities balance supply and demand and get over peaks.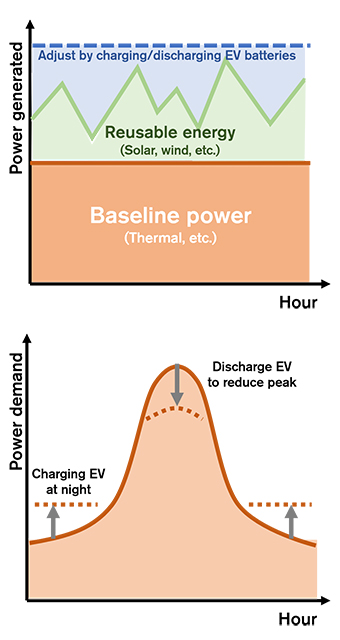 Pushing in the same direction
New shuttle services and ways of managing renewable energy are taking electric vehicles truly beyond mobility and make them key drivers as society works to reinvigorate cities. Now these ideas are being turned into real life projects through partnerships.
The Namie agreement relies on the knowledge and technology of companies like Nissan and its affiliate 4R Energy, Aeon (distribution), Japan Post (logistics), Chodai (construction) and Zenrin (mapping).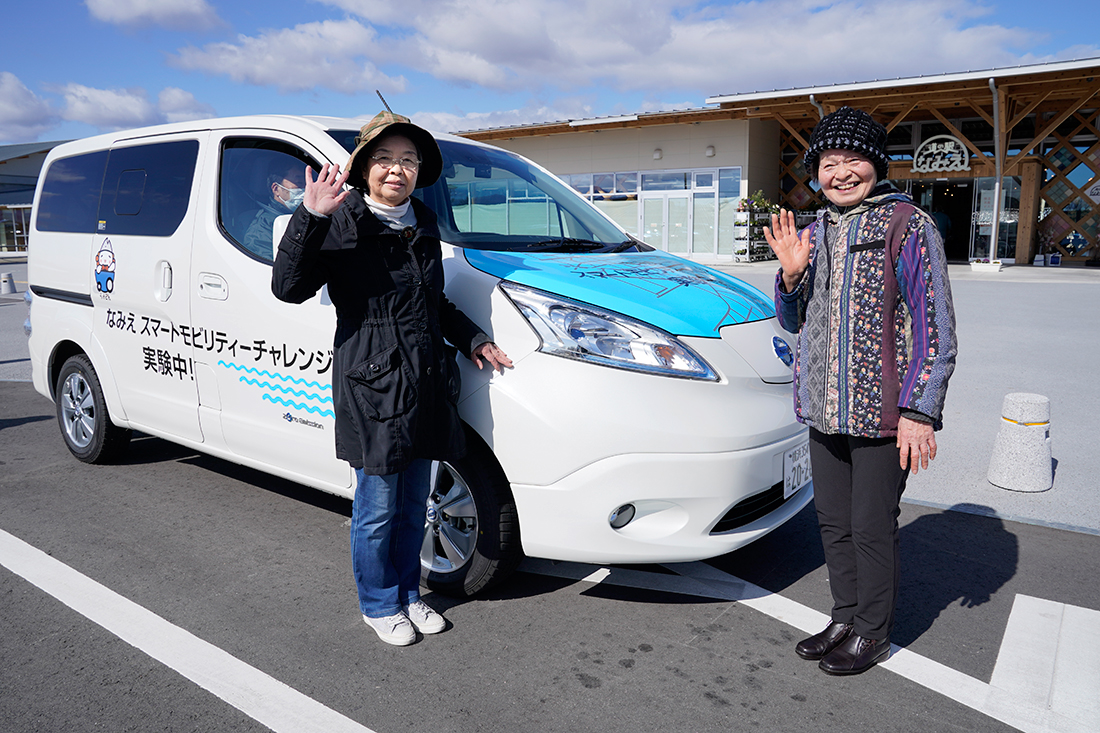 "The significance of Nissan's participation in this project is that by using our technology to make life in the town more convenient, we will be able to bring in people from outside the town, including those who lived there before the disaster, to help in the true recovery process," explains Kunio Nakaguro, Executive Vice President for Nissan, Global Research and Development. "Starting with this agreement, as a pioneer of mobility services in Japan, we would like to create not only mobility services using automated driving and other technologies in the Namie area, but also an eco-system using reused EV batteries with 4R Energy as a hub, and a community based on these services together with the local community. We also hope to build a community based on this ecosystem together with the local community. "
Most importantly, the project in Namie is about much more than overcoming a local challenge. It is an opportunity to show how innovation can take society beyond mobility and into a low carbon and – ultimately – zero carbon future.
Subscribe to Nissan Stories
Sign up to receive the latest Nissan stories!
Get the latest from Nissan Global