Jeremie Papin SVP, Chairperson of Management Committee for Americas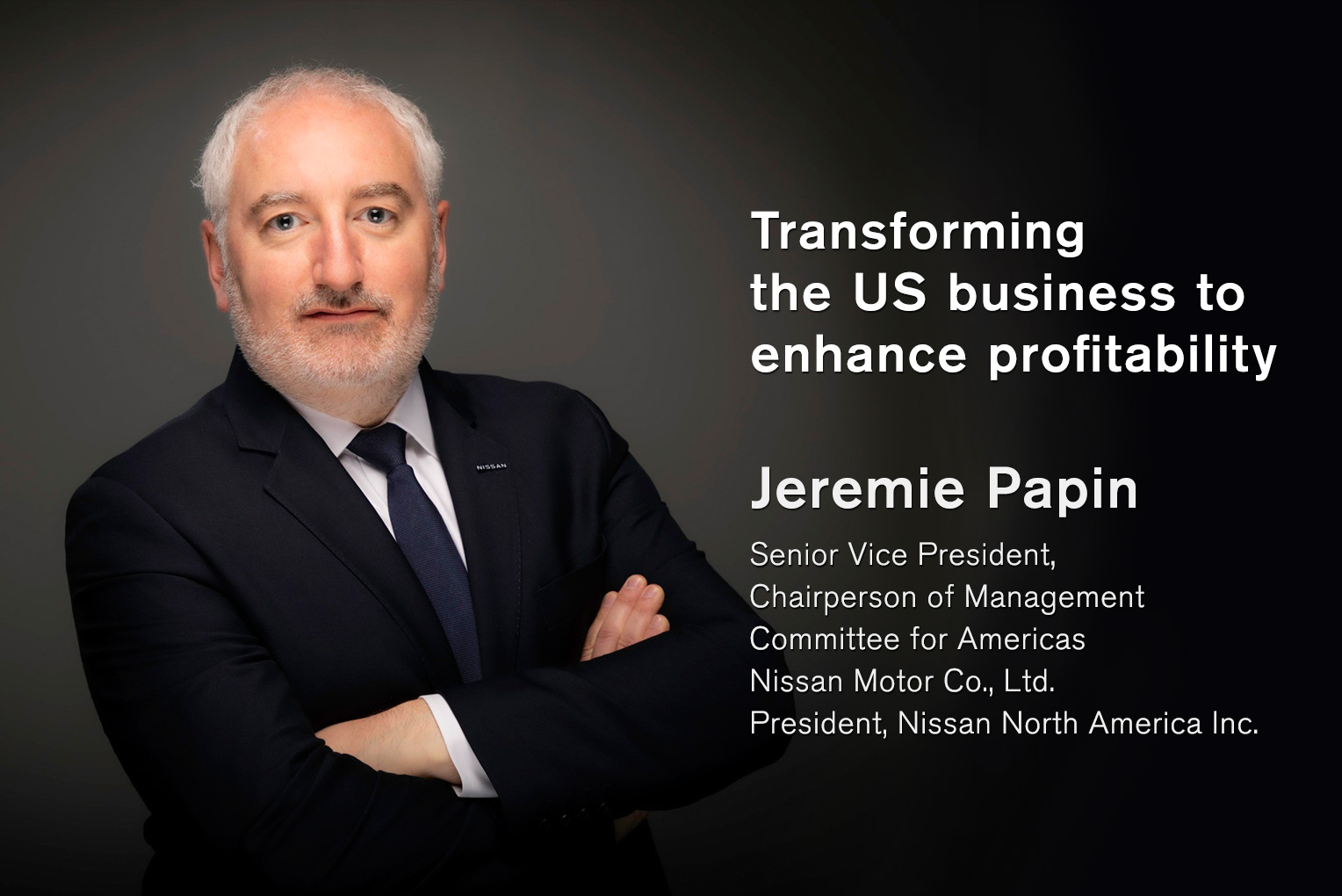 Can you tell us about the Nissan NEXT business transformation plan for the US?
The Nissan NEXT business transformation plan for the US evolved from the strategy that the US leadership team had been pursuing since FY2019. We scrutinized our entire enterprise, with a focus on changing our business, products and culture. Ultimately we developed a strategy based on a virtuous cycle, leveraging the launch of new models to strengthen our business fundamentals and rebuild our brand with a customer-centric mindset.
We are now halfway through the plan and are executing faster and better than originally expected. By conducting business across all dimensions in a sustainable and profitable way, we will earn the trust and confidence of our customers, dealers and suppliers. This will lay the foundation for our next chapter, in which we will take advantage in the growing adoption of electrified vehicles to add profitable new business streams.
What immediate changes have been made?
The biggest fundamental change for our US business is how we set priorities when we go to market. In the past, we sought to maximize volume to cover fixed costs.
However, lowering transaction prices was at the expense of our brand value. Today, our focus is on quality of sales. With the launch of segment-defining new products across our sedan, SUV and truck lines, we aim at selling the full value of each vehicle and gaining share with more affluent customers who shop based on their needs. We also want to maintain higher residual values.
Ultimately, we want the customer experience of buying and owning a Nissan to be one that fosters much greater loyalty and a stronger brand. And our customers are happy with our achievements so far: Among the major non-luxury brands, we are No. 3 for sales satisfaction in the industry, and No. 2 for customer service satisfaction.
How does the team in the US approach marketing and sales today?
In Marketing and Sales, we are currently pursuing six key strategies:
Committed investment:Continued and sustained brand investment, focusing on our DNA, to connect the Nissan brand to customers.
Sustainable volume culture and practice:Moving from a push model to a pull model and eliminating old behaviors like high days supply, high rental ratios and incentive programs which are aimed to increase sales volume.
Stronger dealer relations:We are going "from worst to first" though transparency, improved communications, higher dealer profitability, lower days supply, and training.
Nissan North America (NNA) – Nissan Motor Acceptance Corporation (NMAC) loyalty and profit alliance:Building a closer tie with our captive finance organization, as our customers tend to be more loyal to us when they finance with NMAC.
Customer-first culture across Nissan:We just completed a customer disruption day where we deconstructed and rebuilt all our customer processes. We are working on six workstreams and will start implementing them in 2022.
Strong EV-ready dealer network:The transformation of our company from ICE to EV is at the forefront of all we do, and our EV network is ready for the new ARIYA. We will have more quick chargers at our dealerships than any other OEM in the US, and training programs to transform our dealers' mindset on EVs.
We have also completely changed our approach to messaging and advertising. In the past, we allocated about 15% of our marketing expenses to advertising and 85% to incentives. In fiscal 2021, that shifted to 31% on advertising and under 70% on incentives. We have moved to a pull strategy that exemplifies who we are and the thrilling products and innovation that we bring to the marketplace.
What role do products and technology play in Nissan NEXT for the US?
Product is at the foundation of our recovery. Our portfolio is now one of the freshest in the industry. We have significantly improved our ranking in third party assessments of consumer opinions on our new vehicles.
Technology is also important. Here, a leading consumer intelligence and research firm ranks Nissan in the top tier in market depth, or number of features, execution of features, and innovation overall. This signals to our customers that we are a tech-forward, innovative company.
Consumer-facing transaction prices are on the rise, which means more profitability for the company. We are also attracting more credit-worthy customers to the brand, as illustrated by the increase in average household income and new car FICOs (Credit Score). This is also visible in lower net credit losses.
How have these changes affected relationships with dealers and suppliers?
Dealer return on sales has improved dramatically, which has given dealers more confidence in us. Nearly all of the new vehicles we build are spoken for by a dealer at the time of production, rather than previously when we would use incentive tactics to spur demand. This means faster turnover, lower incentives, and more profitability for the dealer and for us. Franchise value has also increased over the last year and a half.
We have changed the way we work with our suppliers too, moving from a short-term focus on commercial negotiations toward long-term, win-win solutions. More sustainable business for Nissan also means a more sustainable business for our suppliers.
How is Nissan North America preparing for the future?
The COVID-19 pandemic accelerated the shift of customers who wanted more of their shopping and purchase experience to happen online. We went all in on e-commerce as a strategic advantage and became the first to offer a full end-to-end delivery system where customers can shop, request a test drive, apply for financing, complete their purchase and even get service for their vehicle, all from home. The Nissan@Home system just won the Automotive News PACE Award winner for the best new sales technology.
Manufacturing fixed costs have also improved over the past few years, even as quality results improved further. One of the production lines at our Smyrna Plant in Tennessee was ranked the top plant in the Americas for initial quality, and many of our models were also highly rated in their respective segments. We know that this initial quality will translate to strong long-term dependability and durability, improving customer satisfaction and loyalty.
Nissan's response to electrification will be crucial. Can you share your thoughts on that?
We are confident about our prospects in the age of electrification. As a company, we have more than 10 years of experience selling battery electric vehicles, including more than 500,000 Nissan LEAF globally. Those LEAF vehicles have been driven over 5 billion miles without any major incidents or fires. Over 80% of LEAF owners love their cars, and their average household income is significantly higher than the brand average. We also have charging network partnerships with EVgo and others.
We anticipate that 40% of our total sales in the US will be battery EVs by 2030, and we intend to achieve this by launching segment-defining vehicles. The all-new ARIYA will pave the way for the further expansion of our EV offerings into the largest and most exciting segments in the industry. This will be supported by exciting technologies: advanced driver assistance systems led by our ProPILOT Assist 2.0, which we intend to expand across our lineup; e-4ORCE that uses advanced all-wheel drive to create a dynamic and exciting driving experience; building additional customer value through connectivity; and other exciting technologies that customers will love.
Meanwhile, our battery business is about selling more than the car. Along with enabling zero emissions and CO2 credits, we will promote V2X for backup power and grid stabilization, and find new opportunities to use our batteries in other industries. We will also focus on reusing batteries as they leave the vehicle and come into their second life, to reduce CO2 emissions, lower disposal costs and increase the residual value of our EVs.
Do you have any final comments you would like to share?
We started improving the business before the COVID-19 pandemic or the semiconductor shortage; these events only accelerated our plan. We are determined to achieve the highest level of profitability and customer satisfaction as we introduce electrified vehicles and open our business to new opportunities. The changing culture at NNA is helping us to maintain our focus on achieving our goals.
Published in February 2022