Keeps the driver aware of road sign information
The system notifies the driver when a speed limit sign or other traffic sign is detected, keeping the driver informed of speed limit changes and other important road information.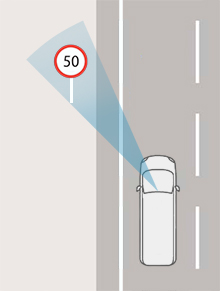 When the system captures road sign information, via a camera*, the road sign message is shown on the multi-information display to keep the driver aware of important road information.**
Some models provide the message from a combination of camera and navigation system data.
Available sign detection types vary depending on model and destination.