Contributing to community development through mobility and energy in Fukushima Prefecture's Namie Town
In February 2021, Nissan Motor signed a "Collaboration Agreement for Community Development Utilizing New Mobility" with a wide variety of companies, such as distribution and construction consultants, that was centered on the three municipalities in Fukushima Prefecture – Namie Town, Futaba Town, and Minamisoma City.
Nissan believes that, through this agreement, it is important to incorporate "exciting" elements into the various initiatives and foundations for daily life, and is aiming to contribute to technological innovations in mobility and energy in order to help residents, workers, and visitors to create a town where people want to live.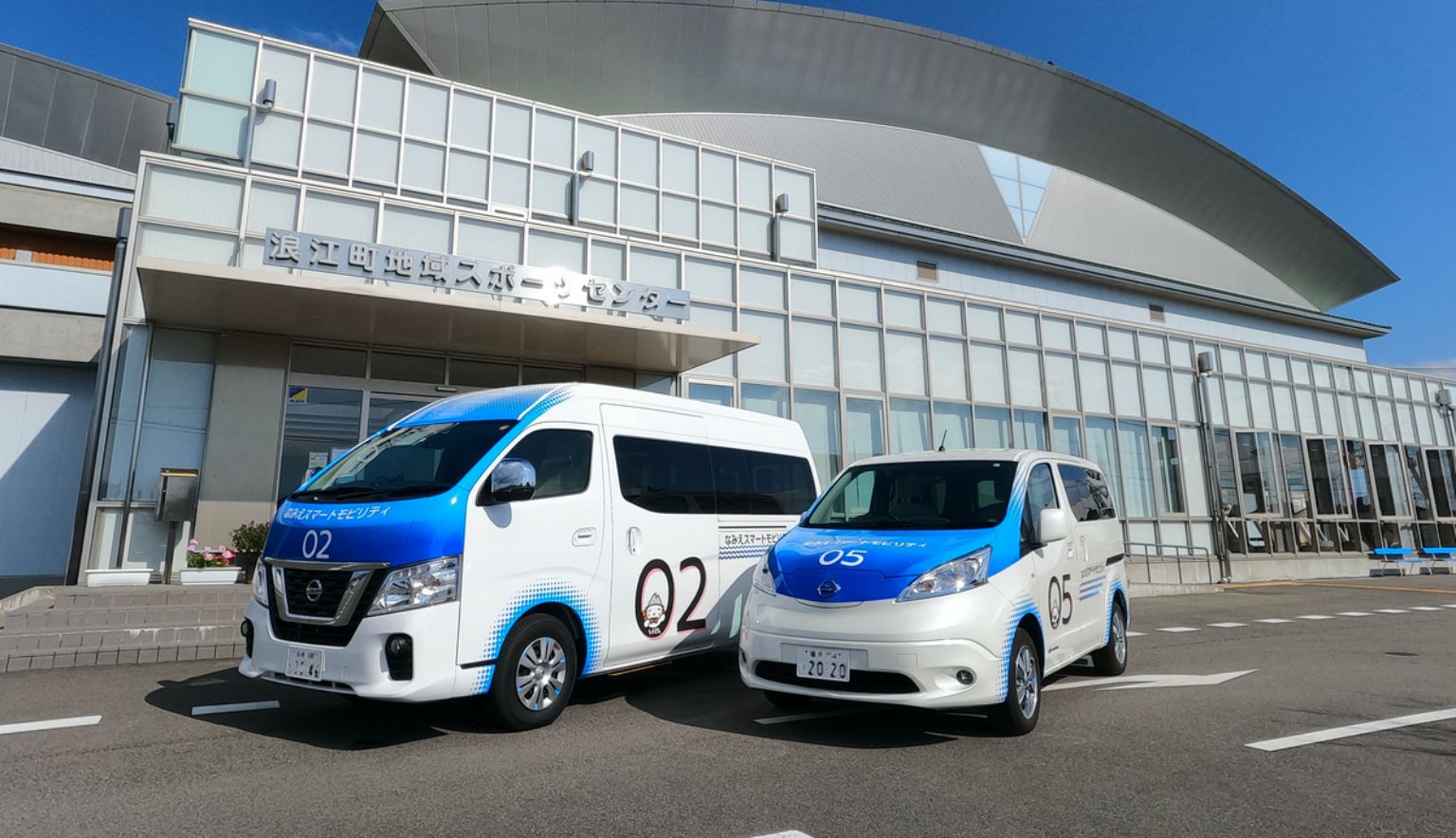 With the aim of continuously providing freedom of mobility to all people, including residents and visitors, Nissan is conducting the "Namie Smart Mobility" field test together with partner companies and working to provide mobility services that utilize electric vehicles (EV) and connected car technologies.
1. Sustainable in-town public transport: easy transportation for daily use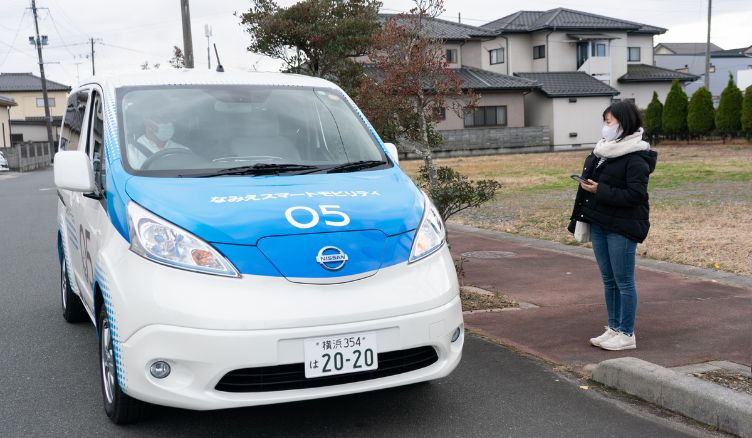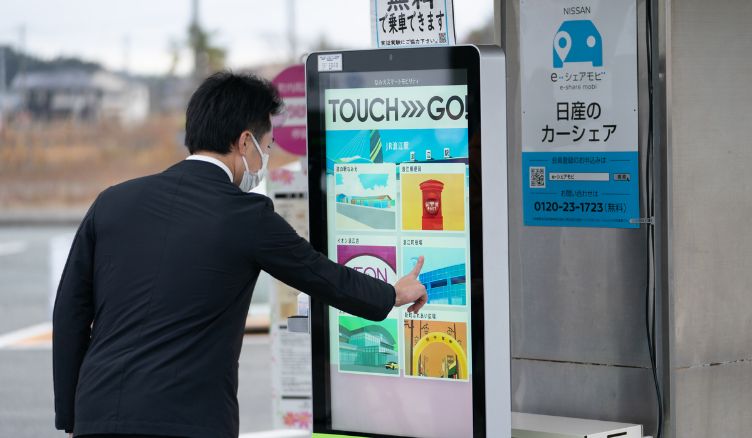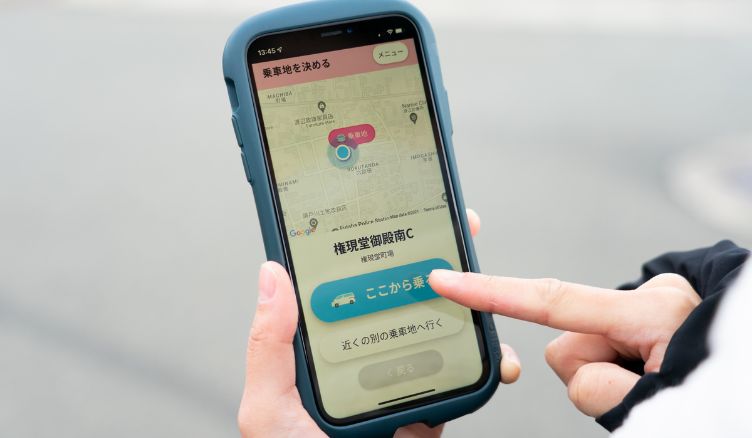 With the goal of building a public transportation network that will be the transportation infrastructure supporting local activities, this field text aims to realize sustainable mobility services for everyone who lives in, engages with, or visits Namie Town.
Better usability for more people
In addition to seven fixed digital bus stops, 120 virtual stops have been set on the smartphone application in the center of Namie Town to support easy transportation in people's daily lives, with the surrounding area stops being set in the application based on user registrations.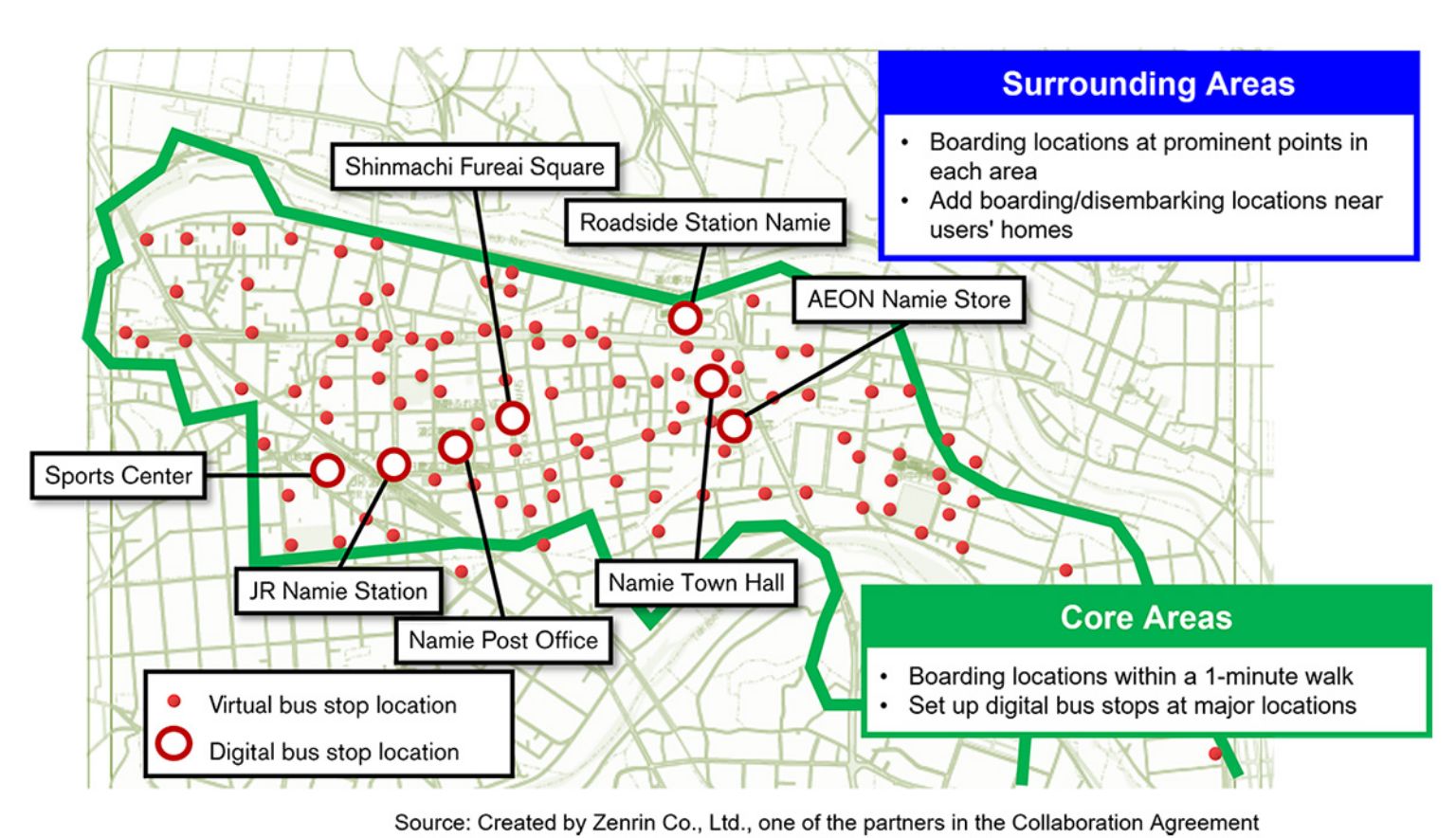 Simple and easy-to-use for anyone
Via an easy-to-use smartphone application whose development incorporated the opinions of local residents, while using the search function, people can set their nearest virtual stop and reserve a vehicle. Through the digital stop signage, users are identified via facial recognition, and reservations can be made via simple operations.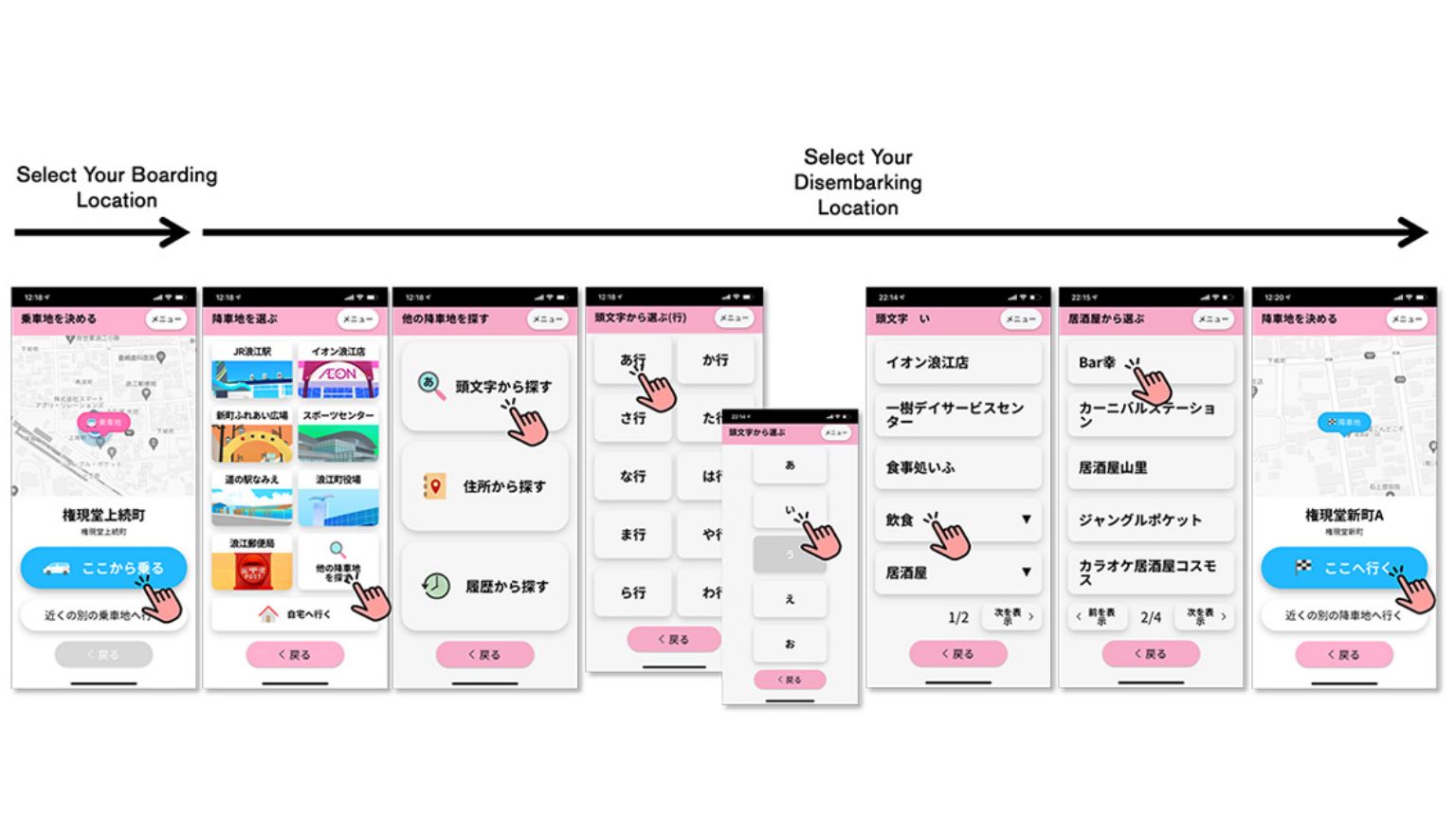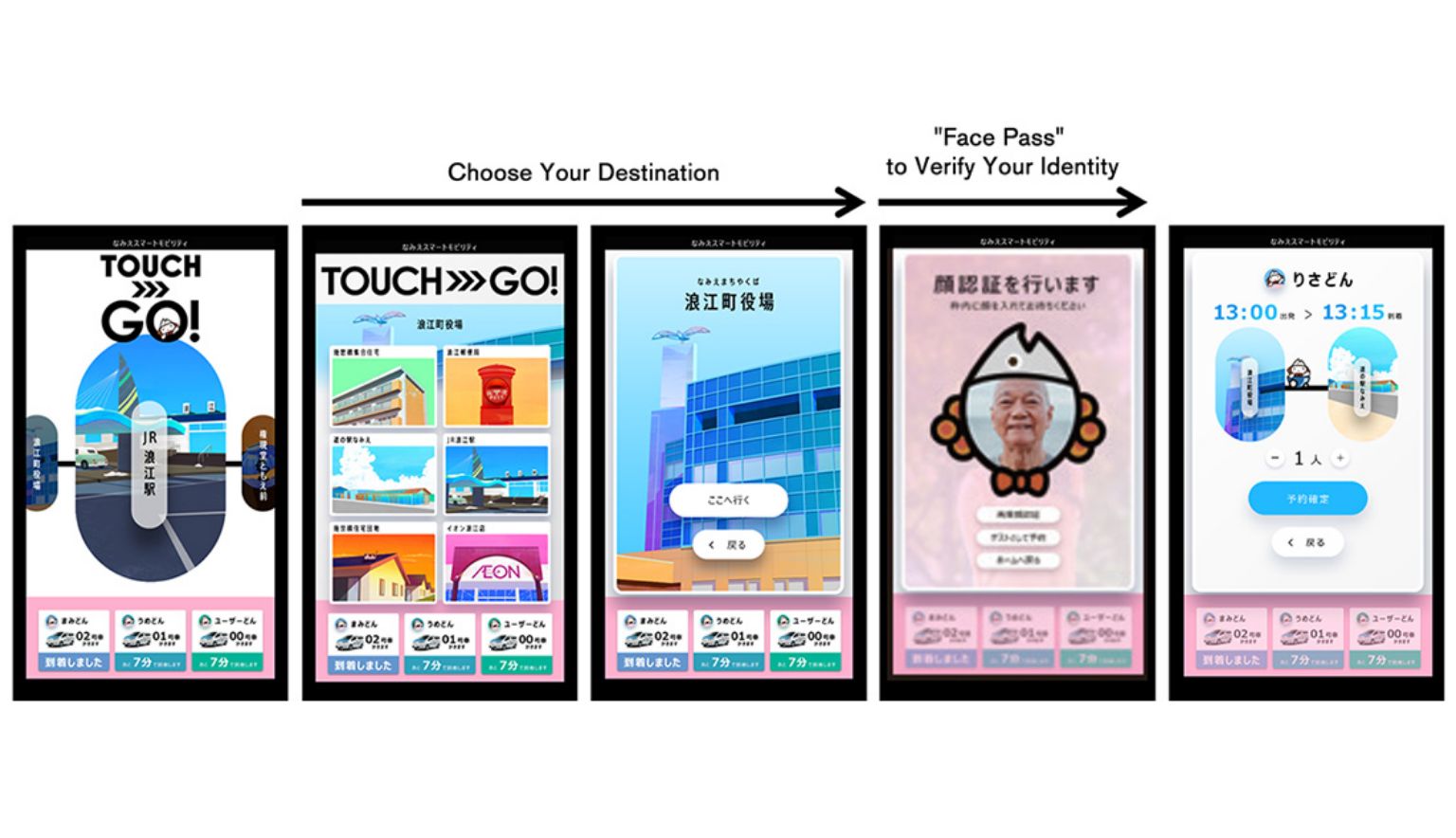 2. Goods delivery service: making essential everyday shopping more convenient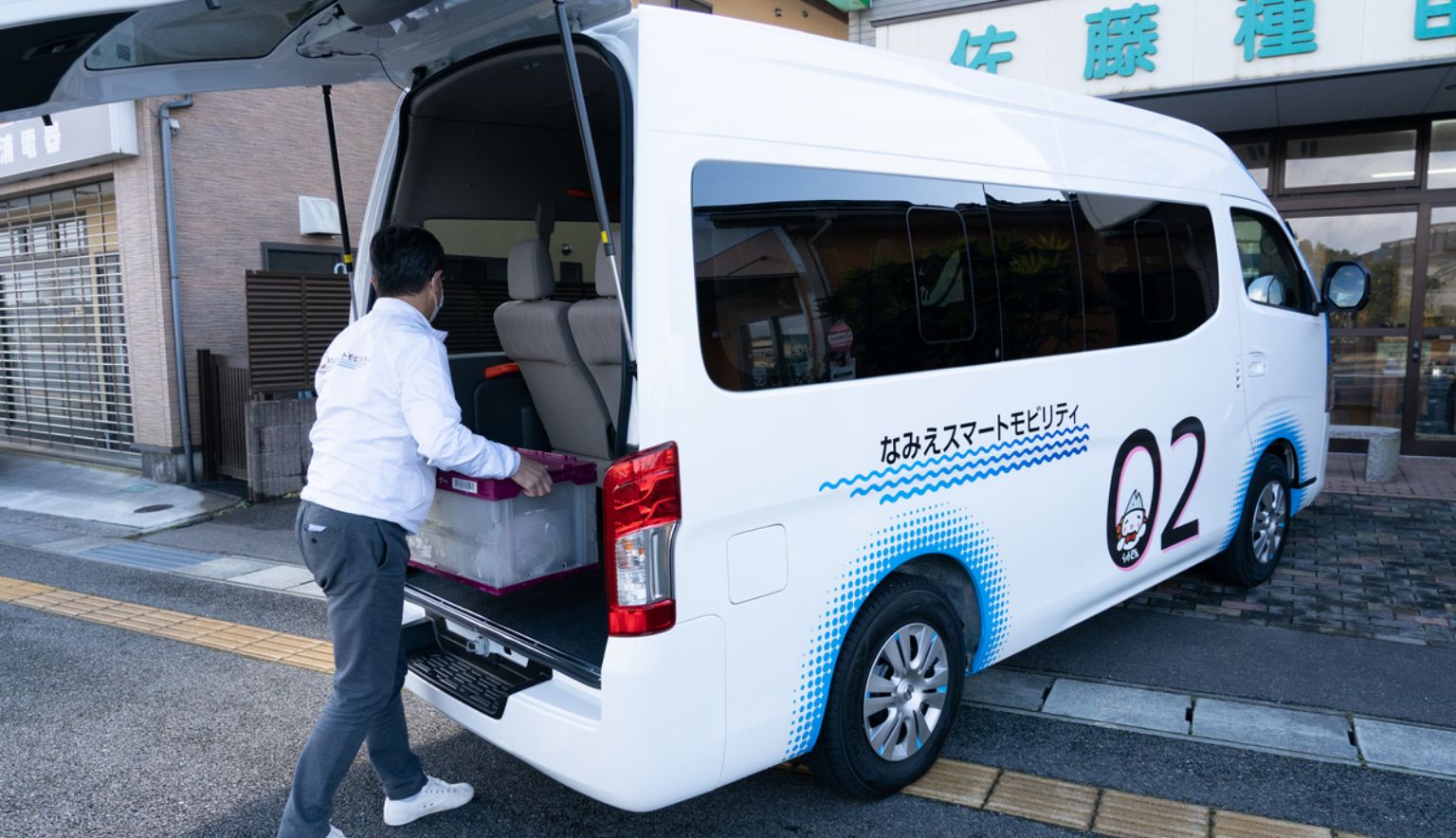 Via a shopping support service, the field test combined goods delivery and passenger service. This contributes to improving the convenience of mobility services and creating more livable cities in local areas.
In the central areas of Namie Town, the field test verified mixed passenger and cargo service using vehicles dispatched by the service. For surrounding areas, the cargo in the mixed passenger and cargo vehicles is carried to a post office, and Japan Post makes deliveries from the post office and verifies delivery cooperation.
More convenient shopping, even while at home "Namie Virtual Shopping Street Service" (held from January 24 to February 4, 2022)
This is a new service that combines the mixed passenger and cargo service with the "Virtual Shopping Support Service" provided by Toppan Printing. By using a tablet while at home, this service makes it possible to check and order products while seeing, in real-time, what is being sold at three companies based in Namie Town.
By verifying the usefulness of these remote shopping and delivery services, which enable everything from purchasing to delivery, and at the same time, by providing a new and efficient shopping method, these technologies will improve livability in the area and revitalize local commerce.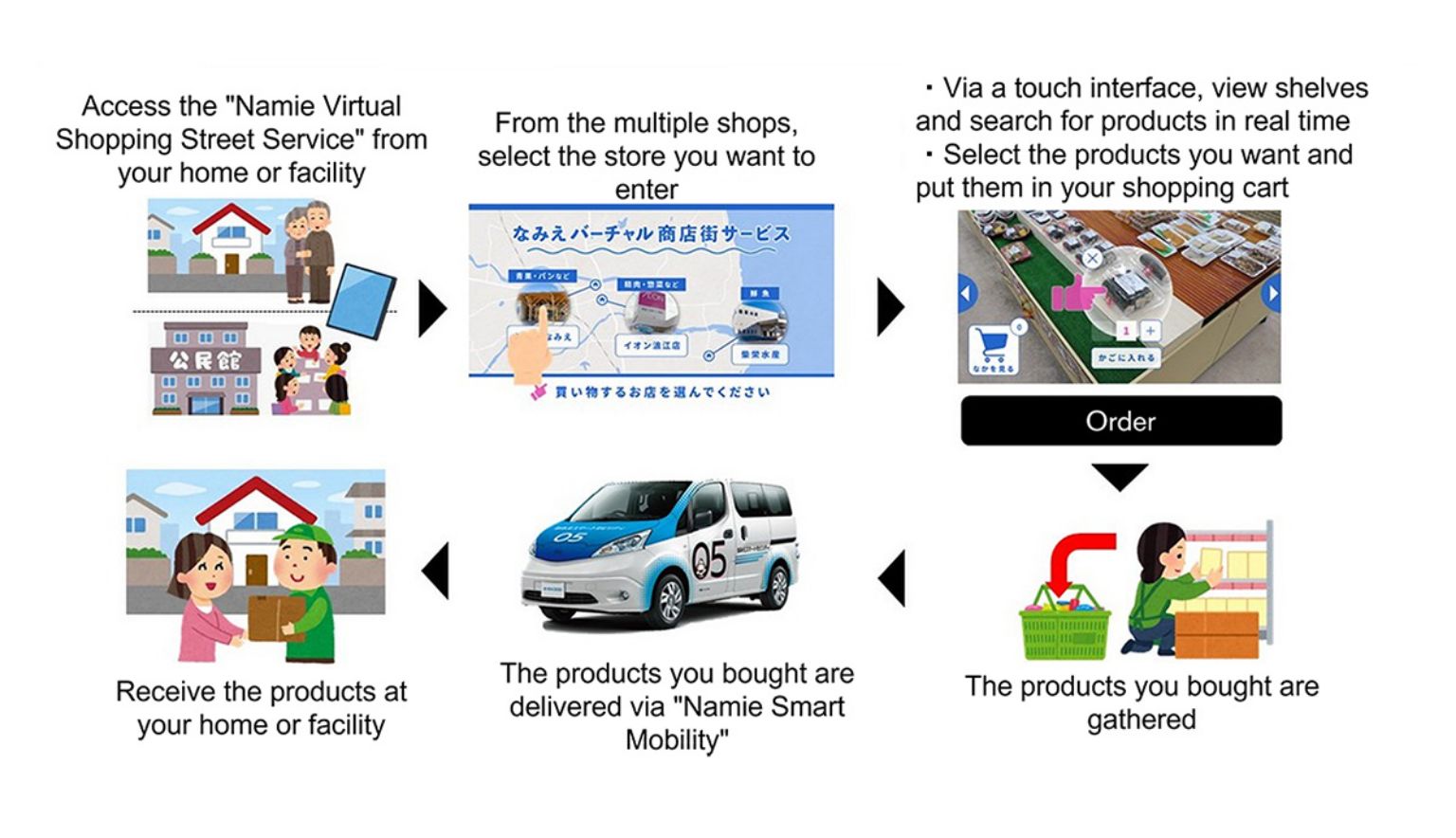 Collaboration with partner companies: each contributing to their own field for a common goal
Nissan Motor: Provides technologies for designing and implementing on-demand vehicle dispatch services, as well as for operating the service and predicting the efficient matching of people and vehicles.
AEON Tohoku: 6,000 items, almost all of the products sold in the AEON Namie store are offered as products eligible for the delivery service.
Japan Post: Provides delivery of shopping support service to the surrounding areas.
Chodai: Through this field test, Chodai is analyzing users' data for the actual operation of the project as a sustainable service.
Zenrin: Created the latest map data for Namie Town, which was then used as the basis for digital maps, and provided information on service design for the field test.
By building an energy management system that uses electric vehicles and stationary renewable batteries, the project is improving renewable energy utilization at various facilities and stores in the region and is accelerating carbon reduction efforts.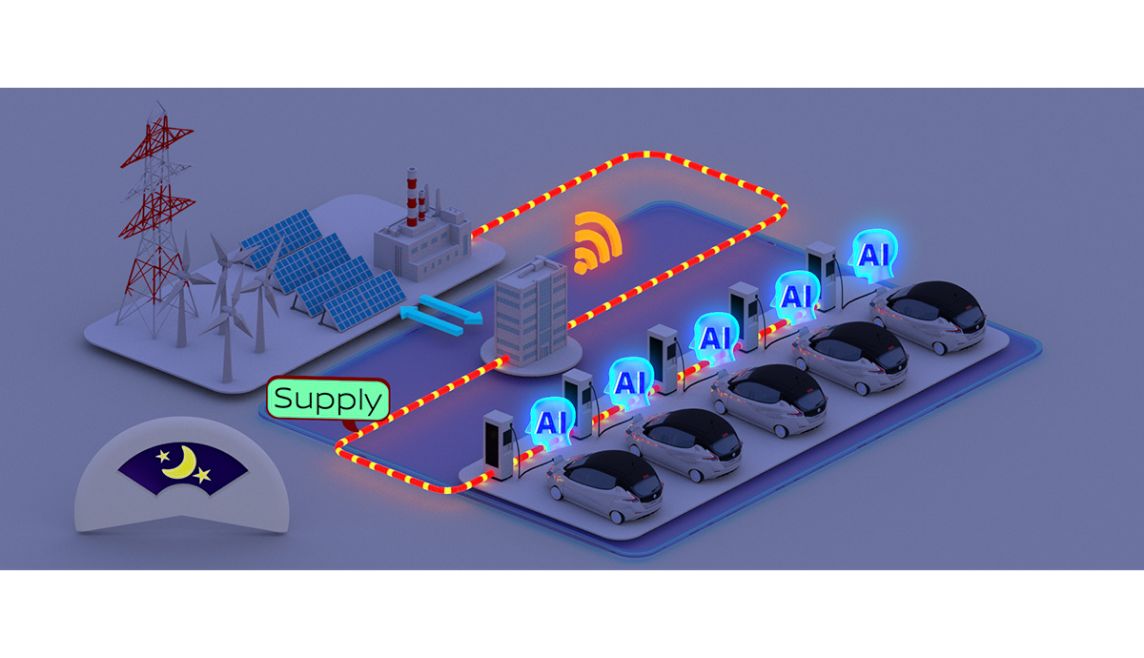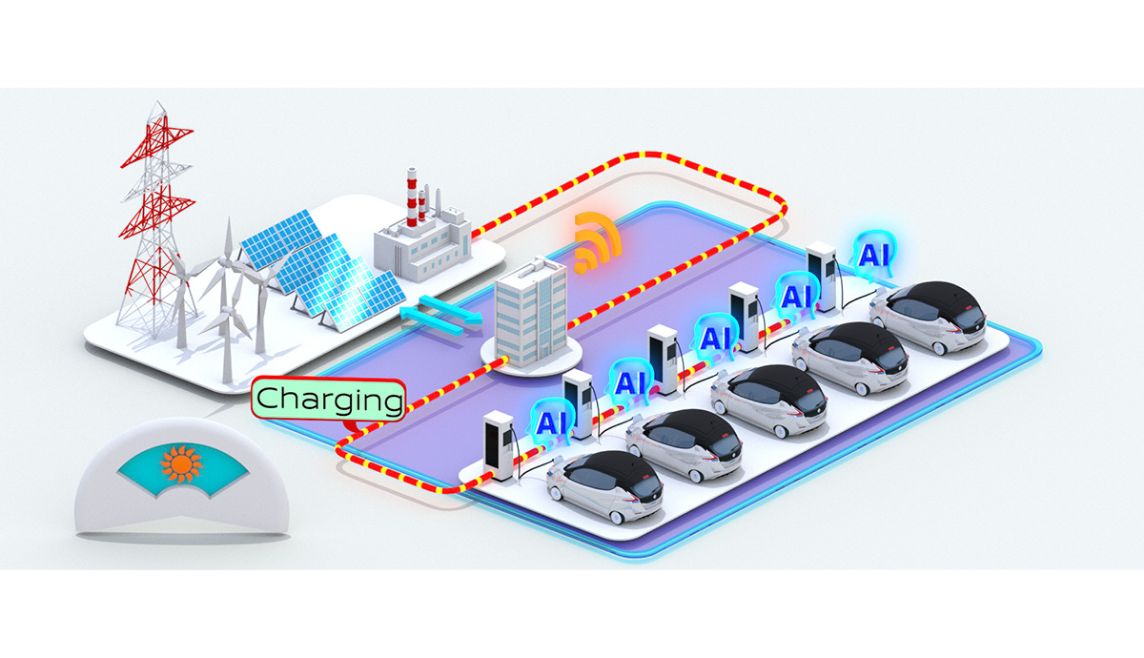 By utilizing the renewable energy power generation equipment owned by commercial facilities in Namie Town, power control systems (PCS), and the town's Nissan LEAF EVs, and by installing Nissan's autonomous control system in the PCS, the project aims to verify efficient energy operation and to build an energy management system that promotes the local production for local use of clean energy.
Features of the energy management system
Autonomous EV charging/discharging


The Nissan autonomous decentralized systems that are installed in the PCS autonomously cause the town's EVs to charge/discharge based on the amount of power generated from solar, wind, and hydrogen fuel cells, and on power demand information at commercial facilities.

Adjusting EV charge/discharge priority and timing


The autonomous control system takes into consideration the remaining battery level and usage patterns (typical departure times and distance driven, etc.) for the five Nissan LEAF vehicles, and, additionally, determines the priority vehicles to use for charging/discharging and then conducts charging/discharging at the required timing.

Effective utilization of renewable energy and stabilization of power systems


By using this system to reduce the peak power consumption of commercial facilities, it can be expected to reduce electricity costs. Additionally, by aiming to use 100% renewable energy for EV charging power, the system is contributing to effective energy use and the stabilization of power systems.

Development of a convenient, dedicated app for users
By using an app to set usage times and the vehicle's required charge level, users can have the vehicles charge and discharge outside of their usage times, and can have their required charging completed by the time they start using the vehicle.