e-4ORCE is an electric-drive four-wheel-control system that freely controls driving force via integrated control of the two front and rear high-output motors and brakes.
e-4ORCE is a new drive system that incorporates the 4WD control technologies, chassis control technologies, and electrification technologies that Nissan has long developed.
From everyday driving to winding and slippery roads, this unprecedented system improves all types of driving, providing powerful, high-quality, and responsive driving.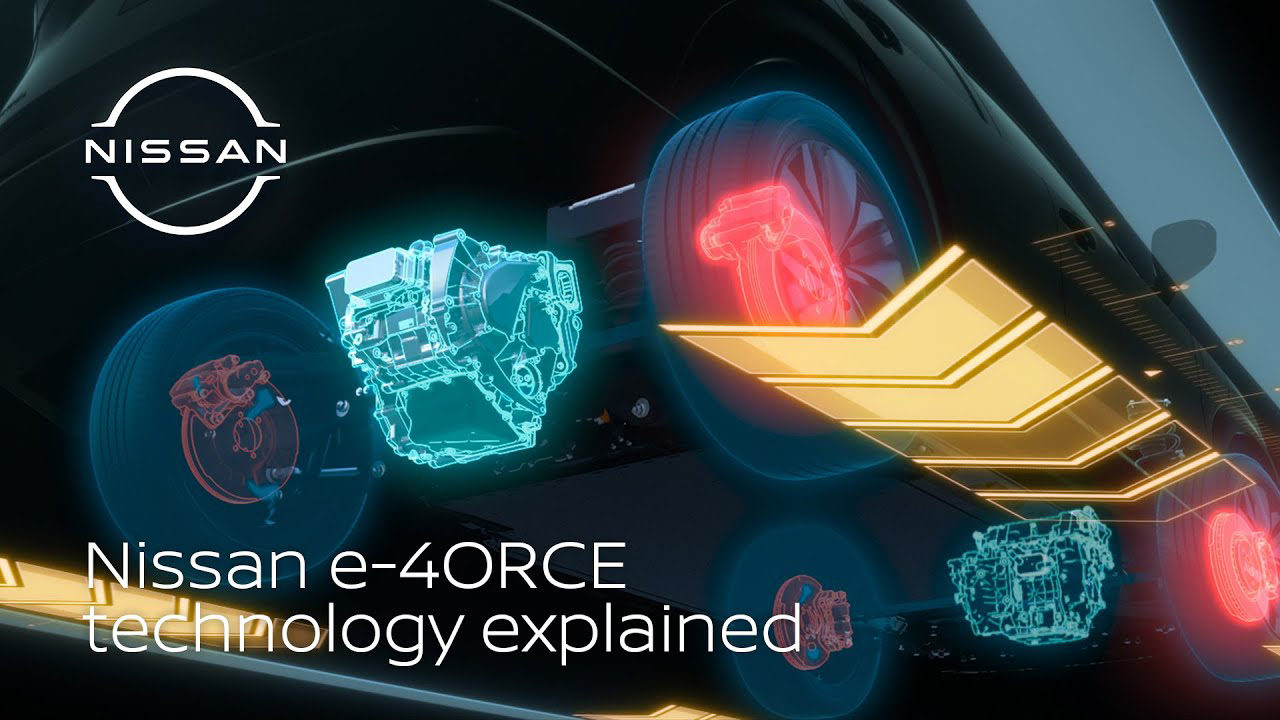 e-4ORCE freely controls the driving force of the four wheels according to the situation and provides high-quality driving at will.
The system calculates the driving force required to turn, accelerate, and decelerate in response to the driver's operation and in accordance with ever-changing driving and road conditions, then controls the driving force of the four wheels via the front and rear motors and the left and right brakes. This realizes driving from everyday driving to slippery road driving.

When the accelerator is released, the front and rear motors employ regenerative braking in a well-balanced manner to decelerate the vehicle. This suppresses the pitching behavior of the vehicle body that occurs when only the front wheels are employing regenerative braking, thereby realizing flat, smooth deceleration and providing a comfortable ride for passengers. Additionally, each wheel's degree of slippage is constantly being monitored, and the amount of regenerative braking is automatically controlled on slippery road surfaces.

Taking advantage of the unique characteristics of motors that can control torque with high precision in response to the driver's operation of the accelerator, the tires are smoothly driven when the accelerator is depressed to achieve a smooth and powerful start even on slippery, snow-covered slopes.
The system detects the slight slippages of each wheel and quickly distributes the driving force if slippage occurs.
The grip limit changes from moment to moment depending on driving conditions and road surface conditions, and each wheel's grip limit is also different.
e-4ORCE detects slight tire slippages and determines grip limits while driving. By calculating driving force that realizes turning, acceleration, and deceleration according to the driver's operation and then controlling the front and rear motors and the left and right brakes in an integrated manner, the system controls driving force to maximize the grip of the four wheels.
Compared to conventional mechanical 4WD that can only vary the distribution of driving force up to 50:50 due to their structure, a 4WD system with motors on each of the front and rear wheels has the potential to freely change the driving force from 100:0 to 0:100. By combining this with braking control, the driving force on the left and right can be changed, and the driving force on all four wheels can be controlled at high speed and with high precision.

e-4ORCE is installed in electric vehicles such as the Nissan Ariya and the X-Trail e-POWER.