Noboru Tateishi, Senior Vice President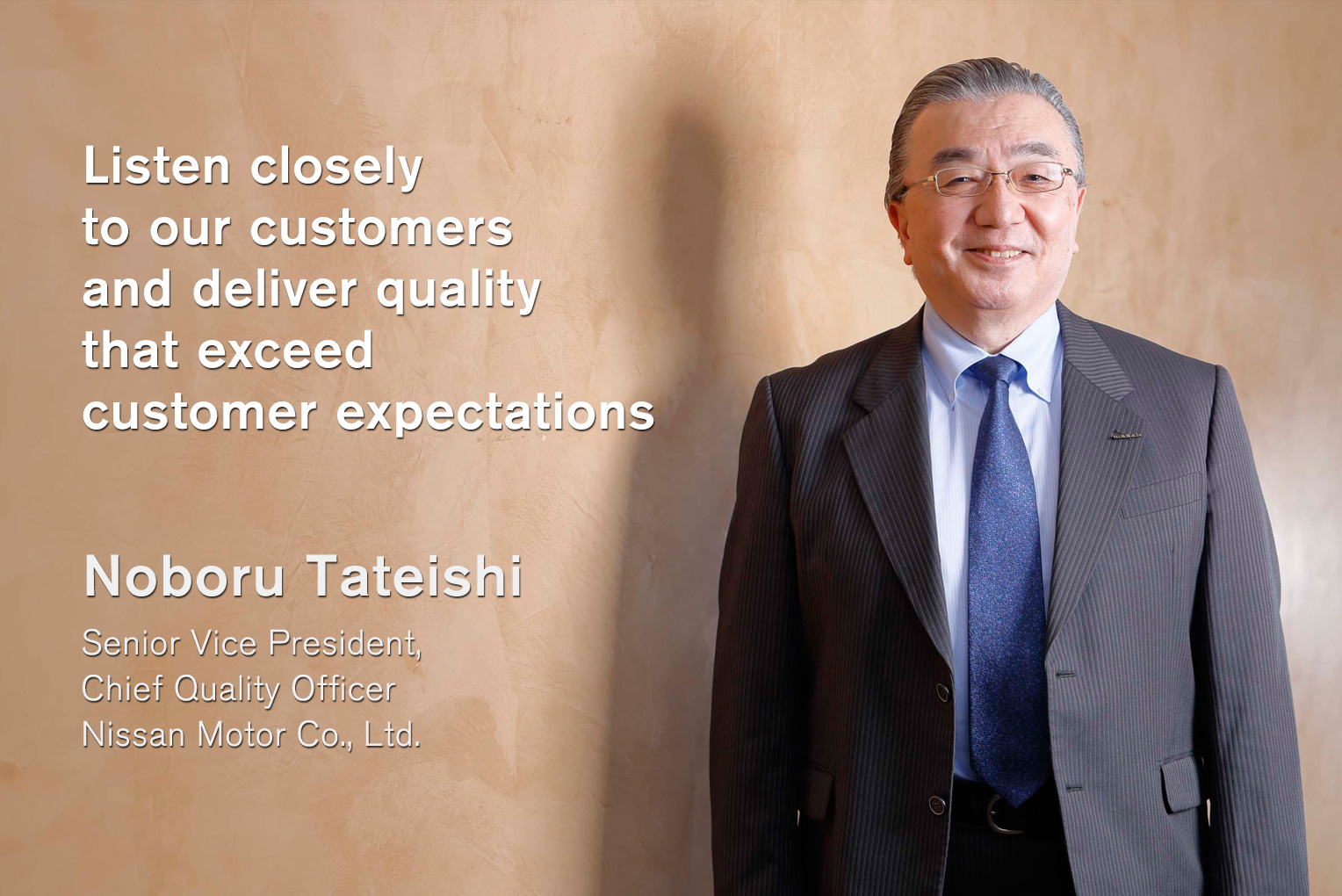 What do you view as key to improving quality at Nissan?
When people hear the word "quality," they often think of product quality, but Nissan views quality as a companywide issue. We seek to provide the highest quality at every stage, from new vehicle planning to development, manufacturing, distribution, sales and aftersales service.
Customers evaluate our quality. Are we meeting their expectations? Are they satisfied with the job we do? This kind of customer-centric thinking is fundamental to quality at Nissan. We strive to be better today than yesterday, better tomorrow than today and narrow the gap between customer expectations and reality. These efforts are our quality improvement activities.
In this context, I advocate for improving quality far beyond expectations. There are strict corporate procedures in place to prevent us from investing excessively or incurring unnecessary costs. In order to provide products and services with a level of quality that will satisfy our customers within those boundaries, we need a spirit of greatly exceeding customer expectations.
One key to this is for all employees to strive to reduce customer dissatisfaction to zero. Reducing defects to 0.0% is very difficult but as a fundamental attitude it is important to aim for zero defects.
For that reason, we must listen closely to our customers and make steady improvements. To ensure that this approach is shared across the company and cultivate a customer-centric mindset, Nissan operates a range of activities, from companywide training to initiatives that let people hear the everyday voice of the customer.
Turning to quality management, we are constructing a system for promoting quality improvement globally, centered around our chief quality officer (CQO), the top executive responsible for quality. The most important site for monozukuri is the gemba where actual development, manufacturing or sales take place. Reinforcement of processes and systems at the gemba is the driving force behind quality improvement. Our Total Customer Satisfaction Division (TCSX), which tracks complaints and defects reported by customers, plays an important role in supporting the monozukuri gemba at Nissan. We coordinate quality improvement efforts across the entire company and resolve any problems that arise at the gemba by working together.
How are you promoting customer-centric initiatives?
For the manufacturer, a single vehicle is just one of thousands but for the customer, that vehicle is all they have. Paying attention to every individual customer's voice as part of our work is what "customer-centric" means to us. To that end, we must not only meet customer expectations but also respond to the dissatisfactions and defects they encounter. Across Nissan, we are strengthening activities that involve listening to every comment from our customers, quickly responding when they encounter dissatisfactions or defects and ensuring that the results are fed back into all aspects of quality, from product design and development to service. As one example, we carry out a unique Quality Connection Survey (QCS) of customers who purchase Nissan vehicles. QCS is carried out 3 months and 12 months after purchase or later.
Unlike one-off surveys with limited populations performed by external organizations, QCS lets us hear comments from more customers and link specific comments to specific customers. For example, if they express dissatisfaction with noise levels, we follow up by asking "Can you identify the component making the noise?" and using this information to improve quality.
Additionally, to respond to defects as rapidly as possible, we also have processes in place to send Nissan employees to the directly instead of leaving everything to sales company representatives. If analysis of the issue appears that it may take time, we borrow the car and investigate it thoroughly. Comments from the customer are sent as feedback to all immediately and reflected in manufacturing immediately.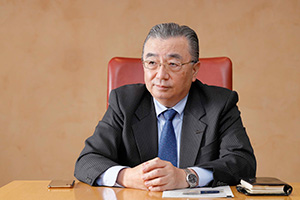 What kind of initiatives to improve product quality are currently underway?
One type of quality our customers demand is perceived quality, the quality they sense through the look, touch and feel of the car. To improve perceived quality, Nissan conducts research and development projects to scientifically analyze human sensibilities like sight, sound and touch. These are efforts to scientifically explain what makes customers marvel at how great something feels. The development team for our electric powertrain e-POWER, which fuses a gasoline engine with a motor, is exploring what kind of acceleration feels most comfortable to people in the car. For our driver assistance system, ProPILOT, we thoroughly surveyed and analyzed customer impressions such as "Deceleration feels scary when it's too fast" and "If the car's movements don't match how it feels, it makes me uneasy," to ensure that ProPILOT would be a pleasant experience. We like to think that the Japanese omotenashi (hospitality) admired by the rest of the world can also be experienced in our driver assistance systems.
In terms of initial quality, where the objective is to reduce the incidence of defects to zero, our approach for many years has been based on the idea that tackling issues one by one is the shortest path to quality improvement. Even as technology and features leap ahead, the results of our quality surveys three months after purchase have greatly improved. "3 Months in Service," a representative indicator of quality for the first three months from sales, currently shows less than half the defects it did a few years ago. This is also the result of initiatives to manufacture high-quality products—initiatives such as cultivating human capital and continuously improving technology—taking root globally. Going forward, we will continue making improvements while listening to the customer and tackling issues one by one.
What kind of quality improvement initiatives are underway around advanced technologies like vehicle electrification and intelligence?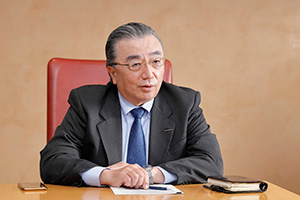 No matter how wonderful a technology may be, customers will not accept it if there are quality issues. Currently, vehicle electrification and intelligence are two areas of focus for Nissan and quality is extremely important for both. As we continue to deploy these new technologies, guaranteeing is essential.
In 2010, when we released the Nissan LEAF, a mass-produced 100% electric vehicle, everyone involved in development and production thoroughly understood that quality was more important than anything else. The fact that we have not seen a single serious battery defect under normal use is not a coincidence—it is the result of every individual consistently working with care. Over the long history of the Nissan LEAF, there has not been a single major defect and this success story has also influenced the Nissan Ariya.
In fields like electrification and intelligent technologies, the question of how to secure software quality also becomes an issue. At Nissan, in order to ensure that software development does not become a black box, we are reinforcing our human capital in the software field and raising the proportion of software written in-house. We are also constructing systems for comprehensively inspecting software internally and striving to detect defects at an early stage before mass production.
How are you cooperating with suppliers to improve quality?
Nissan cannot develop and manufacture cars alone, so we are also engaged in quality improvement activities with our suppliers. When onboarding new suppliers, we have a list of several hundred evaluation items that we check while visiting their gemba. We ask about things like whether they have systems for clearly distinguishing between satisfactory and defective products and what sort of systems they have in place to prevent problems. For existing suppliers, we diagnose delivered quality and market quality via Supplier Scorecards, and carry out supplier factory audits to evaluate management structure. The important part is not pointing out weaknesses but improving quality together. For example, on scorecards, there are four grades from L1 to L4. These exist to motivate everyone at the supplier. At the annual Global Supplier Quality Meeting, we tell suppliers, "We want you to aim for L1 but we don't want you to become slaves to your score. This score evaluation is a tool for motivating all your employees and production facilities." Suppliers are important partners and by cooperating with them to improve things, we can aim to improve quality.
Finally, I would like to reemphasize that we always aim to be better today than yesterday and better tomorrow than today. We will all come together—gemba, management, suppliers—and strive to deliver quality that exceeds customer expectations.
Published in December 2021