Kunio Nakaguro, Executive Officer and Executive Vice President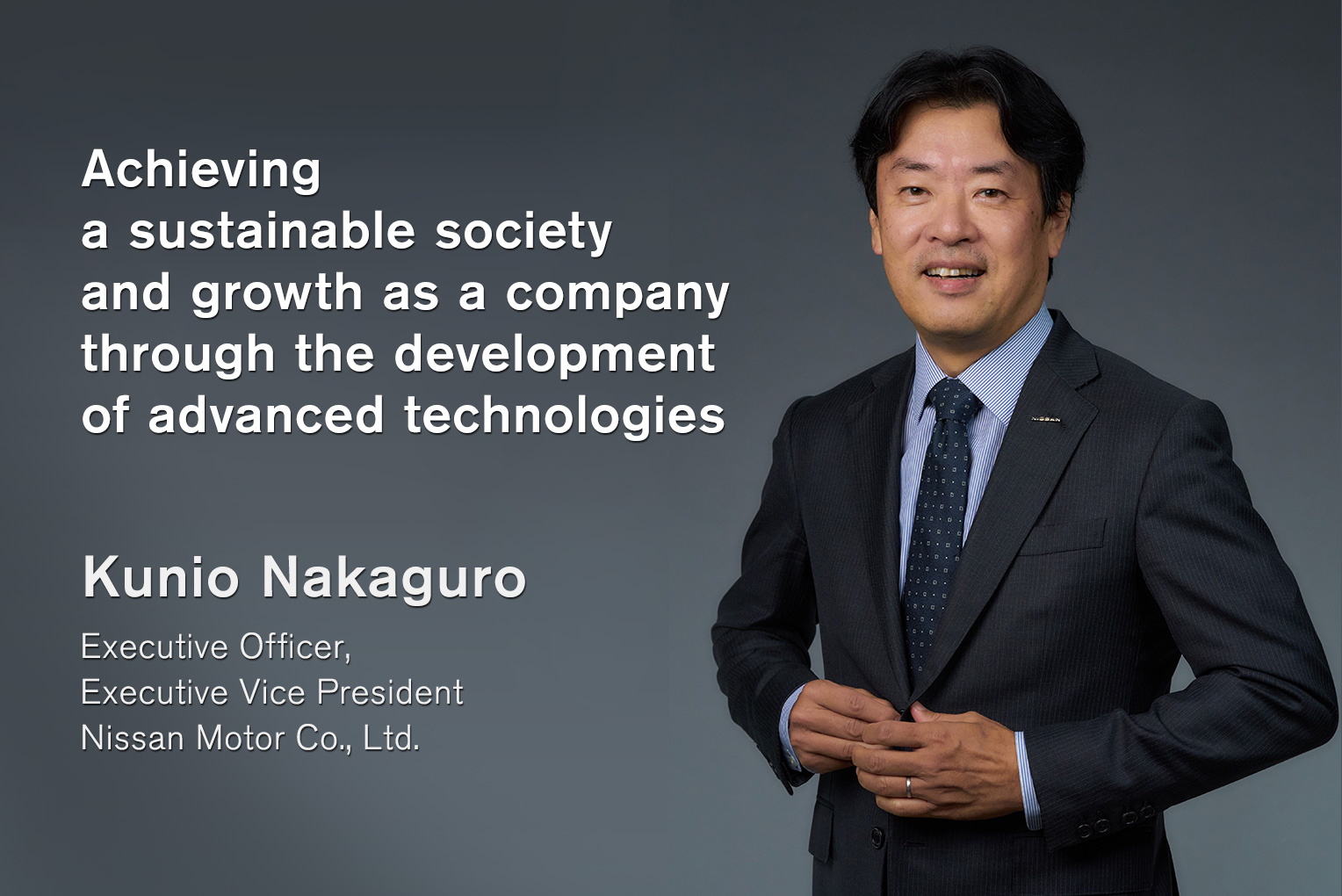 Nissan's competitiveness has always originated with advanced technologies. Since foundation, Nissan has consistently developed and commercialized new technologies and was among the first to introduce advanced technologies to the market. Over the past two decades, the company's research and development activities have been based on two pillars of advanced technology - electrification and vehicle intelligence. We believe that electrification and vehicle intelligence are essential to solving societal issues including resource depletion, environmental problems, traffic accidents, and traffic congestion.

We always keep in mind that advanced technologies gain value after they become available to our customers and featured in our vehicles. Our efforts in R&D have led to the commercialization of electric vehicles (EVs) and e-POWER for electrification, and a wide range of advanced safety technologies, such as ProPILOT and connected technologies for vehicle intelligence. These advanced technologies have been adopted in different segments and are widely used by customers.

However, the decade leading up to 2030 represents an age of uncertainty in which the social environment and technologies are changing significantly. We are working on new initiatives to address these anticipated changes.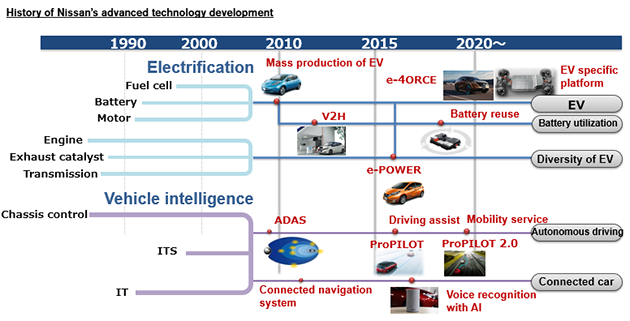 Contributing to the realization of a Zero Emission society through electrification
Since around 1990, Nissan pioneered the research and development of batteries and motors for EVs and launched the mass-produced EV, Nissan LEAF, in 2010. In addition to vehicles, a number of technologies have been introduced with the objective of making EVs user-friendly by considering the use environment and the eco-cycle. As examples, charging infrastructure standards have been established. Infrastructure and a vehicle-to-home system have been developed. A battery reuse business, 4R Energy, was established. Real-world accomplishments and accumulated data from vehicles and customers are a competitive advantage of Nissan to promote electrification.

Nissan has two main goals in expanding electrification. One is to realize our vision to achieve a zero-emission society. The other goal is to provide customers with secure, safe and comfortable mobility by optimizing the significant potential of motor drive.

Due to its excellent controllability, motor drive technology enables ideal acceleration, deceleration, ride comfort and cabin quietness for the driver. In addition, motor drives are highly compatible with advanced safety technologies, such as ADAS (Advanced Driver-Assistance Systems) and autonomous driving technologies. We will continue to enhance the attractiveness unique to the motor drive. In addition to EVs, Nissan will continue to offer motor drives to customers worldwide, including regions where the charging infrastructure may have not yet been fully developed, by supplying motor-driven e-POWER models, which do not require external charging of the battery.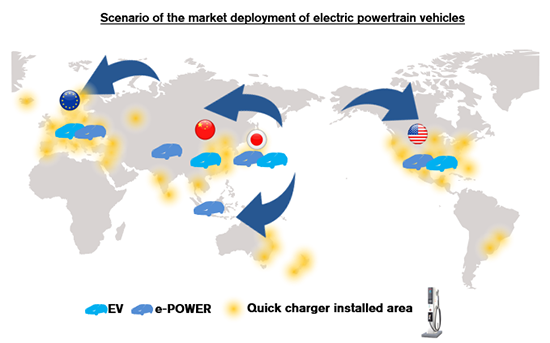 Under "Nissan NEXT" business transformation plan, Nissan plans to sell more than 1 million electrified vehicles by the end of FY2023, increase the EV lineup with more than 8 models, and expand e-POWER availability across the regions.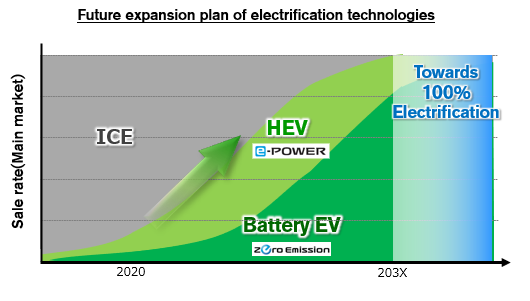 Nissan prioritizes safety in the development and offering of its EVs. Especially, as per battery, prior to vehicle launches, extensive tests are conducted under tough conditions in order to ensure safety and reliability, while increasing the battery energy density for higher performance. This emphasis on safety is demonstrated by the 510,000 units*1 of LEAF sold given there have been no cases of serious battery-related accidents. Through driving data, we forecast severe vehicle use scenarios and these factors are considered for reliability design, test standards and development.
We also continue to enhance the attractiveness of EVs through technology development. One example is vibration-damping control technology, which resulted from the development of the LEAF motor. The responsive electric powertrain has a higher potential in terms of controllability than an internal combustion engine, but there are challenges. For example, when there is a sudden increase in torque, occupants may feel vibrations. Vibration-damping control technology tempers these vibrations and ensures smooth acceleration. This technology and the knowledge gained from all-wheel drive and chassis control over the years have resulted in the integrated vehicle control technology, e-4ORCE. e-4ORCE will be featured in the all-new Nissan Ariya, which was unveiled last year. The front and rear motors are controlled during braking and driving and combined with chassis control in order to provide a stable and comfortable ride. This also prevents occupants from noticing vibrations or fluctuations. Such technologies allow everyone to drive with confidence and comfort.
For the expansion of electrification, it is necessary to reduce the cost of electric powertrains and address the challenge of innovation in battery technology. Specifically, the development of cobalt-free batteries with suppliers will be accelerated in order to reduce the use of expensive cobalt. For the battery pack, a Cell-to-Pack structure is also being developed in cooperation with suppliers. Under this structure, the cells are installed directly in the pack without modules and the manufacturing process is streamlined. Through these technical innovations, we believe that profitability for these vehicles will be equivalent to that of internal combustion engine vehicles before 2030.
All-solid-state batteries will significantly improve safety and cost competitiveness and are also being developed in cooperation with organizations such as the Tokyo Institute of Technology. The major challenges associated with this development are the enlargement of batteries for vehicles and the production process. We are expediting material selection and technology development for the manufacturing process in order to move forward and achieve mass production as early as possible.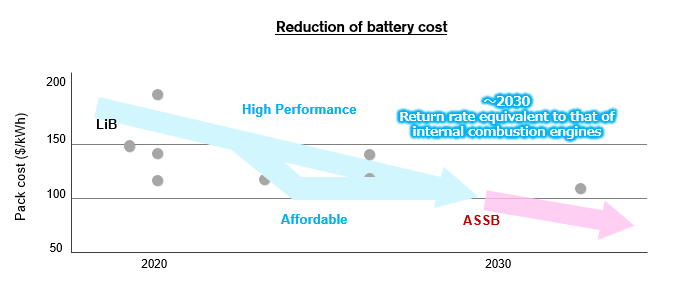 As a result of the rapid expansion of EVs, the used battery market is expected to grow in the future. Therefore, it is essential to implement measures for their appropriate use. Nissan established 4R Energy in Namie-machi in Fukushima prefecture. This company is developing technologies for reuse of batteries. 4R Energy's business model entails sorting used batteries collected from the market and, based on their condition and performance capability, supplying them to various secondary users. This ensures that the value of used batteries will be returned to customers. This business will be expanded in order to reduce the cost burden on EV owners with the aim of further proliferation of EVs.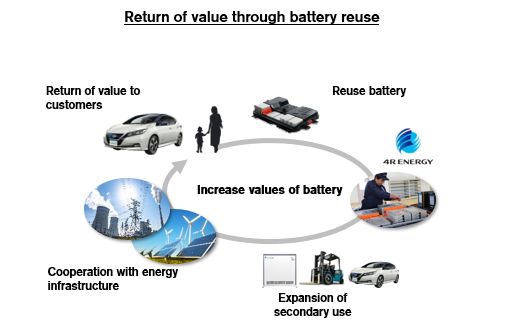 e-POWER, which utilizes the same core technology as EVs, features quiet and smooth EV-like driving while using a 100% motor drive with maximum torque.
The all-new Note e-POWER was launched at the end of 2020 in Japan and features a new electric powertrain, which integrates an inverter and a motor to give the driver improved efficiency, acceleration, and cabin quietness. In addition, a new system is under development for the premium segment, which will utilize the characteristics of e-POWER and improve cabin quietness by dampening vibrations transmitted from the engine used for power generation.
A challenge for the expansion of e-POWER is the cost of the powertrain. In addition to developing the battery technology as in the case of EVs, we are working to simplify the system, in which the engine is dedicated to power generation and operation under limited conditions in order to achieve cost parity with internal combustion engines by 2025.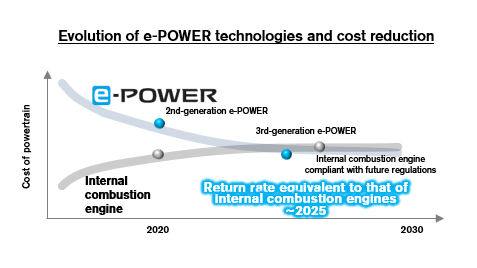 Realizing zero fatalities for Nissan vehicles through intelligent vehicle technologies
Nissan's goal is to reduce the number of deaths resulting from accidents involving Nissan vehicles to zero. In order to achieve this goal, we have been working on development of driving assistance technologies to respond to all kinds of risks related to traffic accidents. Nissan has led the industry by launching various world-first safety technologies for 360 degrees protection, including Lane-Keeping Assist, Around-View Monitor and Emergency Assist for Pedal Misapplication. Similar to the case of electrification technologies, the competitiveness of Nissan originates from such accomplishments and the high reliability of systems. Furthermore, we aim to provide all customers with secure, safe, stress-free and comfortable driving through these driving assistance technologies. ProPILOT, which was launched in 2016, evolved into ProPILOT 2.0 in 2019. This system offers the world's first driver assistance system to combine navigated highway driving with hands-off single-lane driving capabilities. Nissan is targeting sales of more than 1.5 million vehicles equipped with autonomous driver-assistance technologies by 2023.
For a fully autonomous driving future, it is essential to increase the level of autonomy and provide systems that everyone can use with confidence. As a part of this development, Nissan has been conducting field tests on Easy Ride*2 with driverless cars in Yokohama's Minato Mirai area. Through these test drives with customers, we are able to identify potential issues associated with practical use and continue development for future commercialization.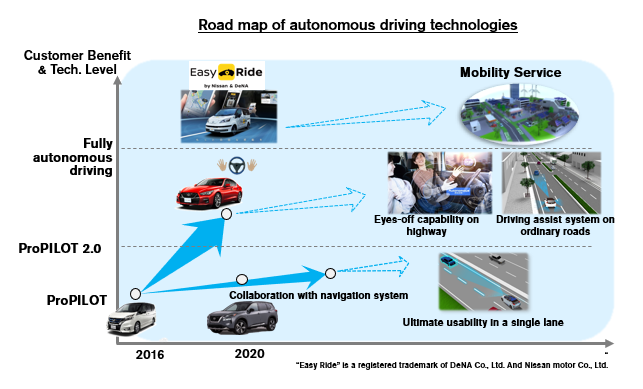 Under real world driving conditions, fully autonomous driving must ensure safety in the event of obstacles on the road. Extensive efforts are required to produce object recognition technologies that will account for a wide range of customer driving scenarios and road conditions. Therefore, vehicle control technologies as well as the research and development of base components, such as sensors and cameras, will be prioritized.
Commercializing these technologies in the global market requires a deeper understanding of the market environment, and road conditions have been modeled for this purpose. We will enhance development efficiency by reproducing different driving scenarios worldwide based on market data and high-definition map data obtained through the development of ProPILOT. Nissan uses a driving simulator that reproduces market conditions and actual vehicle patterns in its development of autonomous driving technologies.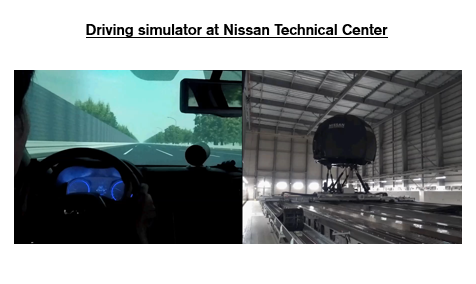 Global advancement of Alliance connected technologies
For many years, Nissan has produced technical innovations in connected technologies that offer various services to vehicle occupants through cloud services. In 1998, "Com-Pass Link" was developed, which combined vehicles with information technology through the car navigation system and mobile phones. This was also Japan's first operator service. In the future, additional services will be provided through faster communication between the vehicles and cloud services/servers.
For example, several services are in development. Remote control and automatic settings for various functions through the use of smartphone applications will allow the driver to easily perform a series of actions before entering the vehicle. Driver intentions based on driver preferences and behaviors will be analyzed using big data to incorporate results with an advanced interface, so that the driver can intuitively perform different functions while driving.
These functions are supported by Alliance cloud services and on-board platforms. They will be deployed and promoted globally alongside carriers and service providers around the world. The architecture of the system software and hardware has become increasingly complex. To address this issue, innovations for efficiency are under development by streamlining the system through module design and adopting automatic function evaluation methods using digital analysis tools.
Enhancement of future mobility business
The advanced technologies discussed above help enrich society in addition to serving Nissan customers. For example, EVs, also known as energy-stored cars, play an active role in supplying power during disasters. Through the "Blue Switch" project in Japan, Nissan contributes to society through arrangements with many local municipalities. The vehicle-to-grid system is also being studied to help control power supply and demand. This system connects reused battery-based energy storage with existing power grids.
Furthermore, for the mobility-disadvantaged in rural areas, the company is collaborating with local municipalities and working toward an environment where everyone can move with confidence and safety by using various technologies including advanced safety, autonomous driving, electrification and connectivity. Simultaneously, through these activities, we are looking to establish appropriate business models.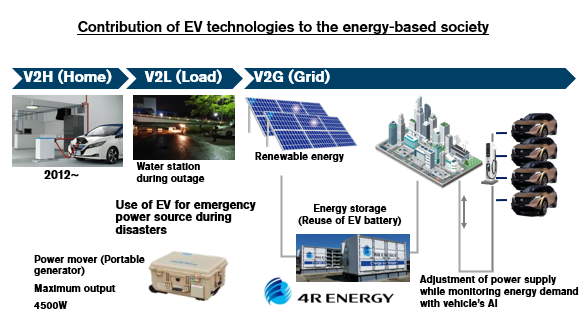 In addition to electrification and vehicle intelligence, Nissan is working on research and development of various advanced technologies such as vehicle weight reduction by using different types of materials and optimizing interior conditions based on the physical condition of occupants obtained through bio signal recognition.
Nissan aims to enrich the daily lives of its customers worldwide by expanding the appeal and joy of its unique advanced technologies. We are confident that this vision will shape the future mobility of society. At the Research and Development Division, we will work together and continue to embody the "Technology of Nissan."
As of the end of January, 2021
"Easy Ride" is registered trademark of DeNA Co., Ltd. and Nissan Motor Co., Ltd.