Initiatives for Zero Emissions
Vehicle initiatives to realize a carbon-neutral society
Responding to climate change is an important issue that should be addressed globally. It began with the adoption of the UN Framework Convention on Climate Change in 1992, and international long-term goals are being discussed. According to the IPCC's special "Global Warming of 1.5 °C" report, to control global warming it is necessary to keep the increase in average global temperature since the Industrial Revolution to within 1.5°C.
In January 2021, Nissan has set the goal to achieve carbon neutrality across the company's operations and the life cycle of its products by 2050. As part of this effort, by the early 2030s every all-new Nissan vehicle offering in key markets will be electrified. (2050CN)
The e-POWER system offers full electric motor drive and electricity is supplied from gasoline engine, and Nissan is promoting technological developments to reduce CO2 emissions by further improving the efficiency of the dedicated engine used to generate electricity.
(LINK: Technology achieving 50% thermal efficiency)
Electric vehicles not only improve powertrain efficiency and can utilize renewable energy when charging, but with them Nissan is aiming to substantially reduce life-cycle CO2 by reducing newly mined resources during battery manufacturing and promoting battery reuse. Additionally, by utilizing electric vehicles as energy storage devices, they will contribute to promoting society's use of renewable energy.

Initiatives to reduce newly mined resources during battery manufacturing
Nissan is preparing recycling technologies and equipment so that used batteries can once again be reused as resources. Instead of disposing of batteries, high-purity raw materials can be extracted by shredding and classifying the batteries, and, by reusing these resources in battery manufacturing, it is possible to reduce CO2 during battery manufacturing.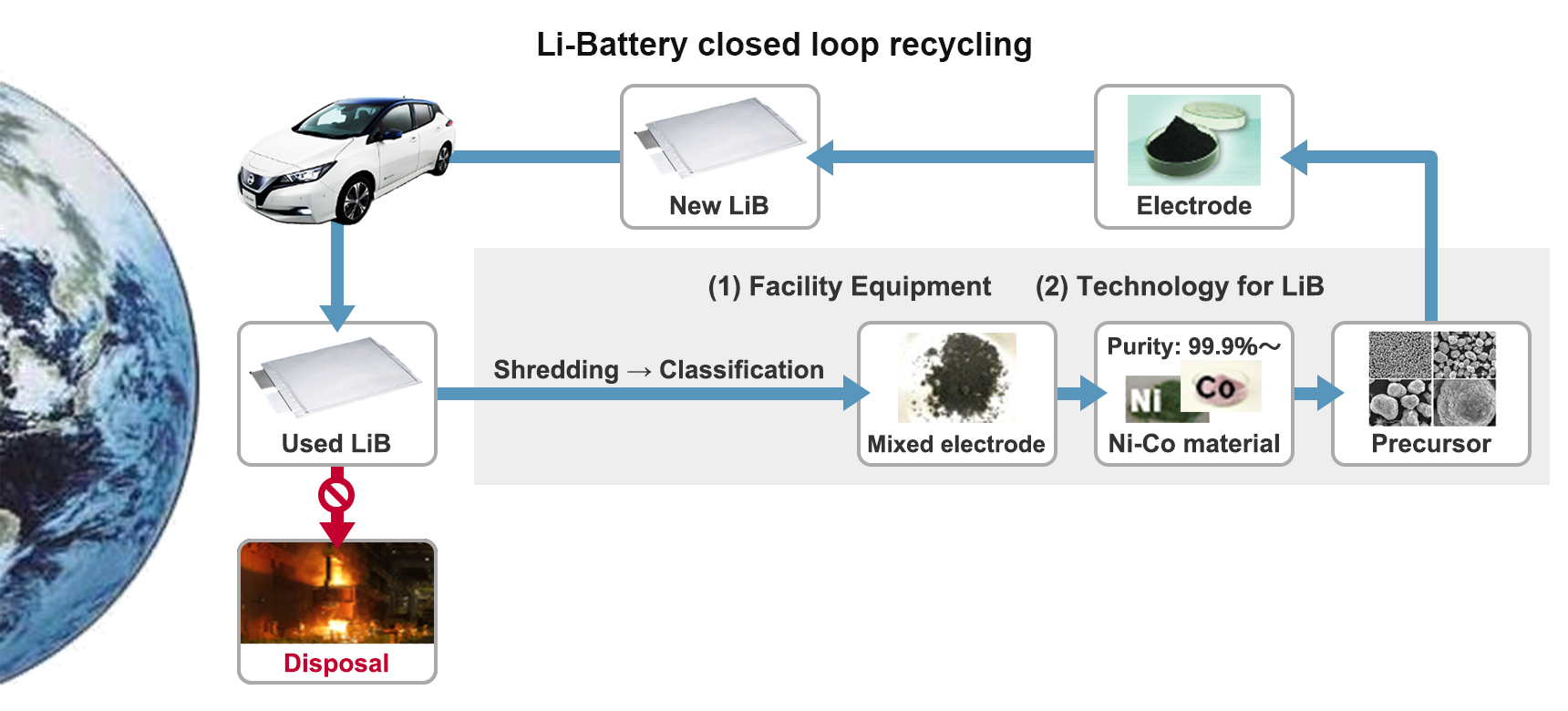 High-performance automotive lithium-ion batteries retain sufficient capacity as batteries even after being used for a vehicle, and used batteries can be effectively utilized by promoting the "4R" of "Reuse," "Resell," "Refabricate," and "Recycle." By utilizing these used batteries as energy storage devices for a variety of purposes, a battery reuse circulation cycle can be realized.
In 2010, Nissan and Sumitomo Corporation established 4R Energy Corporation in order to effectively utilize reusable lithium-ion batteries as electric vehicles become more widespread in the market. 4R Energy has established methods for evaluating the deterioration condition of used lithium-ion batteries collected from the Nissan LEAF, and is promoting a battery recycling business that, depending on battery condition, reuses them as recycled batteries for vehicles and as stationary batteries.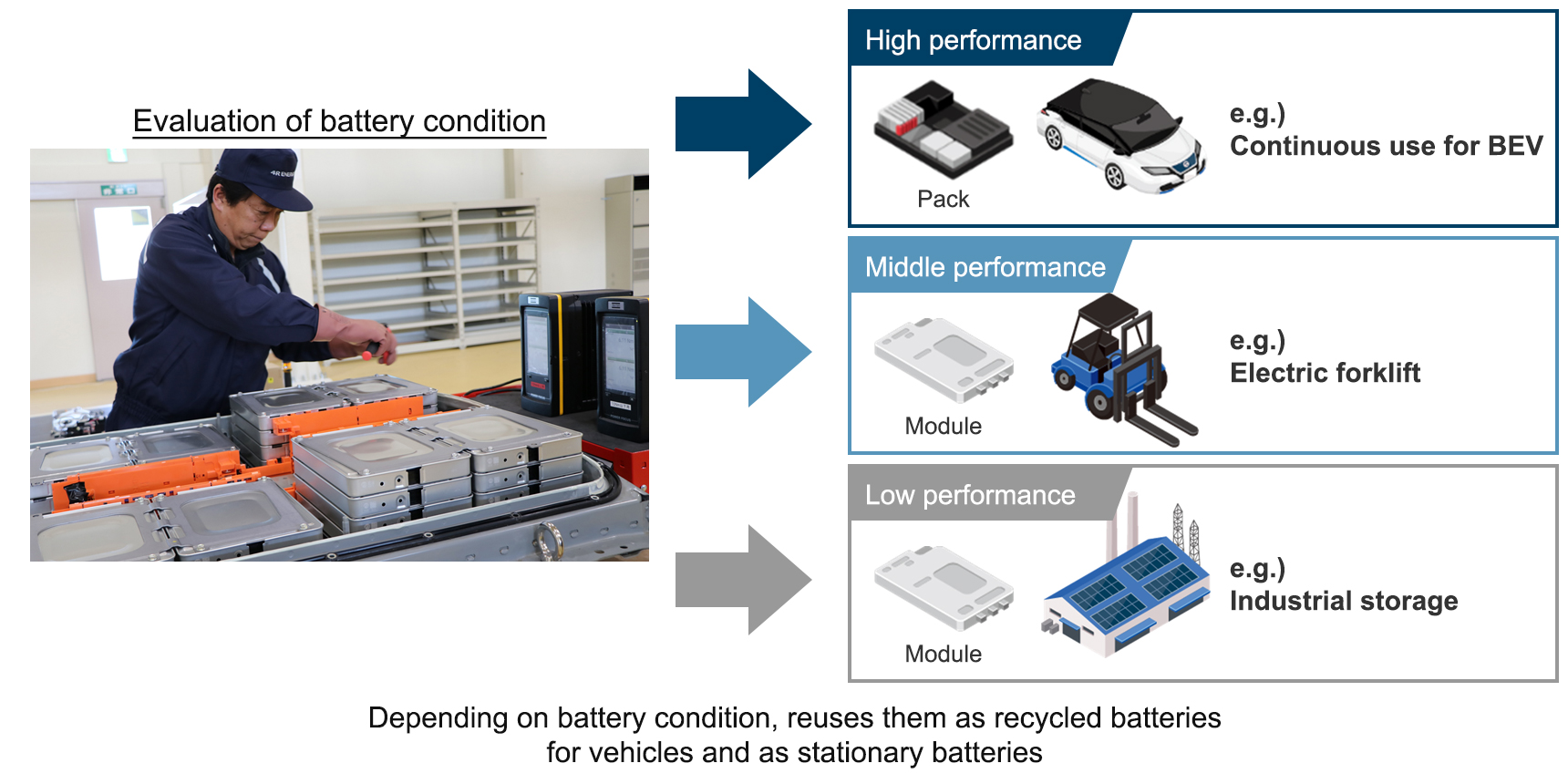 Utilizing renewable energy
Electric vehicles are powered by electricity that can be produced from a variety of energy sources, so it can be said that they are sustainable mobility from the perspective of depleting/non-renewable resources.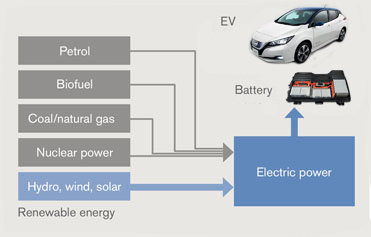 Additionally, it is possible to promote the use of renewable energy by utilizing batteries installed in vehicles and reusable batteries as storage batteries. For example, by storing the electricity generated by solar panels during the day in a battery and then using that electricity at night or in the rain, the local production for local consumption of energy becomes possible, and renewable energy can be effectively used.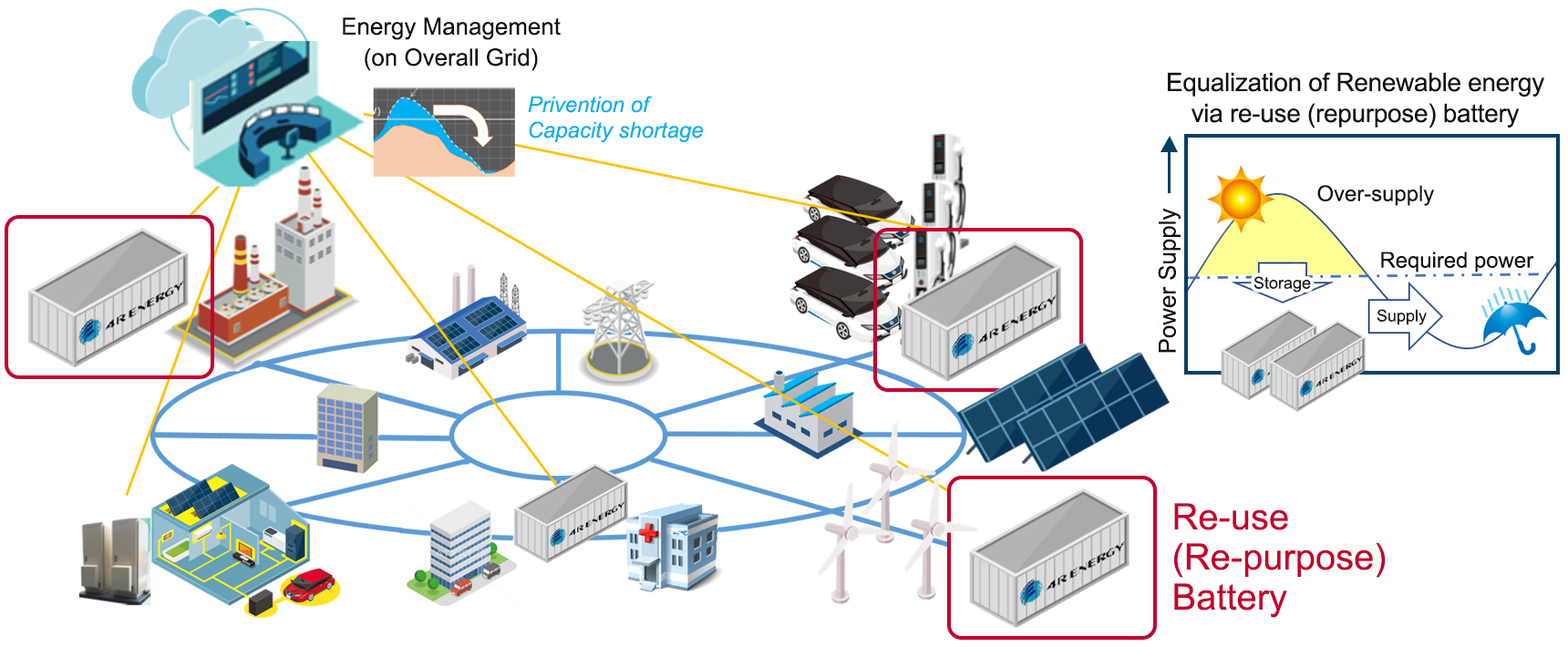 Electric vehicles can provide new value to customers in addition to the traditional role of vehicles in movement and transportation.
Because electric vehicles have large capacity batteries, they can be utilized as power supply storage. Nissan is bringing this new value to everyday lifestyles, and that value is created through the V2L, V2H and V2B* technologies. They are actually used as emergency power sources in the event of a disaster, such as a typhoon.

Vehicle to Load (V2L), Vehicle to Home (V2H), and Vehicle to Building (V2B)
Nissan continues to take the lead in realizing a carbon-neutral society
Nissan positions the introduction and popularization of electric vehicles as one of its corporate strategies, not only manufacturing and selling vehicles, but also collaborating with a variety of partners based on a comprehensive approach to promote activities for the spread of electric vehicles. Since launching the Nissan LEAF in 2010 with the commitment to "become a leader in zero-emission vehicles," Nissan has promoted electric vehicles and built electric vehicle infrastructure while also concluding many partnerships with various national governments, local governments, electric power companies, and other industries.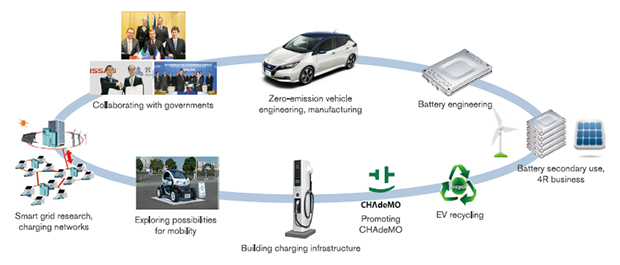 Additionally, Nissan has also promoted "Nissan Energy" as one of the solutions to improve the environment surrounding electric vehicles and to provide customers with a richer life.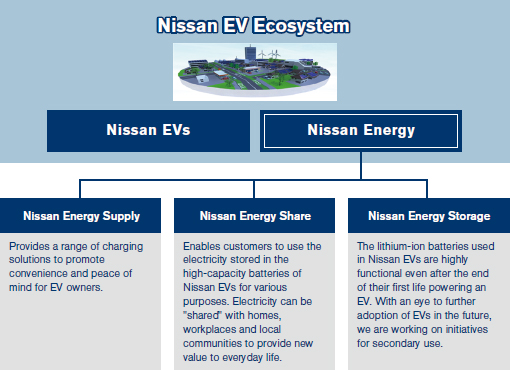 Going forward, Nissan will continue to broaden and expand initiatives centered on innovative technology development and electric vehicles, aiming to realize a carbon-neutral society.