Production, sales, offices . . .
We aim to reduce CO2 emissions in every phase of our business operations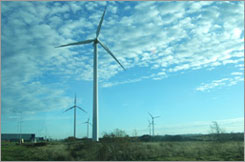 Renewable energy(Wind power)
By 2010, we plan to cut the CO2 emissions from our manufacturing facilities by 7% from 2005 levels (global per-unit). Nearly all the CO2 emitted during the manufacturing process results from the use of fossil fuels. To build cars using less energy, Nissan is improving the technology and methods in manufacturing operations. These ideas will be cascaded globally to encourage adoption of the most ideal methods for reducing CO2. We will also utilize natural energy such as wind or solar power, depending on local conditions.
We have implemented the "Nissan Green Shop" - an environmental management system - at sales outlets in Japan and will continue to expand the program country-wide . This system will be the first of its kind in Japan to set numerical targets for cutting CO2 emissions. Controls will commence from fiscal 2008.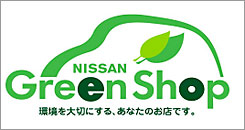 What are Nissan Green Shop activities?
A proprietary environmental management system based on ISO14001, the program entails a dedicated individual assigned to promote the environment. This individual's scope of responsibility includes engaging in public relations activities to generate greater environmental and conservation awareness amongst customers. This includes topics such as the proper disposal of cars at the ELV (end of life vehicle) stage, waste products and environmental equipment management. All of Nissan's sales outlets in Japan will participate in the Green Shop program.
The new Nissan corporate headquarters in Yokohama is scheduled for completion in 2009, while the Advanced Technical Development Center in Atsugi is due for completion in 2007. Both of these new facilities boast designs that reflect meticulous consideration to the environment. Nissan expects these two buildings to be accorded the highest "S" rank under the CASBEE (Comprehensive Assessment System for Building Environmental Efficiency) set by the Ministry of Land, Infrastructure and Transport.

Nissan New Corporate Headquarters to be completed in 2009
(Yokohama City, Kanagawa Prefecture)
Nissan Advanced Technical Development Center to be completed in 2007
(Atsugi City, Kanagawa Prefecture)