Nissan Passionate Challengers
EPISODE 01
The heart of electrified vehicles:
Mass producing high-quality motors
with ingenuity at every step
Yoshiyuki Tanaka
Axle and Electric Powertrain Section
Yokohama Plant, Manufacturing Dept. 1
Even the smallest scratch goes unnoticed
The Axle and Electric Powertrain Section of our Yokohama Plant, whose origins link back to the world's first mass-produced EV, the Nissan LEAF, is responsible for manufacturing motors used in e-POWER vehicles such as the Serena, Kicks, and Note; as well as hybrid motors used in the Skyline. Veteran staff member, Yoshiyuki Tanaka, uses his experience in manufacturing the first-generation Nissan LEAF's motor to oversee the section's operations and quality control.

"The coiled wire used in the motor cannot have any damage to the coating. So, the manufacturing process starts with confirming every step and piece of equipment passes strict requirements. This also extends to transportation logistics."
02. Insertion of the coil winding into the stator core
03. Manual assembly of the glass tube
04. Aligning coil bundles with each electric circuit
05. The final molding process to flatten the coil end and set dimensions
06. Lacing process utilizing white threading
08. Coating with insulating varnish and housing shrink wrap
09. Combining the rotor and stator
10. Assembling the sensor and final inspection
There are about 130 employees involved in motor manufacturing. Three motor manufacturing lines are currently in operation, with one line dedicated to the Nissan Note.

"The Yokohama Plant's motors are made with a rotor assembly that incorporates strong, permanent magnets. It is important to confirm our equipment does not react with the motor's magnets. So, we use stainless steel and aluminum to prevent magnetization, and resin to prevent scratches."
Evolving technologies and manufacturing processes
Tanaka says working on the first-generation LEAF's motor was a process of continual trial and error.

"The first production line was a test. Our initial goal was performance, rather than mass production. In 2012, we had more experience, and could focus on a mass production system, and gradually increased the number of models and motors we produced."

The time we spent establishing a stable supply of motors was in parallel to the evolution of Nissan's electrified technology. This continues to be the case in our manufacturing processes today.

"The stator core is at the center of a motor. The motor's coiling, which is wound around the stator core, is now 20% thinner since 2012 (from 140 to 115 mm). This means we can wind the core an extra 2 coils (from 108 to 110 pieces), so even if the stator core itself becomes thinner, the increased number of windings ensures the motor's performance is maintained."

The assembly process has also evolved. For example, the magnetization process of the motor's permanent magnets is now done after they are in the rotor, speeding up the assembly process.

"Time spent working with magnets is shortened; and we've removed the risk of reversing the polarities during assembly."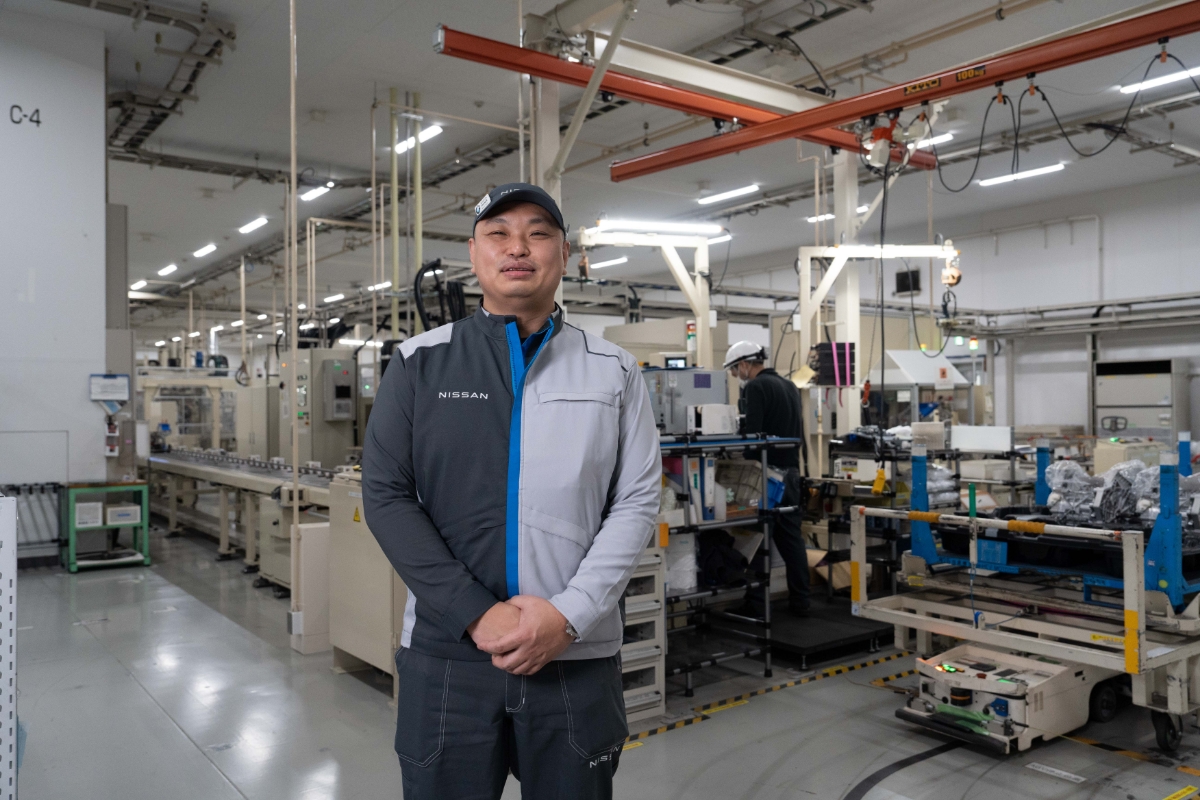 Manufacturing where it all started
The Yokohama plant utilizes state-of-the-art technology, and is continuously evolving, both with manufacturing processes and approach. "As we optimize, many manufacturing processes that are currently handled by people will soon be automated," stated Tanaka.

"To reduce instances caused by human error, we need to introduce more automation in our processes. That said, it is important to still have people performing final checks. So our mission is to not only innovate technologically, but also to develop the skills, knowledge and experience of employees."

"The role of the Yokohama Plant is to be a pilot plant, which means creating standards for mass production. Part of my job involves discussing new technologies, visit prototype locations, and collecting information. The collaborative effort to explore innovations and share information lays the groundwork for us to continue manufacturing vehicles with cutting-edge technologies."

As the original location of the company, The Yokohama Plant is a source of pride among employees. Passionate employees play a key role in manufacturing cutting-edge motors for Nissan's expanding line-up of electrified vehicles.