At every stage in the car's lifecycle, from designing models that are easier to recycle to reducing and recycling the waste our factories generate, Nissan is determined to optimize our use of the world's finite resources and we are taking bold steps to promote that commitment.
In the future, we will intensify our "3R Campaign" activities, reducing the generation of waste, reusing components and recycling materials.
Nissan's concept for resource recycling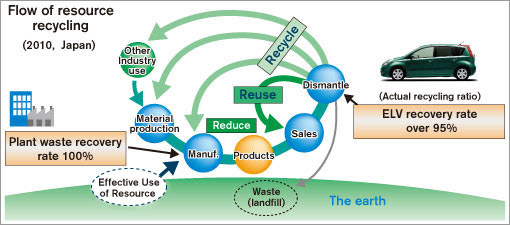 The ultimate goal is to achieve 100% resource recovery rate and generate zero waste emissions, beginning in Japan.
[Specific targets for resource recycling by 2010]
| | |
| --- | --- |
| | 95% resource recovery rate for cars at the end-of-life stage in Japan. |
| | 100% resource recovory rate at domestic production plants in Japan |
In Japan, all new Nissan vehicles from 2005 onward boast a potential recycling rate of 95%. With a continued focus on recycle-oriented design, the 2010 target is to achieve a 95% recovery rate for end-of-life vehicles, in combination with a more robust recycling process for implementation. If we achieve this goal, we will meet the target five years ahead of Japanese regulatory requirement.