Fast, Highly Accurate Detection of Surface Defects
Commercial Uses
Used by Nissan and other companies to inspect products ranging from small to large sizes.
Features
Nissan's original LED lighting and image processing allows the device to accurately inspect a product's surface without halting the production process. Its ability to maintain an outstanding level of detection ensures product quality. Measurement results can be printed, displayed, and saved, thereby clarifying the causes of problems and contributing to traceability.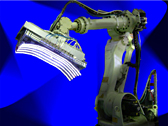 Covers a broad area of detection for each product part
Can identify concave imperfections in a surface
Detection accuracy not impaired by unwanted light reflection
Capable of inspecting an object with curved surfaces
Technology Overview
Device employs LED lighting, a CCD camera, an image-processing computer, and other functions to identify any defects on the surface of parts on the production line, displaying on a monitor the location, size, and other details regarding any defects found. The inspection results, such as the time of detection, can also be saved.
Operational System
The system reliably detects a surface defect by capturing electronic images of the inspected surface area at different positions by moving the imaging area relative to the inspected surface. Any potential defects are extracted from the series of images taken. The system examines whether the movement of a potential-defect area is in proportion to the movement of the imaging area; if it is, that area is determined to be a surface defect.


CONTACT
Technology Sales Department
Corporate Strategy and Business Development Division
Nissan Motor Co., Ltd.
560-2, Okatsukoku, Atsugi-shi
Kanagawa 243-0192, Japan
Phone: +81-50-2029-5622
Fax: +81-46-270-1528
PDF files can be opened on the browser by using Adobe Reader plug-in. To use all features of Adobe Acrobat Reader 4.0, you need to save the PDF file into your hard disk, and open the file from the Adobe Reader 6.0 application.