A luxurious, soft synthetic leather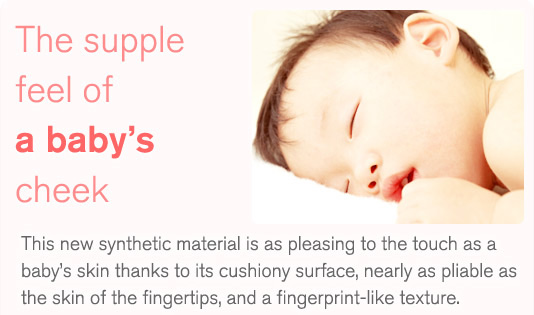 What sets Sofilez apart from other synthetic materials?
More tear-resistant than other soft materials
Sofilez meets the durability standards required for vehicle interiors, and is used for the armrests of Nissan's luxury vehicle named "FUGA" and "Infiniti M". This makes it ideal for products requiring resilient materials, such as sofas and chairs.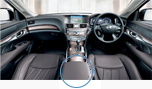 A touch and feel comparable to genuine leather
The material's texture equals or even exceeds the comfort of real leather used for furniture.
Features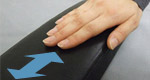 Lighter than genuine leather
Sofilez is ideal for use in train or airplane seats, which must be as light as possible, because it only weighs 60% as much as real leather.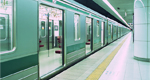 Commercial Uses

Sofilez is used for the Tetra cushion made by Daitou Shingu Kogyo
Photos and information on the cushion (Japanese only)
Sofilez is ideal for use in seats and cushions, as well as apparel and accessories. Contact us to find out more.
Features
1. Soft to the touch
Sofilez has a supple surface that matches or surpasses the comfort of the semi-aniline leather used for furniture.
2. Perfectly balanced texture
The material features a comfortable texture resulting from just the right balance between soft and hard, coarse and smooth, and dry and wet.
3. Lightweight
Sofilez weighs just 60% as much as genuine leather.
4. Eco-friendly
Our material balances pleasing texture with functionality and is produced with minimal environmental impact through an effective use of resources.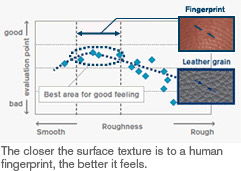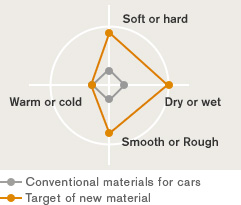 CONTACT
Technology Sales Department
Corporate Strategy and Business Development Division
Nissan Motor Co., Ltd.
560-2, Okatsukoku, Atsugi-shi
Kanagawa 243-0192, Japan
Phone: +81-50-2029-5622
Fax: +81-46-270-1528
PDF files can be opened on the browser by using Adobe Reader plug-in. To use all features of Adobe Acrobat Reader 4.0, you need to save the PDF file into your hard disk, and open the file from the Adobe Reader 6.0 application.