Noise Detector Rapidly and Accurately Locates Noise Source
Vehicle often causes unexpected noises. These noises can be rectified by maintenance work, but it may not be possible to hear the noises without running the vehicle, or reverberations may make it difficult to identify the source of the noise. In these cases it can take a long time to get to the root of the problem.
Responding to the requests of mechanics working in repair shops, Nissan developed an original Noise Detector to address this problem. This simple-to-operate device is capable of rapidly and accurately pinpointing the location of a noise source.
Features
Capable of rapidly and accurately locating sounds caused by loose fit or friction between parts.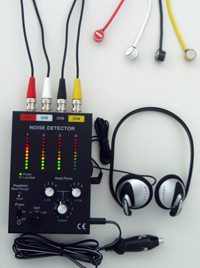 Measurement frequency: 200–3,000 Hz
Four sensors allow coverage of a wide area in a single measurement
LED level meters give a visual indication of the sound volume; "peak hold" function allows accurate detection of the briefest sounds
High-end oscillation sensors detect sounds across a wide frequency spectrum
Small, lightweight and can be powered by battery, allowing use in situations such as a vehicle in motion
Sensors are fitted with magnets so they can be easily fixed in place
Cheaper than competing products on the market
CONTACT
Technology Sales Department
Corporate Strategy and Business Development Division
Nissan Motor Co., Ltd.
560-2, Okatsukoku, Atsugi-shi
Kanagawa 243-0192, Japan
Phone: +81-50-2029-5622
Fax: +81-46-270-1528
PDF files can be opened on the browser by using Adobe Reader plug-in. To use all features of Adobe Acrobat Reader 4.0, you need to save the PDF file into your hard disk, and open the file from the Adobe Reader 6.0 application.