Fast, Accurate Hemming in a Compact Tabletop Unit
Nissan has been using tabletop hemming machines since 1999, making it an industry forerunner in this technology. Today these units are in use at many Nissan manufacturing sites in Japan and elsewhere around the world.
Tabletop hemming is a highly adaptable process. It can be used in a variety of cases where conventional hemming equipment is less suitable, such as for high-mix, low-volume production, for crafting specialized forms, or in sites where space is limited.
Through long years of development and refinement, Nissan has achieved highly durable, reliable and safe hemming machines. Together with Yanagita IW Corp., Nissan has codeveloped and commercialized products using this technology. These solutions have been on the market since 2007.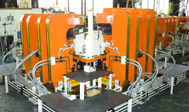 Features
More compact than other hemming equipment
Suitable for high-mix, low-volume production
Flexibly adaptable to production of aftermarket/replacement parts
Modular equipment allows for high degree of versatility
Tabletop vs. Conventional Hemming
Tabletop hemming
Press hemming
Can be used for actual sequence production?
Yes
No
Space needed for hemming line for 4 parts
90m2
225m2
Can be used for hemming of unusual designs?
Yes
(some angle restrictions apply)
Yes
(serious restrictions on unit layout)
Cost per die
Similar costs
CONTACT
Technology Sales Department
Corporate Strategy and Business Development Division
Nissan Motor Co., Ltd.
560-2, Okatsukoku, Atsugi-shi
Kanagawa 243-0192, Japan
Phone: +81-50-2029-5622
Fax: +81-46-270-1528

Tri Engineering Co., Ltd.
PDF files can be opened on the browser by using Adobe Reader plug-in. To use all features of Adobe Acrobat Reader 4.0, you need to save the PDF file into your hard disk, and open the file from the Adobe Reader 6.0 application.