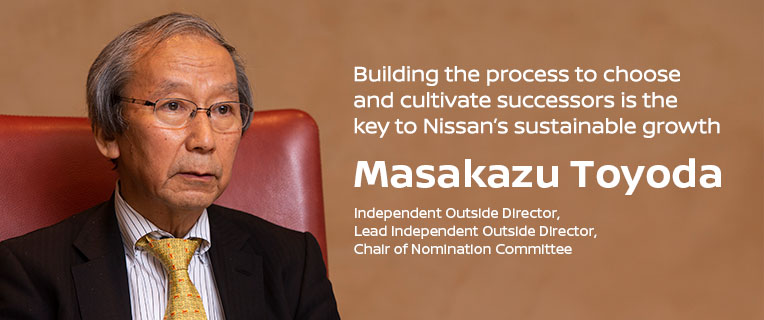 Seeking to build optimal governance
The Special Committee for Improving Governance, launched in December 2018, has two main tasks. The first is to gain a clear understanding of the source of problems from the system under the previous chairman in order to build a system of governance under which such problems will not reoccur. The other task is to create the optimal governance necessary to carry out a transformation of the company. In order to tackle those two tasks, discussions were carried out with professionals that included company executives, lawyers, and former judges, for approximately three months. One thing that left an impression on me was the words of Co-Chair Sadayuki Sakakibara, who said, "We need to further develop Nissan, which is a star company in the Japanese auto industry, so that it becomes a true global star company." All the committee members shared the thoughts and ideas of Co-Chair Sakakibara, which will be realized in the construction of an optimal system of governance. The conclusion reached was the need to separate the functions of execution and supervision and to transfer into a company with three statutory committees through the increase in number of independent outside directors.

Nissan transitioned to a company with three statutory committees in June 2019, which involved the participation of independent outside directors, with different experiences and backgrounds, who engaged in lengthier discussions than were ever carried out before at Nissan. It is worth noting that all of us serving as independent outside directors are highly motivated to contribute to a desirable outcome. Our greatest mission as independent outside directors is to protect the interests of minority shareholders. At the same time, a major part of our job is to help generate a win-win relationship with Renault, which owns 43% of Nissan's shares, and Mitsubishi Motors, which Nissan owns major shares. Improving governance is important not only for Nissan employees but for all stakeholders.

In order for the seven independent outside directors to fulfill our role in promoting executive management improvements, we had to build a relationship whereby we could reach a prompt consensus, while respecting each other's opinions. The Independent Director Conference (IDC) also plays a key role. Rather than merely being a formal organization, the IDC functions to propose improvements on the basis of strong mutual relationships. Even during the COVID-19 crisis, the IDC convenes frequently through online meetings to pool the members' resources by creating awareness of our respective strengths. In discussing the transformation plan "Nissan Next," there was not enough time for the Board of Directors to discuss this on their own, so executive officers were asked the IDC to also participate in, and in some cases, this resulted in holding extraordinary meetings of the Board of Directors. In a sense, the IDC played the role as a lubricating oil to facilitate the relationship between execution and supervision.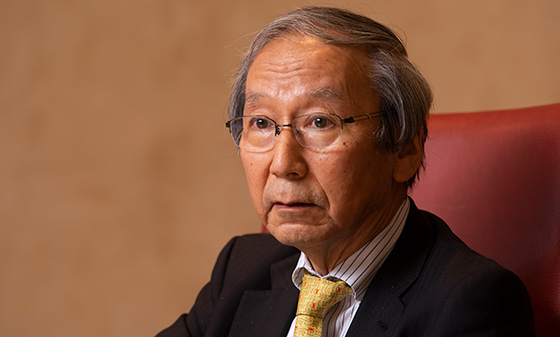 A highly transparent process to cultivate successors is vital to sustainable growth
I think the Nomination Committee has three main roles. The first is to decide on the agenda content regarding the appointment or dismissal of directors submitted to the General Meeting of Shareholders. Another role is to determine the agenda content for appointment or dismissal of representative executive officers presented to the Board of Directors. The third, and I think the most important role, is to draft the succession plan for the next CEO and verify it annually. It is extremely important that we build a process for choosing and cultivating the successive leader for Nissan's further development 50 years ahead.

In Japan, there are not many companies that have transitioned to three statutory committees. Therefore, not much know-how has been developed regarding how to utilize the experience and knowledge of independent outside directors in cultivating the next corporate leader. We conducted sessions with individuals from other companies that have established nomination and other committees to learn best practices, but ultimately, I think we will have to create a succession plan that best suits Nissan through a process of trial and error.

From the time the Nissan Next plan was released, we focused on creating the succession plan and finding appropriate candidates based on 360 degree evaluations conducted by executive management. At present, we have basically completed our selection of Group 1. Moving forward, the Nomination Committee will conduct repeated interviews with the candidates, while at the same time formulate a plan to nurture the candidates to help them overcome their weak points, thereby fostering the sort of personnel needed to take over the leadership of the company. Nissan is a company with deep-rooted diversity, and if an executive has the right qualities to lead the company toward future prosperity, his or her nationality is not an issue. Since there is a diverse range of human resources under consideration, we need to first gain a clear understanding of each candidate.

The process of selecting and fostering candidates is time consuming, but given the extreme importance of this task, those of us involved with the Nomination Committee and the HR division need to be resolute in our efforts. As the chair of the Nomination Committee, it is gratifying to see the enthusiasm of the other committee members. In addition, over the past 20 years, one person, the previous chairman, has decided on the appointment and compensation of around 50 executives. Therefore, the HR division does not have experience in cultivating a prospective CEO. As a consequence, I think the HR division will develop its knowledge and knowhow through its participation in this process. If we can build a succession plan that is highly transparent, I believe that Nissan will serve as an example of best practices in Japan.
Maximizing the potential of Nissan
Nissan launched its new management system in December 2019, but CEO Makoto Uchida and executive management faced a challenging situation in trying to restore lost trust while also dealing with the major impact that the COVID-19 pandemic has had on the auto industry. However, through repeated discussions of proposals for structural reforms, the new executives were able to understand each other's strengths and weaknesses, which resulted in a stronger sense of unity. The Nissan Next plan is also outstanding, and through its implementation, we are advancing improvements at a faster pace than originally planned. The results of the new management system, led by CEO Makoto Uchida, COO Ashwani Gupta and EVP Hideyuki Sakamoto, is already generating results and regaining its self-confidence.

As we move forward, it is important to first promote Nissan Next in accordance with the plan. However, in order to realize sustainable growth, we will need to formulate a long-term plan as soon as possible. At the same time, it is also vital that we have a communication plan to build a healthy relationship with our stakeholders. Some of the independent outside directors are knowledgeable in this field, so I trust that they will provide various proposals.

When it comes to issues related to the environment or energy, Nissan occupies a leading role among Japanese companies. For electric vehicles (EVs) and autonomous driving technologies, Nissan has been propelling the auto industry forward through its innovative technologies, but it seems likely that Europe and China will accelerate their shift to EVs in the years ahead. Autonomous driving technologies have the potential to contribute to the solution of various social problems, such as the use of driverless taxis. Nissan, which is at the forefront of these efforts, can be expected to achieve outstanding results related to ESG* (environmental, social and governance). Therefore, I hope the company will move forward with confidence.

The auto industry is now undergoing what has been described as a "once in a century transformation" as equipping vehicles with information systems advances rapidly. This makes it increasingly difficult for just one company to respond to its investment needs on its own. In order to survive, it is essential for the Renault-Nissan-Mitsubishi Alliance to implement large-scale investments together and share technologies they develop. It is important to understand each other's strengths and weaknesses and reinforce each other in order for the three companies to co-exist and prosper together, and I believe this is possible under the Alliance.
Environment, Social, Governance
Published in January 2021